Recipe for Winter Soup with Jerusalem Artichokes
Jerusalem artichokes have become one of my winter veggies that greatly add to my seasonal eating. In Canada, the Jerusalem artichokes that I used to buy were a beige colour. In Provence, I've often seen them as a beautiful magenta colour.
The French and Jerusalem Artichokes (Topinambour)
Topinambour was one of the few vegetables, if not one of the only ones, available during WWII in France.…Continue reading here for Ashely's full post. The recipe is below.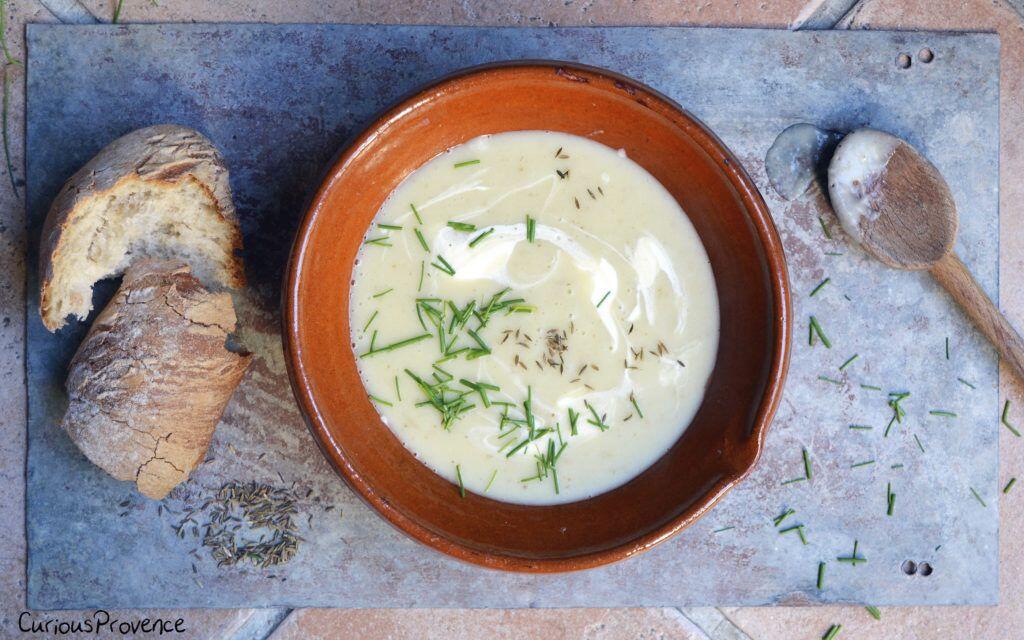 Jerusalem Artichoke Soup
Creamy potatoes and artichokes with a delightful spicy kick from fresh roasted Cumin. A unique and satisfying soup that will leave you well sated.
Ingredients
500

g

Jerusalem Artichokes

scrubbed and cut into small pieces

2

Floury potatoes

peeled and cut into pieces

1

medium

Onion

finely sliced

1

tsp

cumin seeds

to your liking

1

tbsp

Sunflower oil
Instructions
Add the cumin to a dry saucepan and roast on a low heat for 30 seconds or until you can smell it.

Add the tablespoon of oil and cook the onions on a low heat until translucent.

About 8 minutes.

Add the Jerusalem artichoke and potato.

Add enough water or vegetable stock until just covered.

Cover the pan, then simmer for 25 minutes or until tender.

Blend in a mixer until smooth.

Season with salt and pepper.

Serve with a dribble of creme fraiche or thick cream and cumin seeds to garnish.

Eat with large chunks of country style bread.

*You can peel the artichokes if you like but it isn't necessary.

It all depends on how much patience you have!