A Starbucks-Shaped Hole in the Côte d'Azur
Contributor blog post by Jemma:
Last week in Cannes I stumbled on the most stunning sight: Starbucks. Right there on Rue Jean Jaurès, the street extending along Cannes' revamped train station.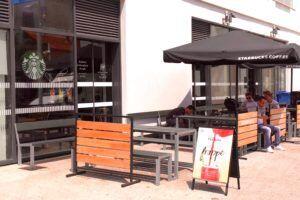 The vision was stunning in its most rudimentary sense: I was stunned. True, a few Starbucks already scatter around this area – in Nice Airport, for one, and in Cap 3000 and Nicetoile, two American-style shopping malls.
…Continue reading here to read about Jemma's discovery of a now, semi-local Starbucks outlet on the Cote d'Azur. She recalls a time when they had first purchased their house on the French Riviera and how she craved an American-style skinny latte. Now she can have a latte from the Cannes Starbucks outlet, but doesn't need or want one.
Via:: French Lessons