Miriam Hartmann an Artistic Journey to Provence
Born in Kiel, Germany, a meandering path led Miriam Hartmann to her artist's atelier in the village of Ménerbes.

Why Provence?
Over 15 years ago, Miriam Hartmann stood on the terrace of a modest studio in the Provencal village of Maubec. Gazing at Mont Ventoux, she had an overwhelming feeling that she was home. Inspired by French art and culture, the pastor's daughter left Germany permanently in 2014. Before establishing Galerie À in Aix-en-Provence, in 2017, she worked between studios in Tournus (Burgundy) and Maubec.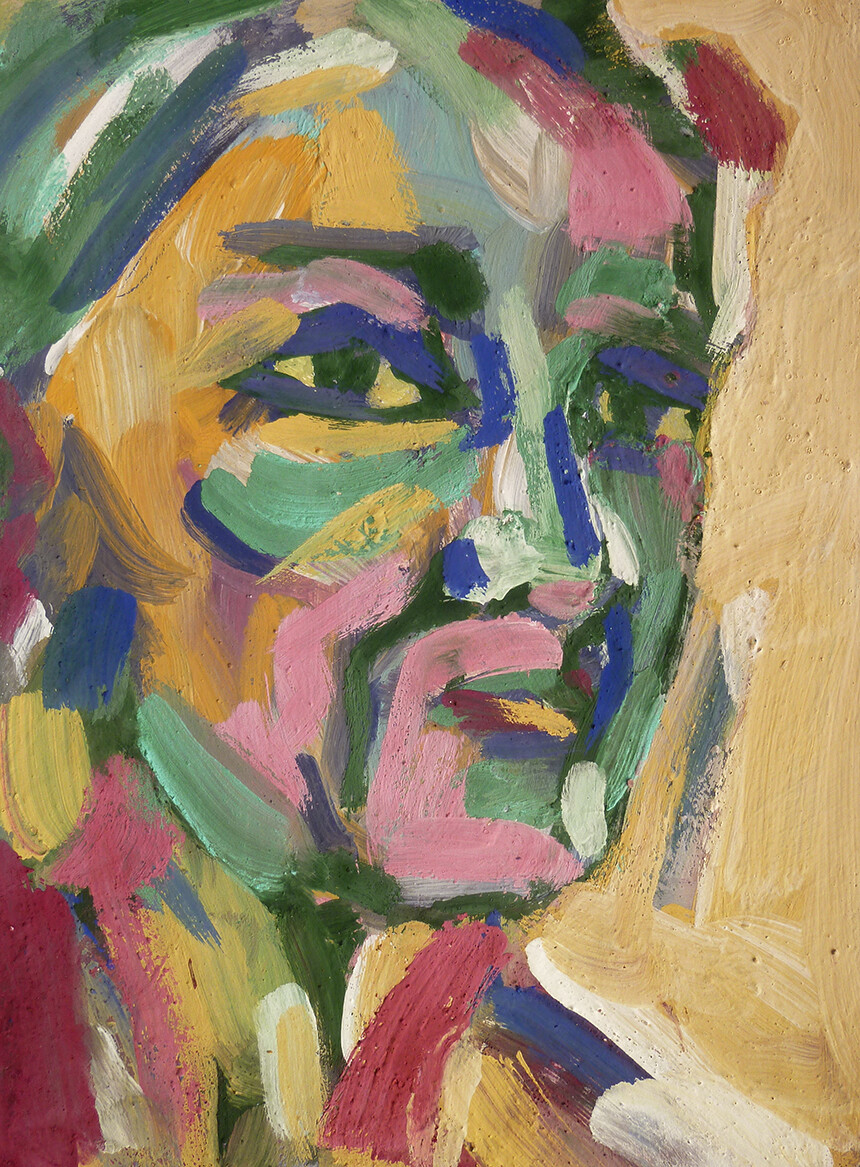 Why did she stay in Provence?
Hartmann had a powerful revelation during a particularly windy year. She decided to face the elements and paint plein air. Attaching canvases to trees and securing paper to the ground with stones, she discovered the essence of Provence.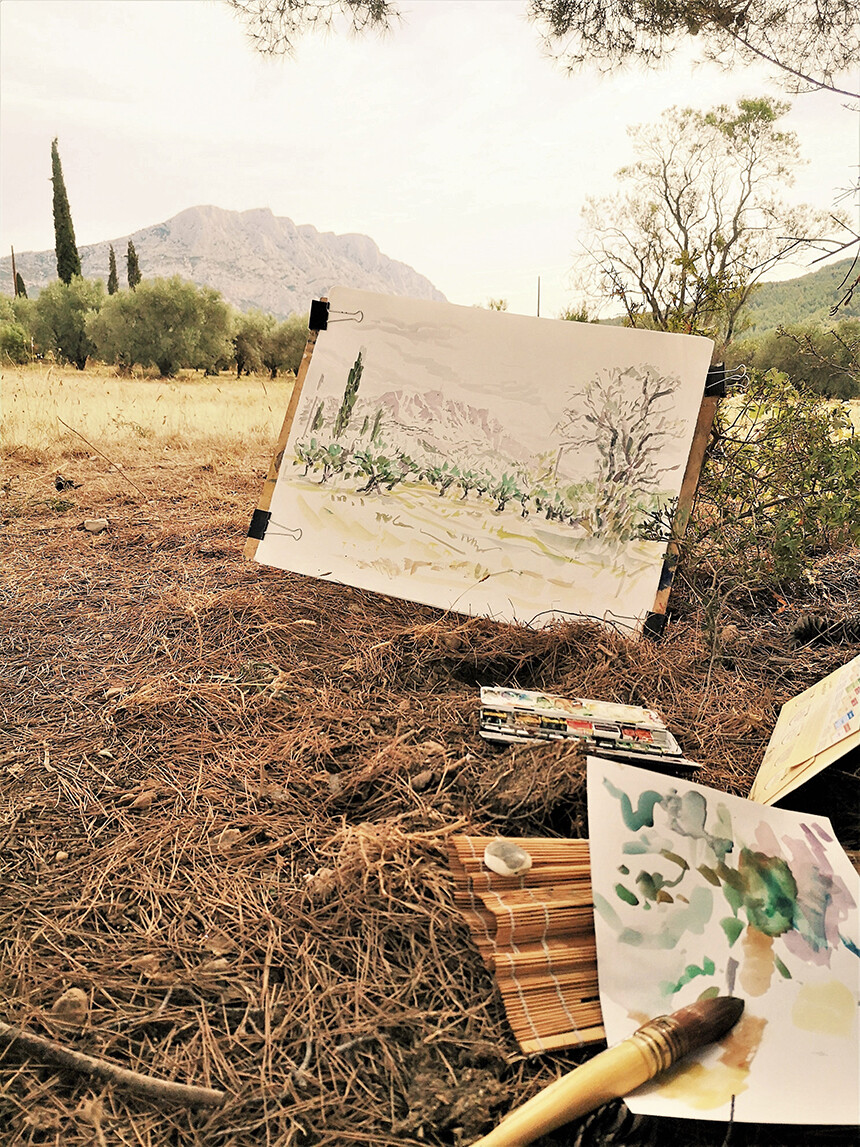 The sense of eternity and nature's dance are stunning contrasts that mark life in Provence. Stones, plants, and architecture are evidence of a lifestyle that is unchanged over centuries. Omnipresent, the sun drives the search for silent shadows. The persistent chant of the cicadas in the heat of the summer. A mistral wind forceful enough to knock you over.
"Now, when people look at my paintings in exhibitions or my gallery, I can sometimes see their spontaneous reaction. They feel like me when I was painting, discovering their silent power inside. This is my satisfaction and what I want to achieve with my work. Making the possibilities of beauty visible."
Magical Ménerbes
She describes her studio in Ménerbes as having a great view and an artistic soul. The village attracts an international audience interested in discovering the place that has stimulated the creative talents of artists, photographers, and writers. Peter Mayle, the author of A Year in Provence, is probably the most commonly famous name. However, a long list of others found artistic inspiration in this hilltop town in the Luberon. Russian artist Nicolas de Staël found the isolation he desired at Le Castellet in what was then (1953) the run-down village of Ménerbes. It would have been shortly after cookbook author Elizabeth David and some friends occupied the same location. Pablo Picasso met French photographer, painter and eventually his muse Dora Maar in the village.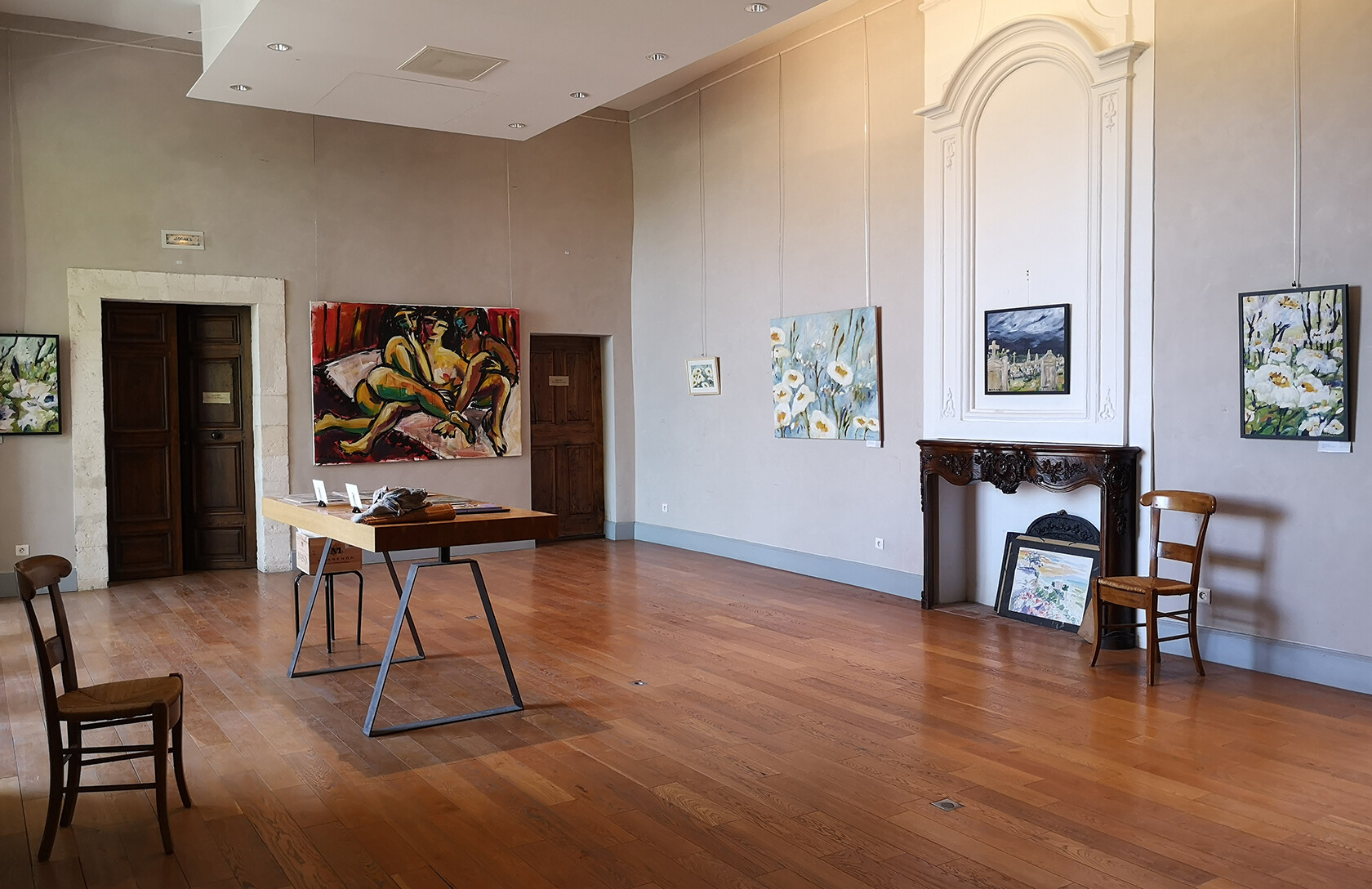 For several years now, Hartmann canvases have exhibited at La Maison de la Truffe et du Vin du Luberon. In her words, "This privileged ambiance matches with my artwork, especially for the big formats."
Artistic Sensations
Recently, Hartmann came across this inscription, On ne peut pas vivre une vie et en peindre une autre (You can't live one life and paint another). Perhaps it is a metaphor for her artistic pursuits since her childhood. Early on, she felt a determination to follow a creative path after seeing famous canvases in museums and, notably, German-Danish painter and Expressionist Emil Nolde. Hartman studied carpentry in high school, not because her grandfather was a timber trader, but rather because studying art and painting was nearly impossible during the 1980s in Germany. She followed the Baccalaureate in carpentry with a degree in interior design and, eventually, a diploma in art.
Exhibitions of Hartmann's work have stretched worldwide from France, Germany and Switzerland to South Korea. Her passion for art remains consistent. However, the subject matter continues to follow the stages of her life – artist, daughter, mother, spiritual being.
"Painting is a language, a research, a mirror to the world, and a mission. For me, the mission is beauty – in the large, philosophical sense of the term. In art, technique, knowledge, experience, self-reflection is all necessary for professionality."
Using various techniques, Hartman paints with oil, watercolours and ochre pigments (from Roussillon). The legacy of famous artists, including Cézanne, Delacroix, Liebermann, Monet, and Rubens inspires her. Provence's colourful abstract landscapes dominate Hartmann's work. However, her spiritual journey rises to the surface with her Credo series.
"Figurative and abstract approaches to the cross, in Christian thought. The sign of the cross becoming a symbol, an object of meditation. Expressive images "at the limit of the bearable" – crucifixion, entombment, pieta, resurrection… A Stations of the Cross – abandoned, charred."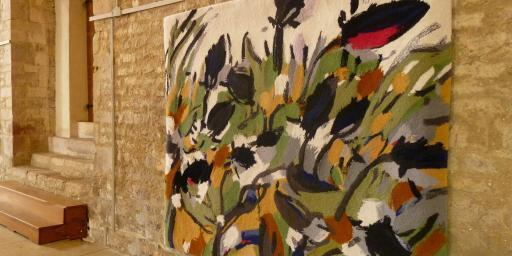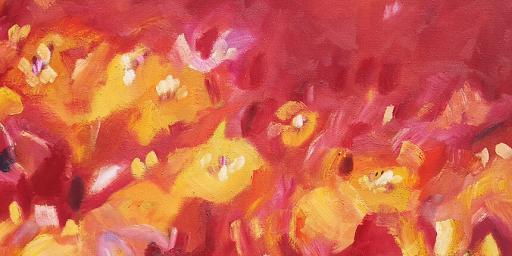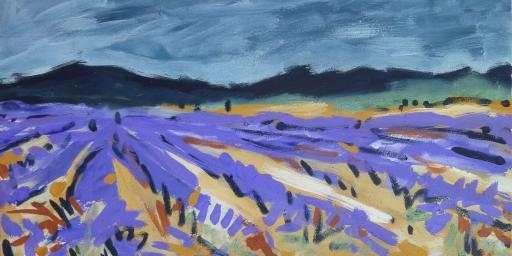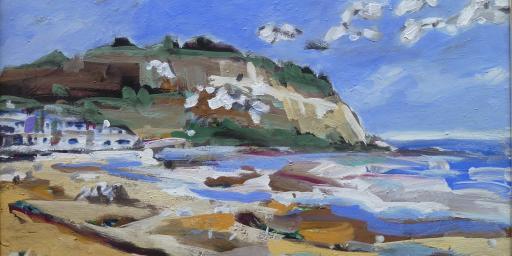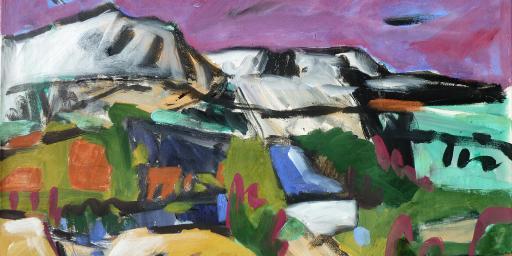 Evolving Style
It is not just the work of the Masters who influence Hartmann's work. She describes pure joy in discovering the audacity of Pablo Picasso's abstract style. The German Expressionists and the COBRA art movement and many others led her to an understanding of non-figurative and abstract art.
"I didn't try to appropriate the aesthetic of an era or limit myself by inventing a recognizable style. Above all, I never accepted the announcement of the death of painting. The 21st century is unlikely to find anything really new in painting. But today we have the chance to rediscover the richness developed by our predecessors which allows us to enter into dialogue with the world – Outre Soi (Beyond Self)."
Working with Alexandra Van-Quynh on this thought-provoking project, Hartmann's second book Outre Soi will be published soon.
Her most recent series Les Cimetières (The Cemeteries), is an intriguing subject. For years she sketched and painted watercolours of cemeteries. As COVID-19 drove us all to self-isolate, she found inspiration for a more extensive series. She started with the two cemeteries in Ménerbes.
"They invite us to face the fact that we are not eternal, not all-mighty. Inviting us to live with our past and future. Doing nothing. Just listening. Cemeteries are signs how civilizations match with the death. High civilizations have great and important cemetery-cultures."
Contact the Artist
Miriam Hartmann (website)
Telephone: +33 (0)7 89 80 49 01
Email: hartmannmiriam@orange.fr
Much of her work appears on the homepage, and she will send additional images upon request. International shipping is available.
Ménerbes at Chez Auzet – by appointment only.
Galerie À
9, rue Loubon
13100 Aix en Provence
Located on a small street not far from the Hôtel de Ville, the gallery is in the historic centre. Hartmann welcomes anyone interested in discovering her work in a tranquil setting. Occasionally on display is the artwork of fellow artists Pierre Masbanaji and Jean-Michel Bouchardy.
Maison de la Truffe et du Vin du Luberon
Place de l'Horloge
84560 Ménerbes
This private salon is open only when the artist is present, generally on Saturday, Sunday, and Tuesday. Or by appointment (phone or email).
Image credits: All photos were provided by and published with the permission of Miriam Hartmann.