Merry Christmas Traditions from Provence!
The cafes are full inside and out today in Provence as everyone enjoys the mild weather. The baker is furiously making fougasse/pompe à l'huile for tomorrow, the local epicerie can't seem to keep fresh medjool dates (that melt in your mouth!) and clementines on the shelves. There are towers of …Continue reading here to see Ashley's vintage Christmas holiday postcards and learn about le Gros Souper.
Christmas on the French Riviera Cocktail
A spicy cocktail to add extra celebration to the holiday season!
Check out this recipe

Christmas Almond Crescent Cookies
A fantastic treat for the Holidays and plenty to share with family and friends!
Check out this recipe

The Best Mulled Rosé Wine Recipe
One could say, this seasonal cocktail is back by popular demand! Following the many requests from its warm welcome at Covent Gardens last Christmas, we're delighted to share the recipe for our mulled rosé wine. Great way to keep warm during these cold winter months. Santé everyone!
Check out this recipe

Mandarin and Cardamon Infused Almond Cake
A delicious and colourful cake full of the flavours of Christmas markets, perfect with tea to brighten up a cold day, or as a light and joyful desert after a nice meal.
Check out this recipe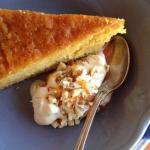 Galette des Rois
A classic Christmas cake made from puff pastry, filled with frangipane and a small treasure or feve hidden inside.
Check out this recipe