Lemon Tart A Fine Sweet Sour Balance
Lemon tart or tarte au citron might otherwise be described as the non-dessert eater's choice. When the baker has perfected the right combination of sugary-sweet and lemony-sour there is nothing more satisfying than this tart. David adapted this dessert for his blog Cocoa & Lavender from the book Provence Food and Wine: The Art of Living with photographs by François Millo and recipes by Viktorija Todorovska.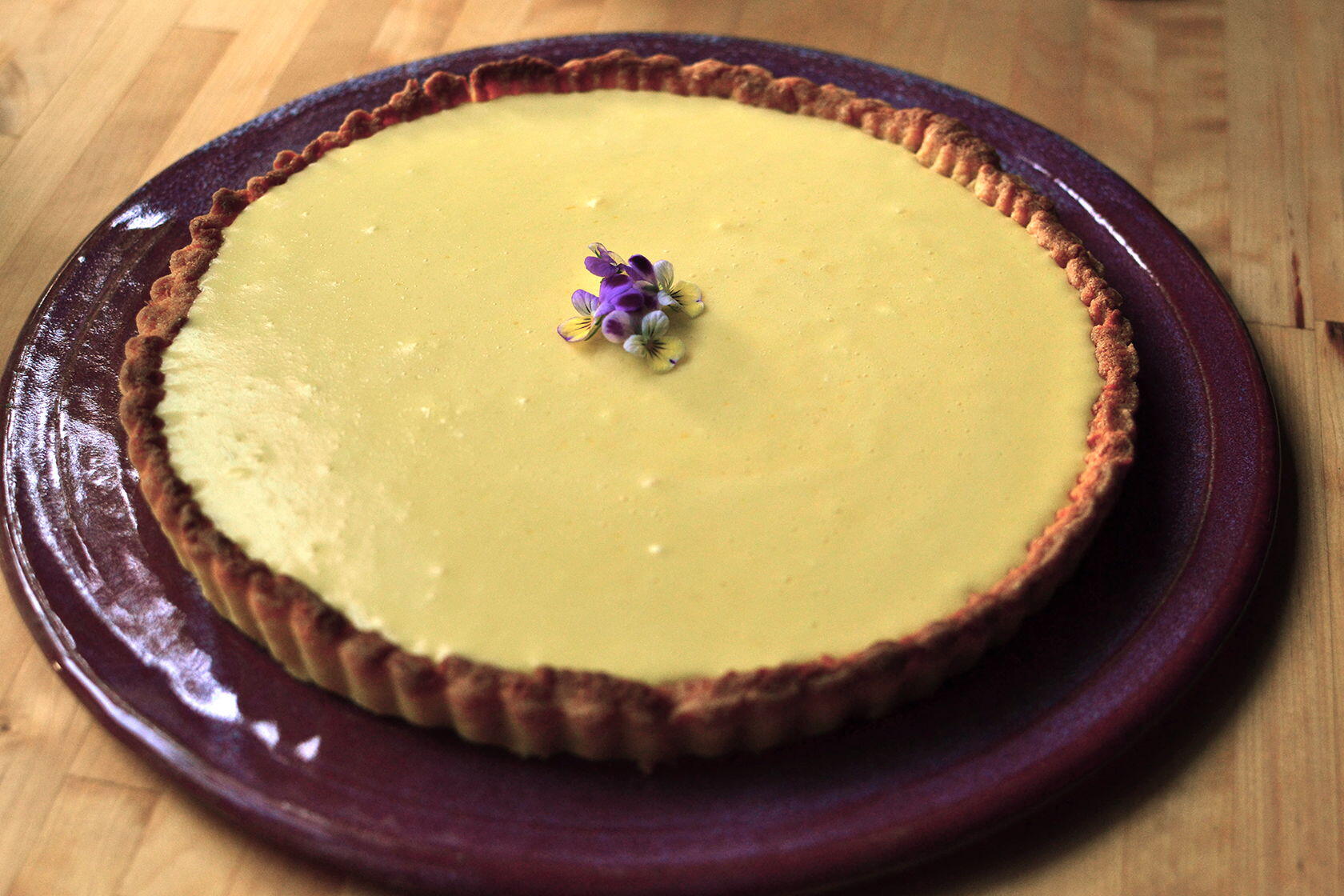 Tarte au Citron
A sweet, tart and tangy lemon treat with a buttery crust that is not only delicious to the taste buds but equally appealing to the eyes too. A de"light"ful twist with the addition of Crème fraiche to make and savour anytime of year.
Ingredients
For the Crust
2

cups

unbleached all-purpose flour

Start with 1 1/2 cups

7

oz

Unsalted Butter

at room temperature

1/2

cup

Granulated Sugar

1/4

tsp

Salt

1

Egg

1

Egg Yolk

1

tsp

finely grated lemon zest

3/4

tsp

pure vanilla extract
For the filling
8

oz

Crème fraiche

3/4

cup

Granulated Sugar

3

Eggs

lightly beaten

7/8

cup

Fresh Lemon Juice

about 4 lemons

4

tbsp

Butter

softened and cubed

Lemon slices or meringue, for garnish
Instructions
Preparing the crust
In a large mixing bowl, combine the flour, butter, sugar, and salt. Mix until crumbly.

In a medium mixing bowl, combine the egg, egg yolk, lemon zest, and vanilla extract and beat lightly with a fork.

Add the egg mixture to the flour mixture and beat with an electric mixer on low speed for 2 minutes, or until a dough forms. * This took less than 30 seconds with my KitchenAid mixer, using the paddle attachment.

Turn out the dough on a lightly floured work surface.

Dust your hands with flour and knead the dough for 1 minute.

Wrap the dough in plastic wrap and chill in the refrigerator for at least 1 hour (or up to four days). * If you chill the dough for longer than 1 hour, let it warm slightly before rolling out.

Preheat the oven to 400°F (200°C).

On a lightly floured work surface, roll out the dough to a 1/4-inch (6mm) thickness.

Transfer the dough to a 9-inch (22.5-cm) tart dish with a removable bottom. Trim off any excess dough.

Cover and freeze for 30 minutes.

Uncover before baking.

Line crust with parchment or aluminum foil, and fill with pie weights or beans.}

Bake for 25 minutes (removing beans at about 10 minutes). My crust was done at about 20 minutes.

Remove from the oven and set aside to cool to room temperature.
Preparing the filling and assembly
In a mixing bowl, whip the crème fraîche until it is light and airy. Set aside.

In a small saucepan, combine the sugar, eggs, and lemon juice over low heat (I suggest medium-low)

Stir well. Cook, stirring constantly, for 15 minutes. (It took 15-20 minutes before it was thick enough to coat the back of a spoon. Straining might be necessary.)

Remove from the heat.

Transfer to a bowl.

Add the butter and stir well to incorporate.

Set aside to cool to room temperature.

Fold in the whipped crème fraîche.

Pour the filling into the crust and refrigerate for at least 1 hour, or until ready to serve.

Just before serving, garnish with lemon slices or with meringue that has been browned under the broiler. (I garnished with fresh flowers from the garden.)