How to Soothe Your Longing for France: Start Cooking
As an avid traveller and French Riviera lover, 2020 has hit me very hard, and I'm sure most of you reading this article can relate. 2021 is not looking that great either, at least at the time of writing. Some readers of my blog have asked what I've been doing to keep the passion alive in this difficult time of no travel to France (or anywhere else, for that matter).
Short answer: I've become a more interested (and more adventurous) cook.
I started small by baking bread. A simple recipe shared by my Instagram friend Anina Belle Giannini (@lechefswife) led me to bake French baguettes, again and again. They are easy, crunchy, chewy, and oh-so-French! Anina Belle should know a good baguette, as she is married to Toulon-born chef Sébastien Giannini (@lechefsebastien). I recommend following both of them on Instagram for a thorough immersion in Francophile life on the North American continent. They share recipes and day-to-day life snapshots of their adventures as a family of four in Washington, DC.

After learning to make a decent baguette, I moved on to salads. Salade Niçoise is quick and delicious, and it instantly transports me to the Promenade des Anglais. I love mine with tuna and anchovies, and yes, I know that opinions vary on the presence/absence of anchovies. I love these tiny, briny creatures of the sea, and I include them in my cooking in any way I can, from pizza toppers to a gourmet anchovy spread to enjoy with toast.

I wish I could say that at some point in my culinary pursuit, I mastered Julia Child's Beef Bourguignon or Coq au Vin, but I would be lying. I prefer simple, no-fuss recipes and very little meat, so I didn't even attempt any of them.

I do love a good French dessert, though. To soothe my longing for choux and pot de crème, I signed up for a series of online baking classes with Mardi Michels, author of In the French Kitchen with Kids. My 12-year-old daughter and I had a lot of fun learning how to make crème pâtissière and chocolate-drizzled choux, among other things. The classes are fast-paced, and there is a lot of hands-on work to do, but we managed to finish all the desserts within the 2-hour timeframe without any prior experience.

What's next, you might ask? A good vegetarian quiche. Moules marinières, Croque Monsieur, or the ever-popular Monte Cristo are all valid options.

There are more recipe ideas on my blog: come say hello and leave me a suggestion. I might just be cooking that next!
French Recipes to Try
Fig, Walnut and Lardon Quiche
I love to make seasonal quiches, as there's always a nice combination that will work. Figs are lovely with nuts, so you can make a very tasty number with some crushed almonds or walnuts, figs and some lardons for extra taste.
Check out this recipe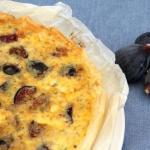 Basic Quiche
You can take this foundational recipe in almost limitless flavour directions. It provides you with the cornerstones of a successful quiche: a flaky crust and a creamy filling. This crust can also be used for making fruit tarts and rustic galettes. For the filling, only use heavy cream; milk has the potential to curdle when it cooks.
Check out this recipe

Salade Niçoise
My version of this meal-sized salad from Nice for the purists and the rest of us.
Check out this recipe

Chevre Chaud Salade with Lemon Vinaigrette
This salad is easy to prepare. Toast the pine nuts and make the dressing in advance so the final steps are just before serving.
Check out this recipe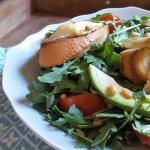 Quick Coq au Vin
The longest part of this recipe is cooking the chicken, which will be roughly 60 minutes on simmer. Enjoy some easy French cuisine for dinner tonight.
Check out this recipe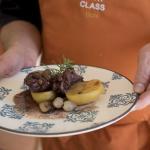 Coq au Vin
This classic French poultry recipe by Chef Ryan McIntyre, Bistro Zinc, Lenox, MA was adapted for Cocoa & Lavender.
Check out this recipe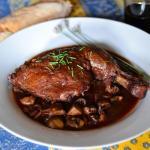 To order a copy of In the French Kitchen with Kids, please click on the book cover image (above) or the title. As an Amazon Associate, this website earns from qualifying purchases. Note: if you purchase a book via these links, we receive a small commission that does not impact what you pay.