Market Day Fish Recipe: Filo Salmon Pie
A delicious and lighter version of the traditional fish pie, using leeks, mushrooms and chunky salmon steaks from Uzès market.  This Filo Salmon Pie was really easy to make and you could use wilted spinach instead of the leeks.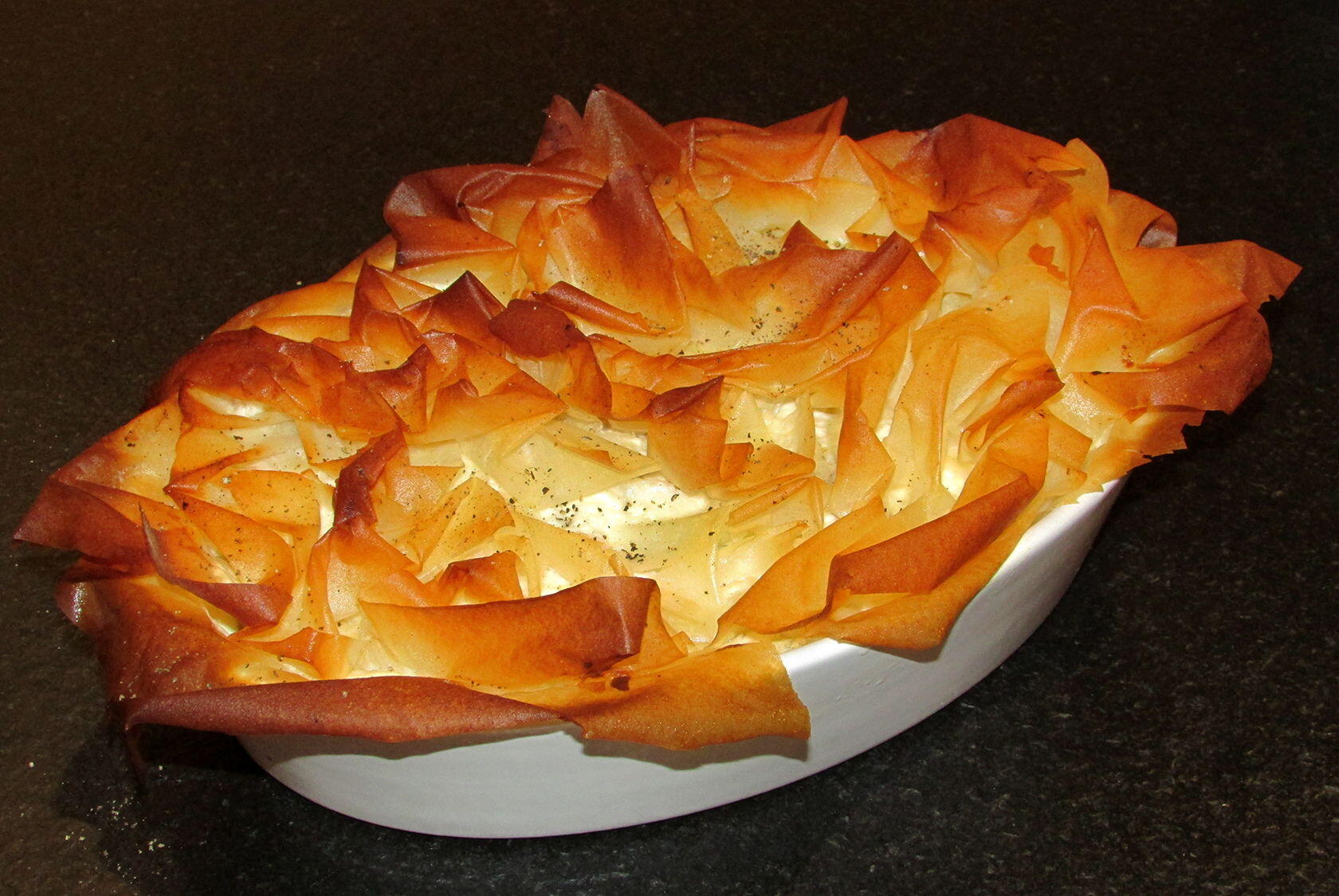 Filo Salmon Pie
A creamy seafood pie with salmon, mushrooms and leeks with a crispy golden top of filo pastry.
Ingredients
2

Salmon steaks

2

Large leeks

3

Large mushrooms

1

tbsp

Cream cheese

2

tbsp

Crème fraiche

3

Sheets filo pastry

olive oil

50

gr

melted butter

Juice from half a lemon

Salt and black pepper to taste
Instructions
Carefully remove the skin from the salmon and cut the flesh into bite-sized chunks (ensuring there are no bones).

Pre-heat the oven to 200C.

Slice the leeks and sauté in a little olive oil until tender.

Remove from the heat and place in a bowl.

Mix the salmon chunks into the hot leeks and set aside.

Slice the mushrooms and sauté in a little of the butter until tender, set aside.

Put the crème fraiche, cream cheese and juice of half a lemon into a blender and whizz until smooth.

Add salt and pepper to taste.

Butter the inside of your dish.

Take a sheet of filo pastry, brush with melted butter and then line the inside of your dish.

Allow the edges to stand up above the rim of the dish.

Keep the remaining pastry covered with a damp tea towel to prevent it from drying out.

Lay the mushrooms in the bottom of the dish, place the leek and salmon mixture on top and then pour over the cream cheese and crème fraiche.

Brush 2 more sheets with melted butter and cut them into quarters.

Scrunch up each square and use to cover the top of the pie, packing them closely together.

Bake in the centre of the oven for 18 – 20 minutes until the pastry is crisp and golden.

Serve the pie hot from the oven with a crisp seasonal side salad.