For a Hearty Winter Stew try Grillade Saint Gilloise
A slow-cooked meat stew, Grillade Saint-Gilloise, might be the perfect winter recipe. A hearty meat dish, this recipe typically includes beef or bull (taureau) chuck, onions, anchovy fillets, and capers. Sometimes called agrillade, aigriade, in Arles broufade, in Provencal broufado.  The key to this recipe is the long marinating time. We recommend at least overnight.
This traditional dish from the Gard has its start as a humble dish of the Rhône River mariners. Prepared in advance, they could eat this hearty stew on their boats once they arrived in St Gilles. Our recipe for Grillade Saint-Gilloise follows below.

With a population of 13,600, Saint Gilles is a medium-sized town in the Petit Camargue located between Arles and Nîmes. Founded by Saint Giles in the 7th-century, the town's Abbey was a stopping point along the Via Tolosana part of the Camino de Compostela that leads from Arles to Santiago via Toulouse before crossing the Pyrenees. In 1998, UNESCO added the church with its exquisite Romanesque portal to the list of World Heritage Sites.
Also, watch our website for details on our Week in Seville, Spain culinary experiences.

Agriade Saint-Gilloise
Start this recipe the day before as there is no way to rush the cooking process. Stewed for a long time, similar to a Provencal daube, Agriade Saint-Gilloise is even better when reheated.
Ingredients
3

lbs

Beef Cheeks

2

medium

Onions

4

Garlic Cloves

10

Anchovies (in oil)

3

tbsp

Capers

1

handful

Parsley

1/2

bottle of

White Wine

3

tbsp

Olive Oil
Instructions
The day before serving:
Peel and chop onion and garlic, chop capers, anchovies and parsley. Not too small. Reserve

Slice the meat into roughly half-inch thick pieces. Set aside and reserve.

Mix all the ingredients and add salt and pepper. Keep the olive oil for the next day. Reserve in the fridge overnight.
The day you serve the dish:
Five (5) hours before serving, in a cast-iron casserole, add olive oil and your meat preparation, heat on the stove for 10 minutes. Cover and cook in the oven at 120ºC (300ºF) for 3 to 4 hours. Allow the dish to rest for 1 hour before serving.

Serve with black Camargue rice or boiled potatoes
Notes
You will also hear this recipe be called Aigriada - aigre is the French word for sour - but no worries this is not a sour dish at all!
Provencal Winter Dishes
Lamb Stew with Root Vegetables (Navarin d'Agneau)
Local free-range lamb is easy to find in Provence, so there are many typical dishes that you will find on menus. Navarin d'Agneau is a traditional slow-cooked stew made with root vegetables.
Check out this recipe

Quick Coq au Vin
The longest part of this recipe is cooking the chicken, which will be roughly 60 minutes on simmer. Enjoy some easy French cuisine for dinner tonight.
Check out this recipe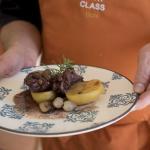 Lentils and Sausage with Sweet Paprika Soup
This soup is a filling bowl of delicious flavours. It is easy to prepare, and can definitely be made in advance. Serve with fresh bread and a red wine from Provence.
Check out this recipe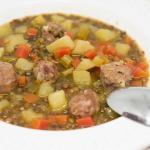 Pot au Feu
Traditionally the stew is served in 2 services. Meat and vegetables first, then the broth and the bread...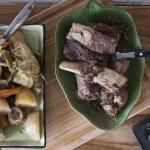 ---
French Cast Iron Casseroles:
If you already have a cast iron casserole that will work perfectly well for this recipe. However, if you do not have one consider investing in a heavy casserole for this recipe and some of the others listed above. These pots are available in a rainbow of colours and will last your lifetime.
Note: As an Amazon Associate, this website earns from qualifying purchases. If you purchase a product via an affiliate link, we receive a small commission that does not impact your price.