Classic Cassoulet Recipe Made Easy
Slow-cooked Cassoulet is a classic recipe from the Languedoc-Roussillon (now the administrative region of Occitanie, France). Some cooks shy away from making this cannellini bean and meat (pork, duck) casserole because it takes a bit of time. Save time and effort by sourcing the duck confit from your local butcher or in a tin, along with the pork belly and rind. See notes below.
In France, the traditional cassoulet dish is an [eafl id="51514″ name="Earthenware Cassoulet Dish" text="earthenware «cassole»"] or use a heavy-duty Dutch oven.
This recipe comes from "Tour de Table en Languedoc-Roussillon" as suggested by John and Nicole Bojanowski, owners of Le Clos du Gravillas in Languedoc-Roussillon. Thanks to their recommendation I overcame my skepticism and made this recipe without garlic – the result was delicious.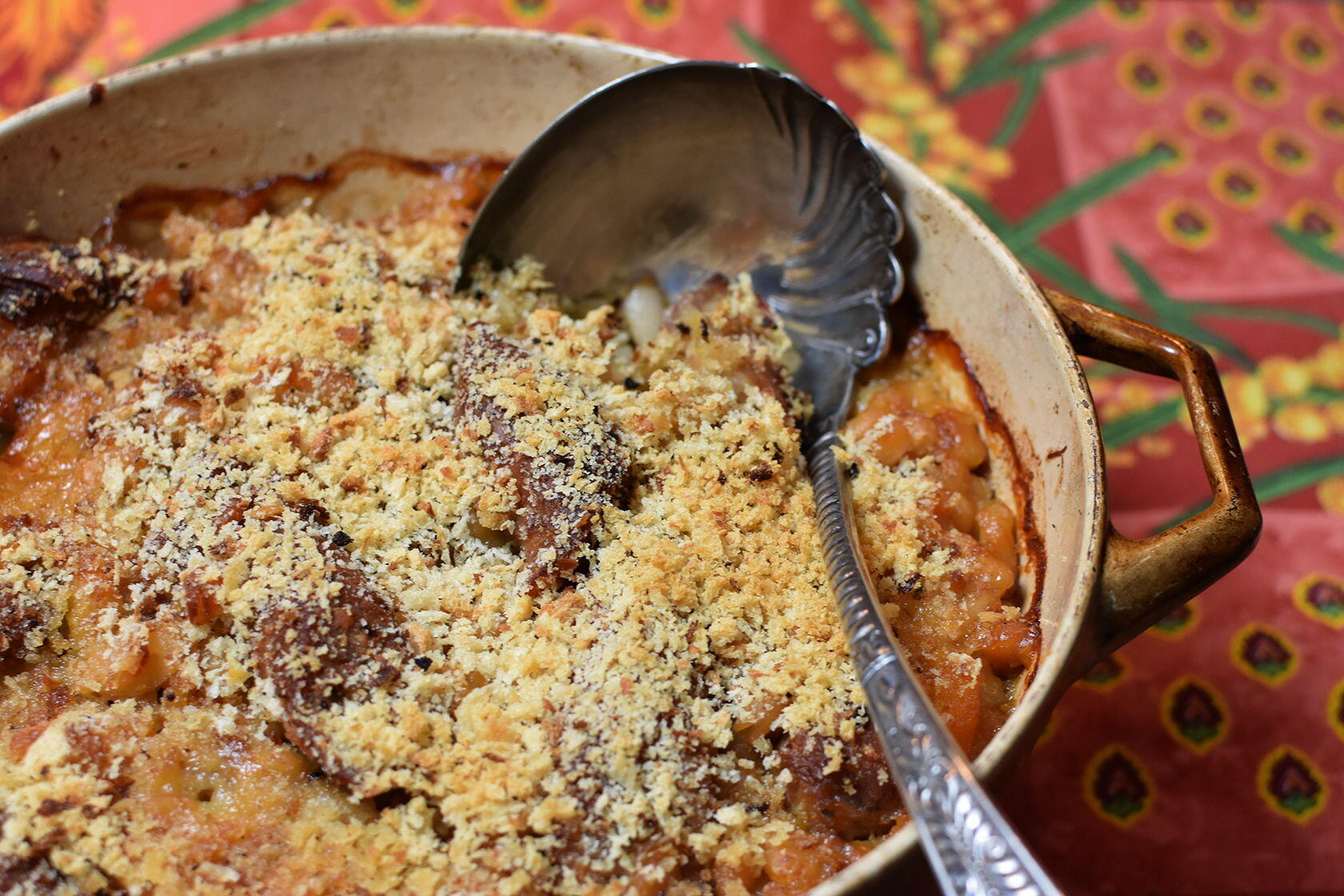 Classic Cassoulet
This recipe is a perfect Sunday afternoon, culinary project. Enjoy the warm, rich flavours on a cool-weather day with some red wine from France.
Ingredients
14

oz

Dried Cannellini Beans

1

lb

Pork Belly with the rind

in one piece *

1

large

Carrot

peeled and sliced

1

medium

Onion

peeled and coarsely chopped

4

Fresh Pork Sausages

Homemade Unsalted Chicken stock **

Bouquet Garnis

of thyme and bay leaves

4

Confit of Duck Legs

Rendered Duck Fat

salt and freshly ground black pepper

fresh bread crumbs
Instructions
The day before serving, place dried beans in a bowl and cover with three inches of cool water.

Cover the bowl and soak the beans overnight.

Next day, trim the rind – couenne, en français – off the pork belly in one or two pieces. If your pork belly was already trimmed, ask the butcher for an additional rind – about 2 inches by 9 inches. **

Cut trimmed pork belly into 2-inch chunks and set aside.

Drain the beans and place them in a large soup pot and cover with cold water.

Bring to a boil and cook for 5 minutes, skimming the foam as it surfaces. Drain.

Wipe out the soup pot, return the drained beans, and cover with chicken stock. If you don't have enough stock to cover, use water to make up the difference.

Add the bouquet garni and bring to a boil.

Add the carrot, onion, and pork rind. Simmer for 1 hour.

Meanwhile, heat 1 tablespoon duck fat in a large skillet.

Brown the sausages on all sides. Set aside.

Using the same fat, brown the pork belly pieces. Set aside.

After the beans have been simmering for an hour, season with salt and pepper.

Cut the browned sausages into 3-inch lengths and add to the pot along with the browned pork belly and the confit of duck legs.

Add two generous tablespoons of duck fat. Add more stock as needed to keep it from getting too dry.

Cook uncovered one hour longer.

Preheat oven to 275°F. Transfer the mixture to a «cassole» or a Dutch oven, sprinkle generously with breadcrumbs, and bake uncovered for 90 minutes.

Serve hot at the table.
Notes
*You will need 3 1/2 ounces of pork rind; freeze any remaining for a future cassoulet.
**In the American Southwest, this is the part that is deep-fried to make chicharrones.
*** it is important to use unsalted stock when cooking the beans; salting the beans before or while they cook will make them tough. We made stock using a roast chicken carcass, onion, and carrot. You can also simply use water instead of stock.
More Notes:
- You definitely need well-made sausages. Don't use standard store-bought ones - they contain too much gristle. Find a butcher near you who makes them and get the simplest available.
- I used pork belly, but many recipes called for pork shoulder, too. I might use a bit of both next time.
- Some recipes had no duck at all. I liked the confit - it added to the texture and flavor.
- Per Nicole's recommendation, do not skimp on the duck fat - it sounds like it will make it heavier but it doesn't. This is one area where I wasn't skeptical!