Cambozola Mousse Verrines Appetizer a Touch of Glass
Some (myself included) say that French words are generally far more expressive than the English equivalent. Here, is an example Verrines of Cambozola Mousse, Spiced Rosé Gelée & Crystallized Rosemary or Cambozola Mousse served in glassware. I'll leave it to you to decide.  This appetizer is simple to prepare and can be made in advance (note: make the rosé gelée ahead).
Verrines are a wonderful way to serve a small and exquisite opener for your meal – something larger than an amuse-bouche, yet smaller than a first course. Most of all, to me, they are about beauty. … Simply translated from French, verrine means "glass casing." The glass allows its contents to shine. A well-crafted verrine is the Fabergé egg of the meal.
Let's raise a glass to that and any special meal with friends.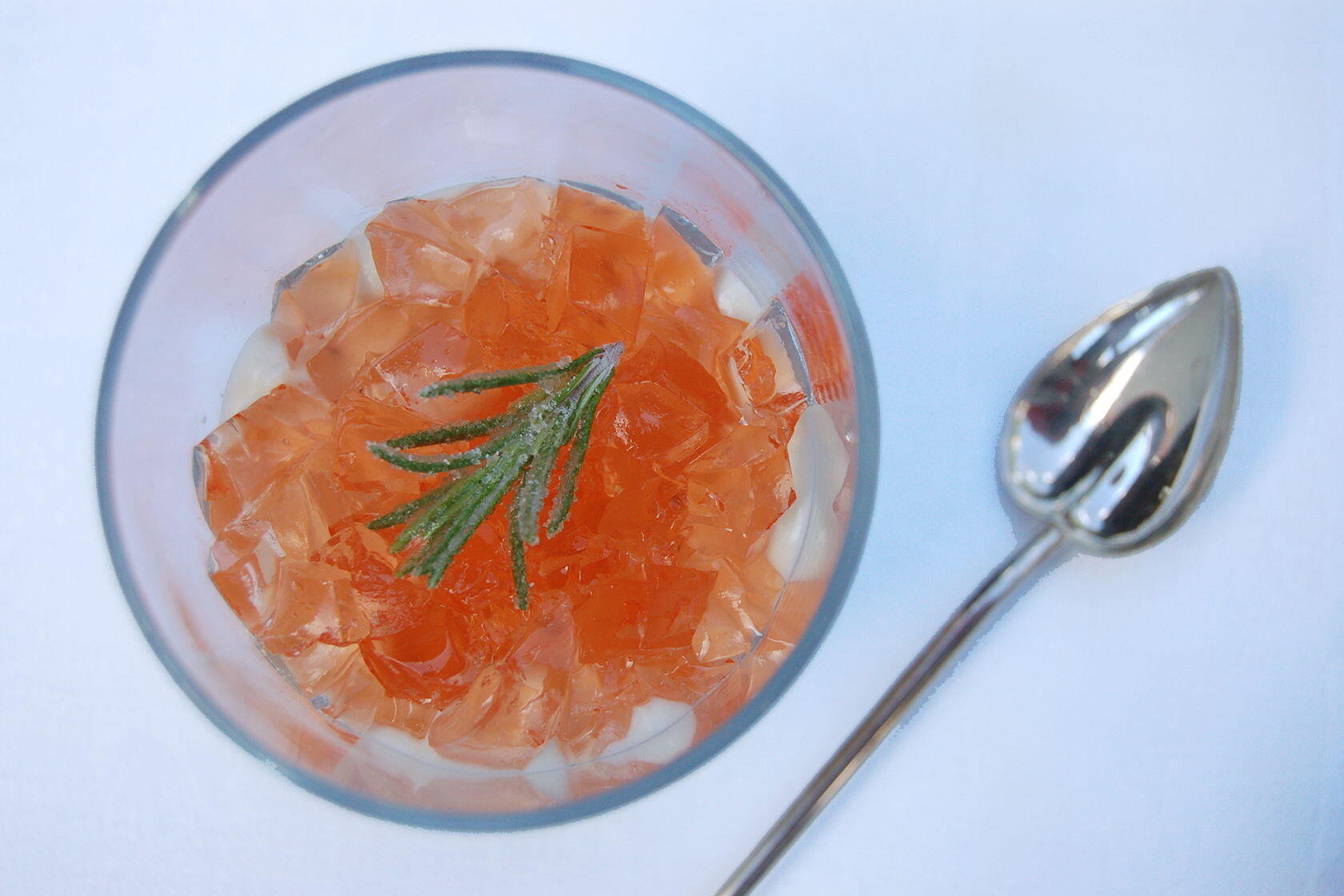 Verrines of Cambozola Mousse, Spiced Rosé Gelée & Crystallized Rosemary
There are a few steps to make this pretty (and tasty) starter, but none are complicated. Choose some of your favourite glassware to display your creation.
Ingredients
1

cup

Rose wine

from Provence (if possible)

1/2

cup

Sugar

2-3

segments

Star Anise

1

packet

Unflavored Gelatin

3

tbsp

cold water

2

Egg whites

4

small

Rosemary Sprigs

tips only

2

tsp

Sugar

6

oz

Cambozola cheese without rind

at room temperature

1/4

cup

Light cream

or half-and-half
Instructions
Lightly oil a 5-inch by 8-inch non-reactive baking pan. Line the bottom and two sides with parchment. Lightly oil the parchment.

Bring rosé, sugar and star anise to a boil in a small saucepan over high heat, stirring until sugar is dissolved.

Lower heat and simmer about 8 minutes, and wine mixture is reduced to 1 cup. Remove from heat and discard star anise.

Sprinkle gelatin over the water in a small bowl and let sit for 1 minute to soften.

Stir into the hot rosé mixture until gelatin dissolves completely.

Pour into the baking pan and chill at least 8 hours. (May be made one day in advance.)

Place the egg whites in a medium mixing bowl.

Place a small sheet of waxed paper or parchment on the counter.

Dip rosemary sprigs in the whites and shake to remove excess egg white.

Then, sprinkle each with sugar until well coated.

Place on waxed paper and set aside to dry.

Discard sugar that did not adhere. (May be made one day in advance.)

Using a hand-held mixer, beat the egg whites until stiff peaks form. Set aside.

In a large mixing bowl, using the same beaters (no need to wash), beat the cheese until smooth (the veins of blue cheese will still be somewhat lumpy), then slowly beat in the light cream until smooth and creamy.

Take a third of the beaten whites and stir in to loosen the cheese mixture.

Then gently fold in remaining whites until fully incorporated.

Divide mixture among 4 verrines.

Remove gelée from the refrigerator and unmold using a thin spatula to release the sides and using the parchment to lift out onto a cutting board.

Using a lightly oiled sharp knife, cut gelée into 1/4-inch cubes and divide among the four glasses.

Cover verrines in plastic and refrigerate until ready to serve.

20 minutes before serving, bring them to room temperature.

Top each with a spring of crystallized rosemary and serve, preferably with a Sauternes.
Notes
Note:  make the Spiced Rosé Gelée & Crystallized Rosemary the day before.