A Fig Festival and a horse in a flat-cap
I can't help it – I'm a sucker for a local Festival in France – so you can imagine I was delighted when, on a planned bike ride last week, we arrived in Saint Didier and noticed a sign for the Fig Festival taking place in Caromb that day.

Continue reading here for the original Vaucluse Dreamer article.
Recipes with Figs
Cheese plate with Seasonal Figs
The quantities will vary depending on the numbers at your table. However, as a rule, provide a selection of cheeses from mild to strong. You can prepare individual plates for each person or one larger board allowing everyone to select their favourite cheeses.
Check out this recipe

Sourdough Toasts with Melted Cheese, Figs and Grapes
Make this recipe as an appetizer or a lunch dish served with a green salad.
Check out this recipe

Fig Tart with Orange Flower Custard
This is a delicious tart, easy to make a perfect way to use up those figs that your guests brought to your dinner party.
Check out this recipe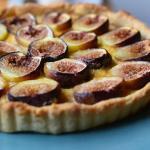 Stuffed Zucchini Flowers with Goat Cheese, Figs and Ham
Sadly, zucchini flowers and figs are only available for a short time in Provence, but if you can source both, this colourful creation will have your guests begging for more.
Check out this recipe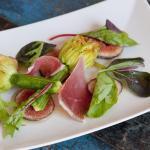 Duck Breasts with figs
This main dish is a recipe from Hilda it is easy to prepare and a perfect savoury pairing with duck and figs. According to Hilda, "This is a truly moorish dish that is so simple to make."
Check out this recipe