Yes, I Cannes 2022 Film Festival and More!
Cannes, Where the Business of Film, Creativity, and Fashion Collide!
Cannes 2022
The Cannes 2022 experience is about networking, screenings, Marché du Film, the International Pavilions, parties, fashion and unique culinary experiences. The best places to network depend on your own goals. Party invites, screenings, lectures/seminars, International Pavilions, and the Marché du Film are excellent places to start, and there is much crossover between creative/production/sales. Signing up for seminars can provide access to execs who are hard to meet otherwise.

Film Festival Picks
My favorite red carpet screening was Frère et Sœur, shown at Le Grand Théâtre Lumière and starring Marion Cotillard and Melvil Poupard, directed by Arnaud Desplechin. It is a poignant story of siblings who lose their elderly parents and are left to scrabble with each other while trying to resolve 25 years of sibling conflict and estrangement. It was an emotional roller coaster that left me a little uncertain at the end of the film, trying to understand the depth of the conflict between the brother and sister co-stars. Yet the movie was engaging, and I came away with some new thoughts on family dynamics!
Cannes Fashion
The best fashion moments were at the Majestic Hotel Lobby and the red carpet at the Palais des Festivals. In particular, the hot pink tulle gown worn by Spanish journalist and TV reporter Marta Riesco was divine and flowed like clouds in a breeze. Also, French stylist and fashion brand Subsaharienne Couture showcased a fabulous organza light pink hat that was elegant, dynamic and a head-turner!

Festival Food
My favourite red carpet (le tapis rouge) dessert was the Pavlova at the well-known seafood restaurant, Astoux et Brun, 27 rue Felix Fauvre, in the Suquet, a 3-minute walk to the Palais du Festival. It was a towering masterpiece made with Pavlova rounds, freshly cut strawberries, coulis, strawberry cream and fresh mint. This dessert is truly a mini-architectural wonder.

Movie Stars
The most talked-about American actors included Julia Roberts, Tom Cruise, Jennifer Connelly, Anne Hathaway, Mena Suvari and Eva Longoria. Then, of course, there was lots of buzz about French actors Léa Seydoux and Marion Cotillard. My favourite British actors at Cannes include Anthony Hopkins, Idris Elba, and Tilda Swinton. Spanish actress Rossy de Palma rocked the red carpet, as she always does! Actors from around the globe are continuing to celebrate the magic of film this week.

Movies and PJs
The best XR Cinema (extended reality) experience is called Le Musk by A.R. Rahman. It is a 6-minute sample of a 36-minute film that demonstrates how strongly memories tie to scents. Extended reality is a broad term for augmented, virtual and mixed reality. So put on the VR goggles and headphones and enjoy the experience – booth E17, Positron, Marché du Film.
No trip to the Cannes Film Festival is complete without an invite to a pyjama party. This year it was at Villa Cannois overlooking the Mediterranean. The particular PJ bash we attended this year showcased guests wearing loungewear, PJs, robes, kimonos and negligees.
As of the 23rd of May, I have left Cannes before the official Closing Ceremony but stay tuned to the news to discover the Palm d'Or winner on May 27th.
Cocktails for Cannes
Red Carpet Mojito
This is an easy drinking summer cocktail (maybe too easy). Gather some fresh berries, ice and mint for a refreshing toast to summer and the movie stars at the Cannes Film Festival.
Check out this recipe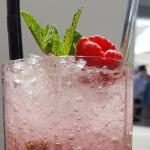 Pink Elephant Martini Cocktail
This cocktail is festive, fun and easy to mix. Enjoy!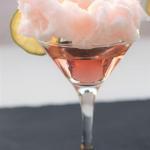 Pure Rosé Cocktail Recipe with rose ice cubes
The most time-consuming part of this drink recipe is making the ice cubes in advance. Find some beautiful miniature roses and freeze them in ice cube trays with water. The cocktail is delicious (of course), but the frozen rose ice cubes make the presentation.
Check out this recipe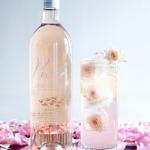 ---
The Cannes "Dream Team"