Summer Cocktail: Red Carpet Mojito is a Toast to the Cannes Festival Du Film
My favorite Cannes cocktail for the 71st Cannes Film Festival 2018 is the fiery crimson Red Carpet Mojito from the Plage Magestic 71 Lounge.  This charming local is located on the beach side of La Croisette opposite The Majestic Barrière and just steps away from the Palais du Festival, where much of the red carpet action takes place.
Between star gazing, attending a screening at the Olympia Theatre and ogling the red carpet fashion shows, I had the opportunity to cruise the Cannes Hot Spots.  I enjoyed every luscious moment on the Cote d'Azur trying cocktails up and down the Croisette.  It's a great spot for people watching with a view of the yachts and their passengers in the old port.  Then there is the helipad where many guests are dropped off at the numerous parties, screening and meetings known as the wonder of The Cannes Film Festival.  You may have seen one of your favorite actors here –  I was hoping to rub shoulders with Penelope Cruz, Javier Bardem, Cate Blanchett, Kristen Stewart, Pierce Brosnan, Léa Sedoux, Maria Borges, Benicio Del Toro, Chris Tucker, Adrien Brody, John Travolta, Sonya Rolland or Charlotte Le Bon, to name a few, before closing ceremonies.
Today, however, I was much more focused on discovering the "it drink."  The Red Carpet Mojito is not your ordinary mojito!  It is guaranteed to be the most refreshing cocktail you'll find.  It will take the edge off for your meeting movie moguls who may just invite you to a yacht soirée.
Whether your interest is in film, fashion or simply the fanfare during festival season or whatever reason brings you to Cannes, try the Red Carpet Mojito at the Magestic Plage 71 and ask for Giorgio!
If you would like to make this Red Carpet Mojito at home for your summer guests, the recipe follows: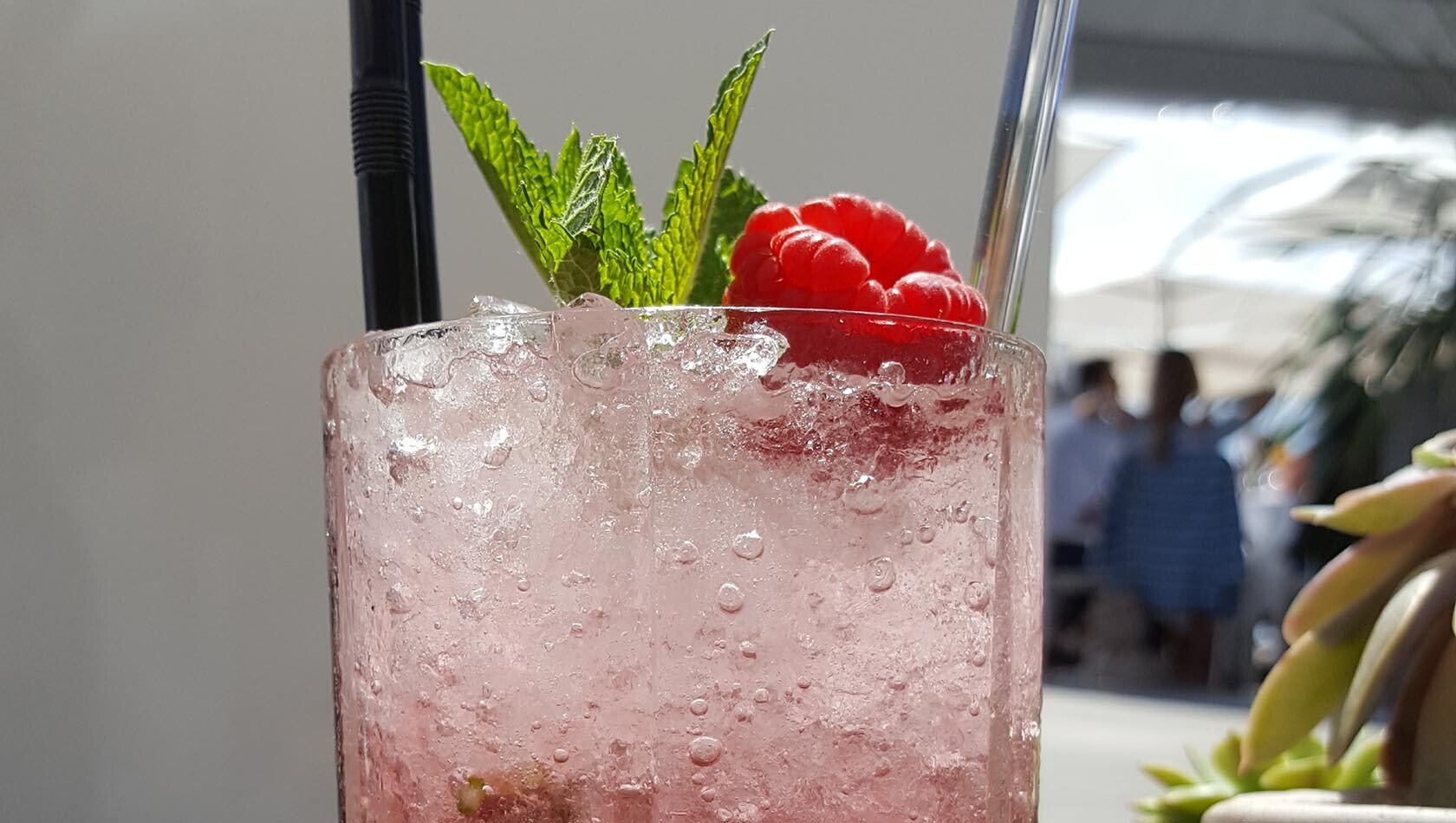 Red Carpet Mojito
This is an easy drinking summer cocktail (maybe too easy). Gather some fresh berries, ice and mint for a refreshing toast to summer and the movie stars at the Cannes Film Festival.
Ingredients
4

Lime Wedges

2

strawberries

muddled

2

Raspberries

muddled and 2 whole raspberries for garnish

1/3

of glass

Lemon Soda (Sprite)

or soda water

4

Mint Sprigs

2

tsp

Sugar

Crushed ice

2-3

shots of

White Rum
Instructions
Start with strawberries, raspberries, sugar and mint leaves and muddle them in a bowl.

Squeeze and then drop in a tall glass 4 lime wedges with the muddled fruit and mint.

Add lemon soda and top with your very best white rum.

The result a beautiful crimson cocktail that is minty, fruity and has just the right amount of alcohol!

Garnish with lots of fresh mint and raspberries.
Notes
Drinkware: Tall glass
Served: On the rocks; poured over ice with a straw
Garnish: Sprigs of mint and fresh raspberries