What's on at Fondation Vincent Van Gogh in Arles
Until the end of October, Fondation Vincent van Gogh Arles presents an exhibition bringing together new works by the American artist Laura Owens with seven paintings by Van Gogh, most made in and around Arles.
Van Gogh hardly needs an introduction but here's what the gallery writes about Laura Owens:
"Owens is one of the most celebrated American artists working today. For twenty-five years she has asked probing questions about the parameters of painting. She has expanded painting's possibilities by breaking through the boundaries between painting and other fields of visual and material culture such as embroidery, design, children's illustrations and digital drawing. In this exhibition, Owens's works will host and respond to Van Gogh's paintings. Owens spent most of 2020 living in and around Arles, and her new work comes out of meticulous research into the history of the city and of Van Gogh's connections here".
"Like most artists, Owens has known Van Gogh's work since she was a child, and she has looked at his art in various ways throughout her career. One of her breakthrough paintings, now in the collection of the Whitney Museum of American Art, Untitled (1997), shows black birds over a seascape, reminiscent of Van Gogh's Wheatfield with Crows (1890). Owens's conceptual use of dramatic impasto, especially since 2012, recalls the textures of Van Gogh's best known works."
"The seven Van Gogh paintings to be shown at the Fondation Vincent van Gogh Arles include loans from museums with which Owens has a deep connection. Hospital at Saint-Rémy (1889) comes from the Hammer Museum in Los Angeles, the city where she lives when not in Arles. Other key loans include The Fields, painted in Auvers-sur-Oise shortly before Van Gogh died."
Original contributor post by: Aixcentric
Prepare for your Visit
Fondation Vincent Van Gogh
35 ter, rue du Docteur-Fanton
13200 Arles
Book your tickets online here.
Open daily from 10 am to 6 pm
Last admission at 5:15 pm
Telephone: +33 (0)4 90 93 08 08
---
Things to Do in Arles
Plan to visit LUMA Arles, a stylish arts centre, funded by Swiss industrialist and art-lover Maja Hoffman. "Luma Arles is a cultural centre dedicated to providing artists with opportunities to experiment in the production and presentation of new work in close collaboration with other artists, curators, scientists, innovators and audiences." ~ About LUMA
New Roman Sites. One day, this incredible find will be available for view. I discovered a dig that has been progressing on the opposite bank of the Rhône River (from Arles), at Trinquetaille. Underneath an 18th-century glassworks, now a 'monument historique,' they have uncovered a group of Roman houses, many with mosaic floors. The fresco in the illustration was found in a first century BC house that they've dubbed La Maison de la Harpiste'. In the style of paintings in Pompei and Herculaneum, it's unique in France.
Discover Vincent Van Gogh's Arles. Arles is an excellent example of the adaptation of an ancient city to medieval European civilization. It has some impressive Roman monuments dating back to the 1st century BC. These include the arena, the Roman theatre and the cryptoporticus (subterranean galleries). During the 4th century, Arles experienced a second golden age, as attested by the baths of Constantine and the necropolis of Alyscamps. In the 11th and 12th centuries, Arles once again became one of the most attractive cities in the Mediterranean. Within the city walls, Saint-Trophime, with its cloister, is one of Provence's major Romanesque monuments.
Marius Where to Shop in Arles for Artisan Creators. One more reason to visit Arles, a boutique filled with local Provencal artisan creations. Elsa Lenthal, the creator behind Fuseaux de Lavande and one of Marius' artists, answered our questions about this concept store.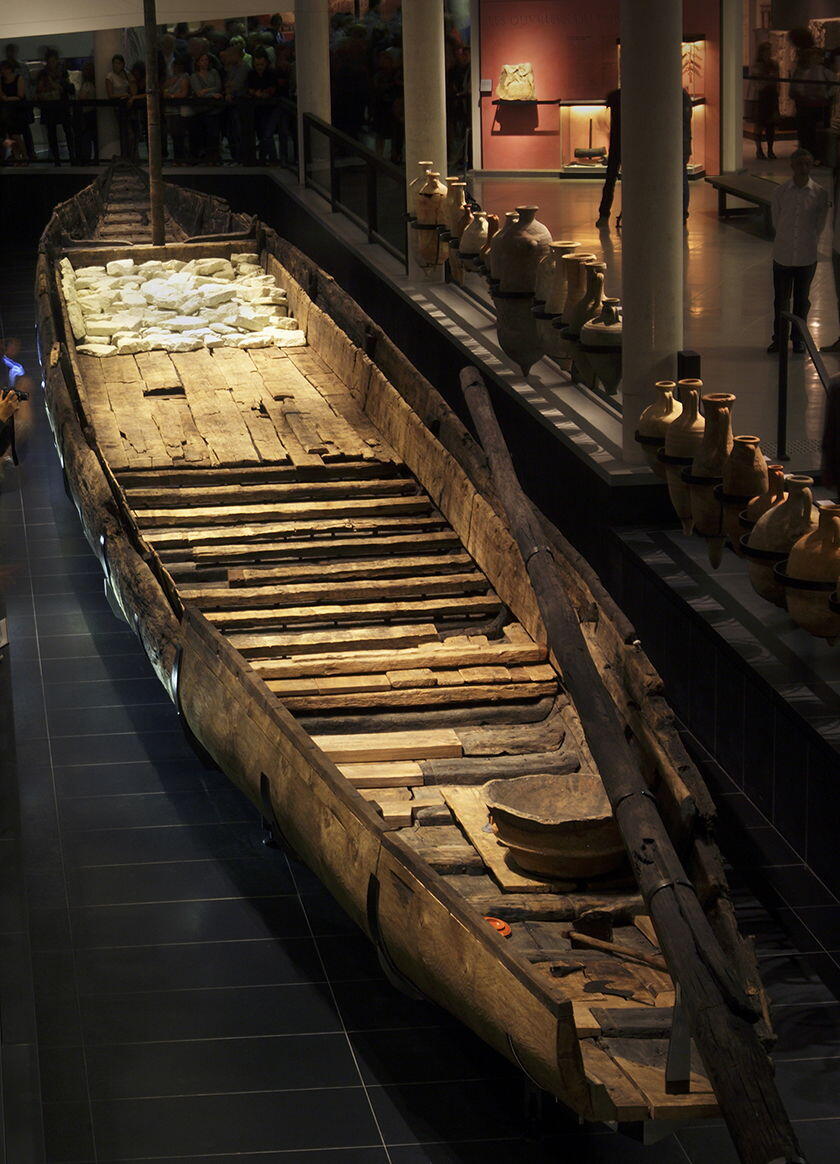 A Roman Barge and Other Treasures of Arles. Arles was once an important Roman town, a trading centre with a major port. Barges with cargo from all over the Empire plied the waters of the Rhone River. Around 2,000 years ago one of those barges sank. It lay there quietly, covered by mud until scientists surveying the river discovered it about ten years ago. You would think that a ship that old would have dissolved by then. But no! The mud had protected the wood from decay. That was the good news. Head to Musée départemental Arles antique to see this incredible piece of history.
All rights reserved. Perfectly Provence articles and other content may not be published, broadcast, rewritten (including translations into other languages) or redistributed without written permission. For usage information, please contact us.
Syndication Information
Affiliate Information
As an Amazon Associate, this website earns from qualifying purchases. Some recipes, posts and pages may have affiliate links. If you purchase via these links, we receive a small commission that does not impact your price. Thank you in advance for supporting our work to maintain Perfectly Provence.