Visit Avignon for Festivals, Food and Popes
The Papal City
Avignon is 40 km southwest of Sablet, snuggled inside ancient walls along the Rhône River. The largest town in the Vaucluse, Avignon is very old, full of history, art, music and activity. I can spend hours wandering the narrow streets inside the fortified walls without getting bored.
We head to Avignon for the shopping, for kids' clothes and recently to visit the Nespresso Boutique, near Place de l'Horloge, to buy espresso capsules to take back to California. It's a great place to meet up with cousins for lunch at one of the town's many restaurants. On our last visit, Shirley headed off to shop, she prefers to shop by herself so that she can do so at her leisure, and I went off to visit Avignon and take pictures. Continue reading here for more on visiting Avignon in this contributor blog post by Michel at Our House in Provence.
In and Out of Avignon
Today, the city of Avignon is a large, sprawling urban centre with over 90,000 residents. Trains from Paris (2 1/2 hours), Marseille, and the French Riviera arrive at Avignon's TGV station. From there it's a quick transfer to the historical centre, the old part of Avignon. The restored ramparts surround the ancient city, inside those massive stone walls – intramuros – lies a fascinating centre well worth exploring.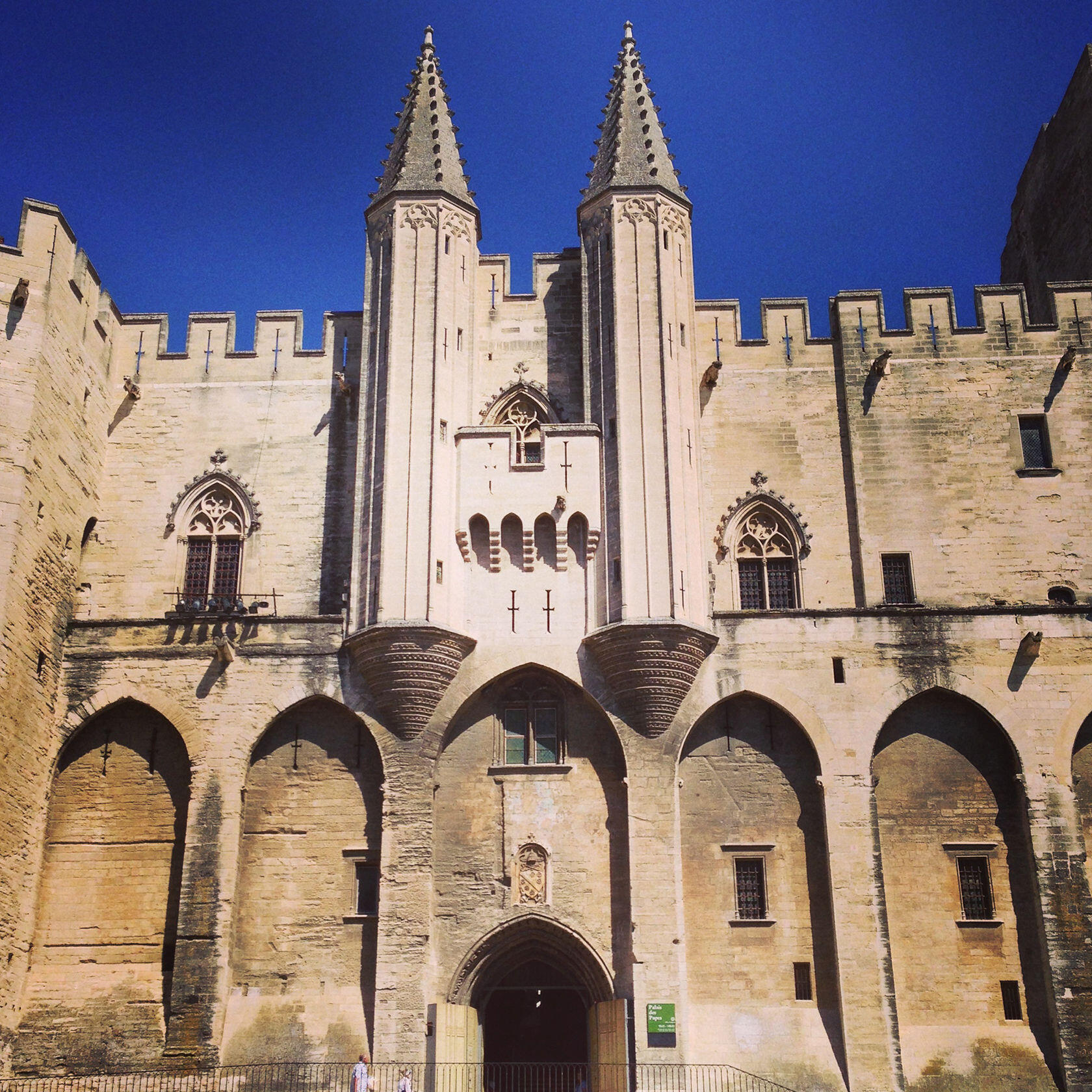 It was a succession of French Popes who had Avignon's magnificent Palais des Papes built.  From 1309 to 1376, these Popes held the seat of the Catholic Church in France (not Rome). The first French Pope was Clement V assumed the role after a dispute and the last was Pope Gregory XI.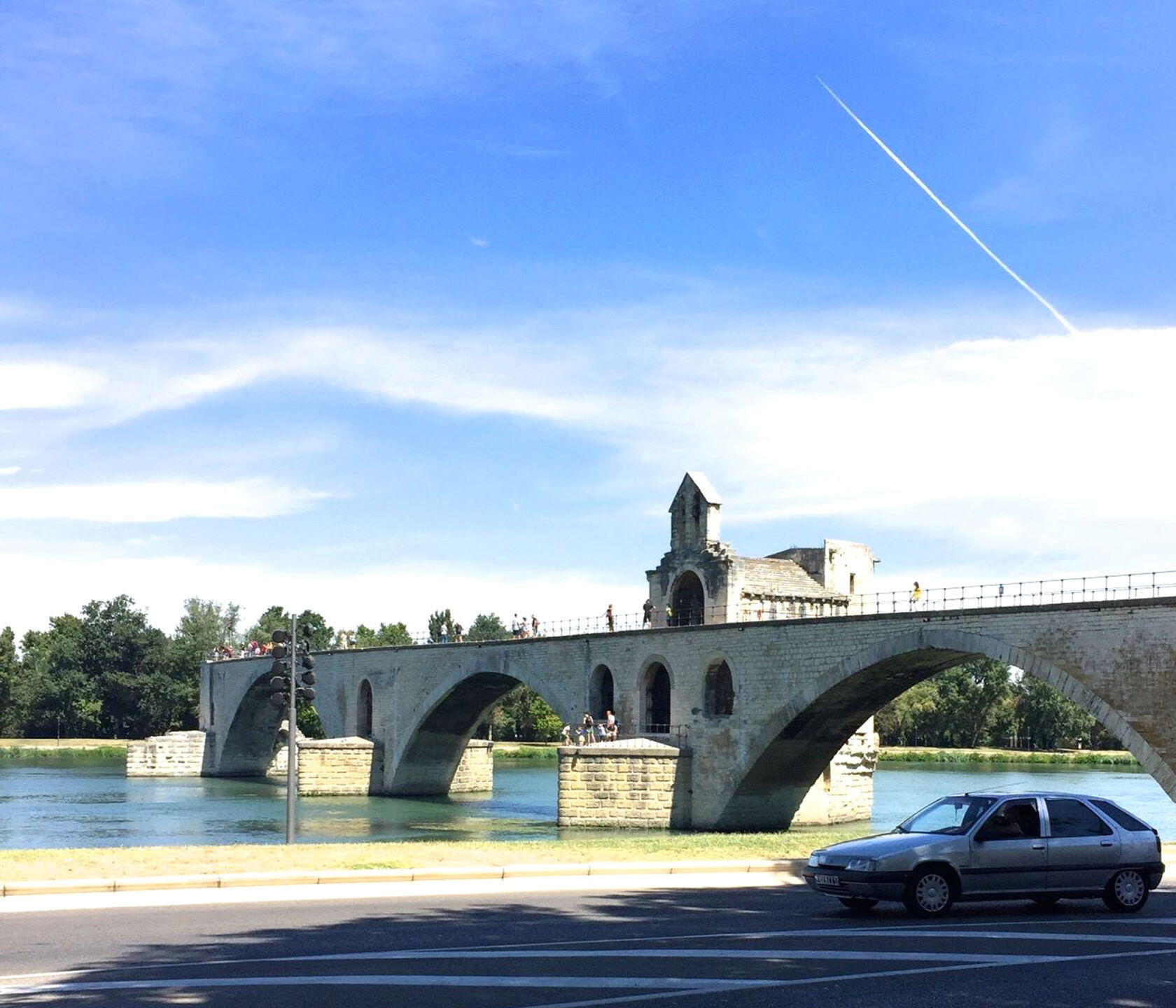 The other reason for Avignon's fame is the famous bridge le Pont d'Avignon (Pont Saint-Bénézet) on the Rhône River. The French folk song "Sur le Pont d'Avignon" commemorates this bridge. First-time visitors are surprised by the partial bridge deck, with only 4 of  22 arches remaining from the medieval structure.
Culture and Sumer Fun
For a relatively small geography, the Avignon collection is immense. There are 1,200,000 works of art, objects of interest and archival documents. Avignon Musées is an initiative spearheaded by Cécile Helle Mayor of Avignon 1st Vice President of Greater Avignon. The concept showcases the incredible artistic heritage of the city via shared programming across five museums.

Since 1996, Musée Angladon-Dubrujeaud is a private museum in the center of Avignon that displays masterpieces from Degas, Cézanne, Sisley, Van Gogh, Picasso, Modigliani. The collection is in the home of the museum founders, Jean and Paulette Angladon-Dubrujeaud. They were the heirs of this famous Parisian couturier and collector Jacques Doucet.
On and Off Festival fun! The Avignon Festival has defined its slogan of "World's Largest Theater." Indeed, every day there are in 2,400 shows taking place in the framework of this event. This creative madness does not help the visitors to choose between the many opportunities offered to them.
Festival d'Avignon July 3-23, 2020
Festival Off Avignon July 3-26, 2020
Need a spa break after all the fun?  Head to Auberge de Cassagne & Spa just minutes from the old centre.
Eating and Drinking in Avignon
Don't miss the indoor food market, Les Halles. Skip your hotel breakfast and sit at one of the cafés inside the market for a good coffee. Soak up the authentic atmosphere by staying at the counter, and soon a local might begin a conversation with you. Fancy a pastry with your coffee? Grab a delicious buttery brioche or pastry at Boulangerie Violette, there's no better way to start your day! Discover tours for food lovers' Avignon.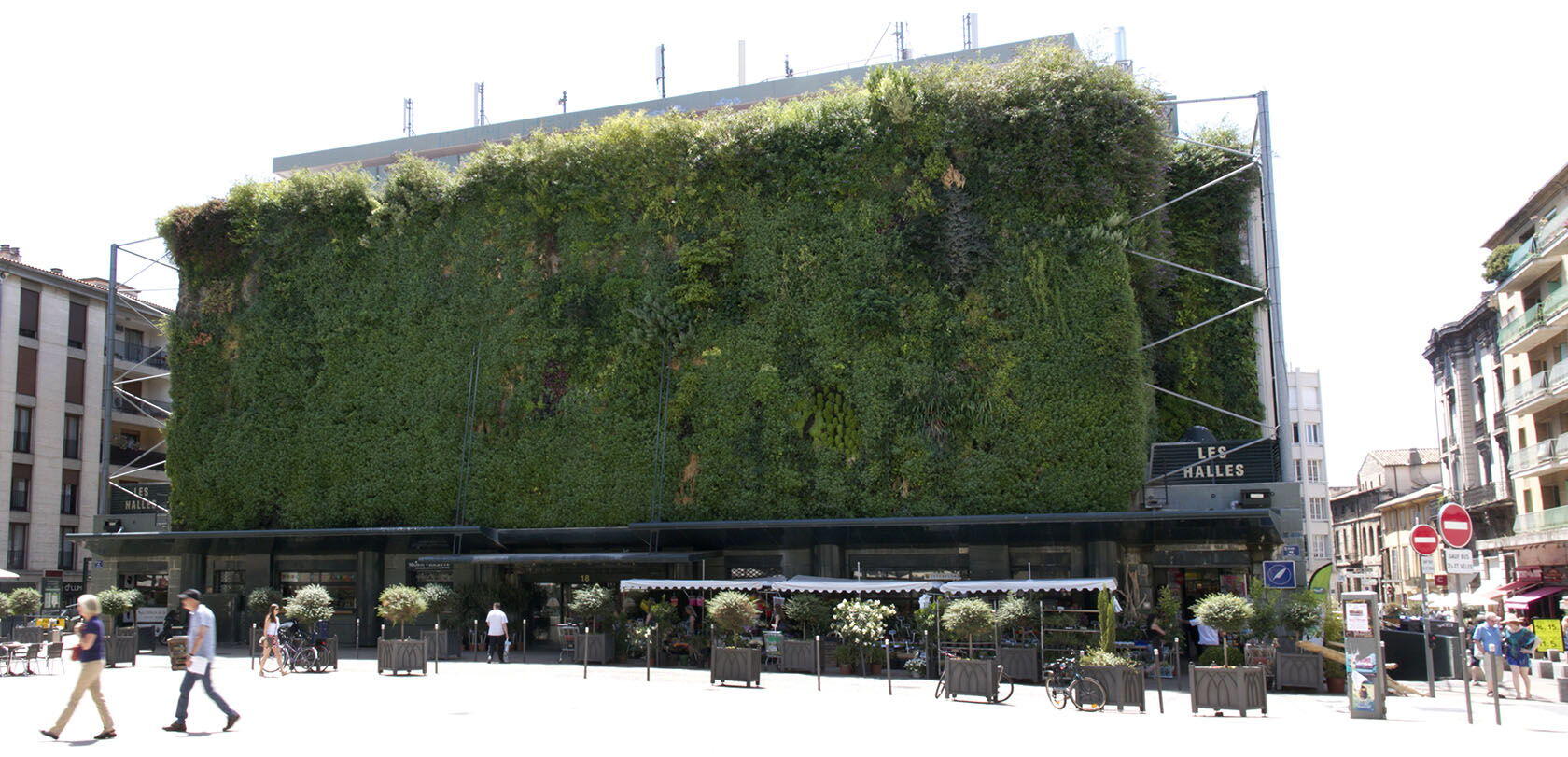 L'Agape Restaurant
21 Place des Corps Saints
84000 Avignon
Tel: +33 (0)4 90 85 04 06
Italie-là-bas for Sunday lunch, or anytime.
23, rue de la Bancasse
84000 Avignon, France
Tel: +33 (0)4 86 81 62 27
The following suggestions come from Phil – An Englishman in Avignon.
Maison Bronzini in Villeneuve-les-Avignon a good Sunday brunch. Their olive mill dates from 1358 (refurbished under new ownership in 2008). There is a patisserie, tearoom, and restaurant.
74, rue de la République
30400 Villeneuve-lès-Avignon
Tel: +33 (0)4 90 25 45 59
Aubergine, also in Villeneuve-les-Avignon for typical local cuisine.
15, rue de la République
30400 Villeneuve-lès-Avignon
Tel: +33 (0)4 90 90 05 64
Le Bercail, on the river bank opposite Pont Saint-Bénézet. This restaurant is a beautiful place to relax over dinner at sunset.
162 Chemin des Canotiers,
84000 Avignon
Tel: +33 (0)4 90 82 20 22
Le Potard, a local burger place.
19/21 Place de la Principale
84000 Avignon
Tel: +33 (0)4 90 82 34 19
All rights reserved. Perfectly Provence articles and other content may not be published, broadcast, rewritten (including translations into other languages) or redistributed without written permission. For usage information, please contact us.
Syndication Information
Affiliate Information
As an Amazon Associate, this website earns from qualifying purchases. Some recipes, posts and pages may have affiliate links. If you purchase via these links, we receive a small commission that does not impact your price. Thank you in advance for supporting our work to maintain Perfectly Provence.