An Englishman in Provence Loving Expat Living in Avignon
In early 2018, when the opportunity to relocate to Provence presented itself Phil Chandler and his partner jumped at the chance to escape from the "rat race" in England. Leaving behind his own successful business in the United Kingdom (UK) Phil is now pursuing a career as a freelance travel writer, blogger, aspiring photographer and content creator. Phil is documenting the adventures and mishaps of his journey on his blog – An Englishman in Provence. Their move to Avignon was relatively easy, however, adjusting to life as an expat has delivered a few challenges.
Recently, we interviewed Phil about their early impressions of Avignon, exploring the South of France and expat living in Provence. Here, is what he had to say:
Loving Provencal Lifestyle
Before you arrived in Provence what did you think was attractive about the lifestyle?
From the outside looking in, the chance to move to Provence appealed to me immensely. Coming from the UK, the obvious attractions were excellent weather, food, and wine. Once we settled in here, I quickly fell in love with the diversity of the landscapes. I love the history and culture right outside our doorstep. Coming from a smaller rural city in the UK, the pace of life in southern France appeals to me.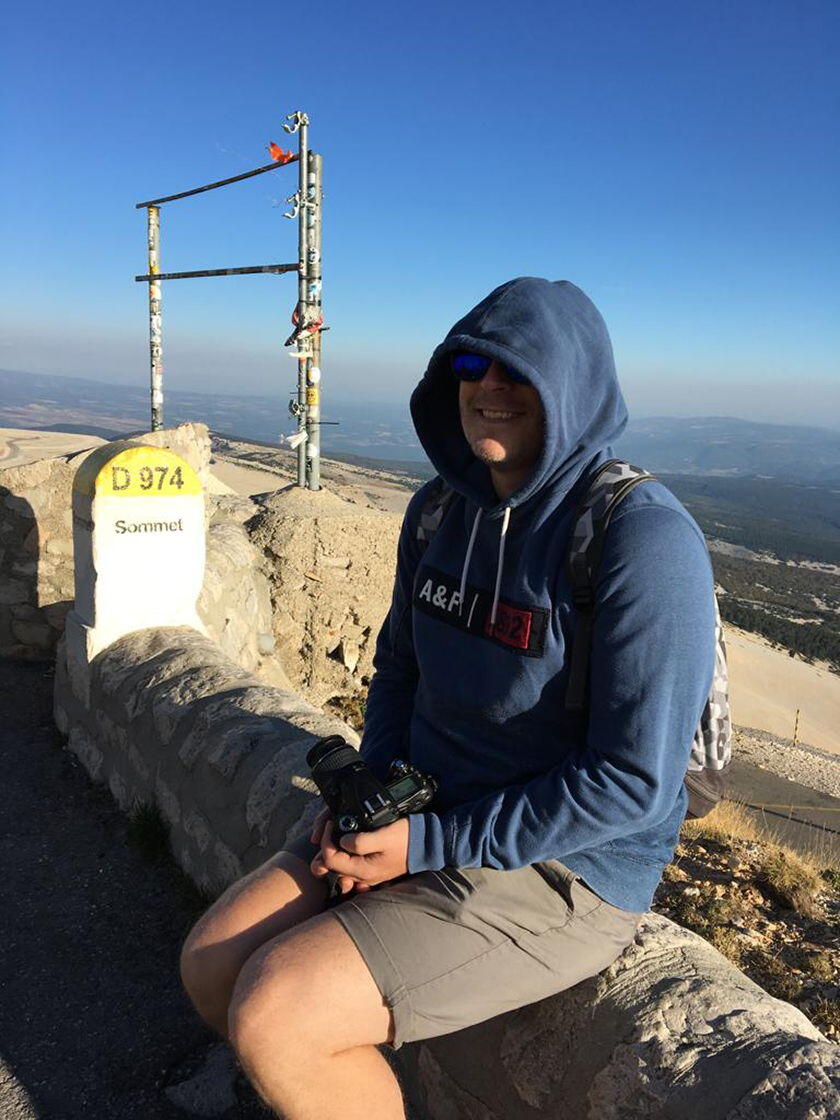 The biggest surprise when we arrived was the wind, WOW that Mistral. When it blows, it's incredible; I would never have believed a wind could be so powerful. I was also amazed by how much the French love their paperwork and bureaucracy. Be forewarned; everything (car registrations and bank accounts, services and amenities) takes a lot longer here than in the UK.  All these things proved to be a real headache at the start. It also came as a surprise how little English was spoken outside the city centre and tourist areas. However, it seems that the French are always open to trying to practice English when they can.
Life in Provence revolves around food. How would you describe the food in the region to someone who has not visited?
What are you waiting for? Get over here now! Come and enjoy the vast range of flavours and variety that we don't get back home. Every day it seems we discover some new and fantastic dishes to try. We are spoiled for choice, and we love eating with the seasons and exploring the markets for local delicacies.
How did you find accommodation?
When we first arrived, we rented an Airbnb for one month. This rental worked very well for us as we saved a lot of money by agreeing to take the apartment for this length of time. It gave us a central base in Avignon to start looking for a long-term rental. After that, we started contacting local agencies for small rental apartments. We soon found something we liked for a more permanent basis after a few viewings in the area.
Can you describe living in Avignon?
Avignon suits us to a tee. We wanted somewhere that wasn't completely isolated. We also need good transportation links for local and long-distance travel for work. For us, Avignon ticks all those boxes. It's got plenty going on throughout the year to keep us busy and entertained yet it's not too busy or noisy either. We have all the high street shops you could need. For us, the fact that Avignon is a tourist-oriented place means the locals have plenty of exposure to a diverse group of people on a regular basis.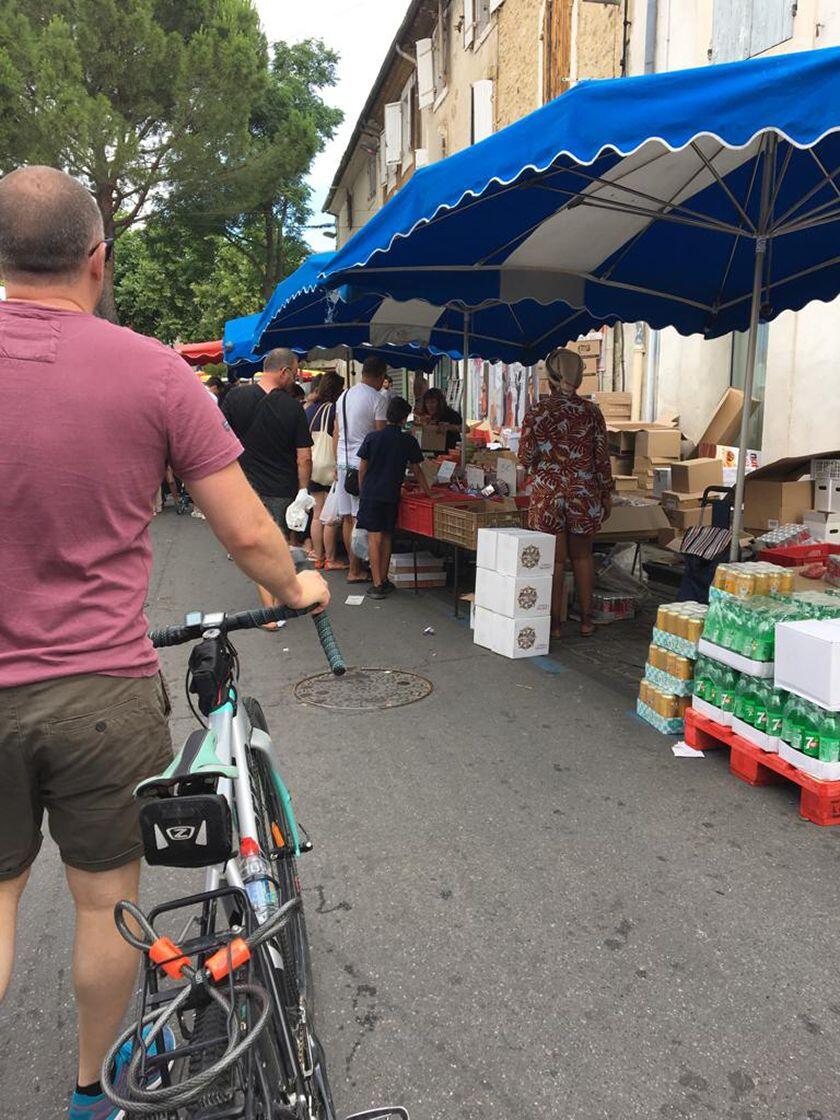 Do you have some favourite places to eat and drink in Avignon?
We are still pretty new to the area and learning as we go, but we have managed to try a few places out. I am yet to try a restaurant that I wouldn't return to myself, which I always think is a good sign of quality.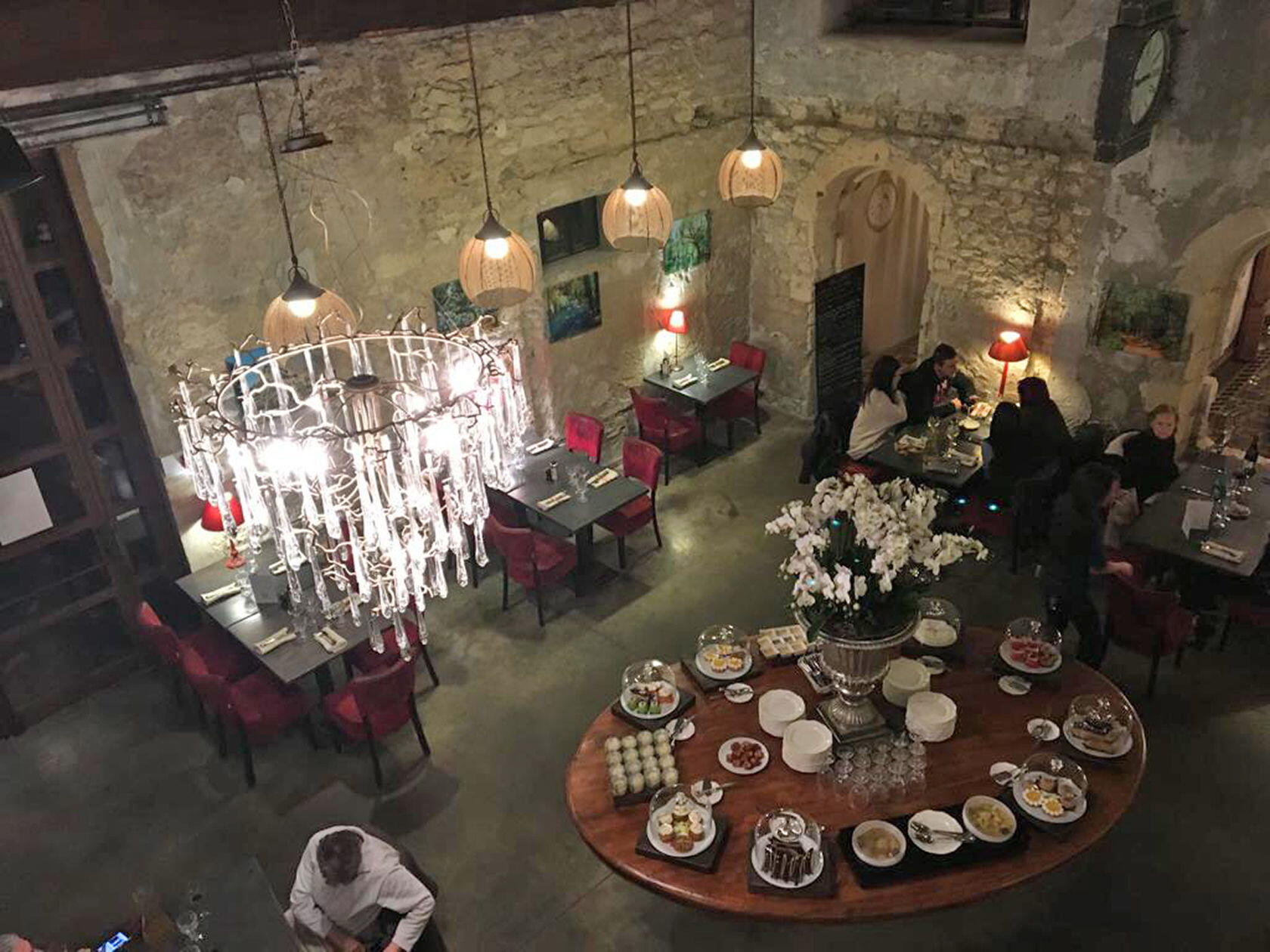 Maison Bronzini in Villeneuve-les-Avignon where we like the Sunday brunch. Their olive mill dates from 1358 (refurbished under new ownership in 2008). There is a patisserie, tearoom, and restaurant.
74, rue de la République
30400 Villeneuve-lès-Avignon (see map)
Tel: +33 (0)4 90 25 45 59
Aubergine, also in Villeneuve-les-Avignon for typical local cuisine.
15, rue de la République
30400 Villeneuve-lès-Avignon (see map)
Tel: +33 (0)4 90 90 05 64
Le Bercail, on the river bank opposite Pont Saint-Bénézet. This is a beautiful place to relax over dinner at sunset.
162 Chemin des Canotiers,
84000 Avignon (see map)
Tel: +33 (0)4 90 82 20 22
Le Potard a local burger place.
19/21 Place de la Principale
84000 Avignon
Tel: +33 (0)4 90 82 34 19
As my partner is Italian, a couple of Italian restaurants: Basta Cosi and Pizzeria il Capo, both are very good.
How would you describe living in the city during the Festival d'Avignon?
Awesome would be the best way to sum it up. Being very new to the area, we were unprepared for the festival this year, which is a mistake I intend to rectify next time. People had tried to explain to us how busy Avignon gets during the festival. We did purchase the Avignon OFF card to take advantage of local discounts, but we were amazed by the size of the festival. We managed to catch a couple of shows and took in a few of the street performances going on around the city. I can't wait for next year now to go in eyes wide open and fully prepared next time.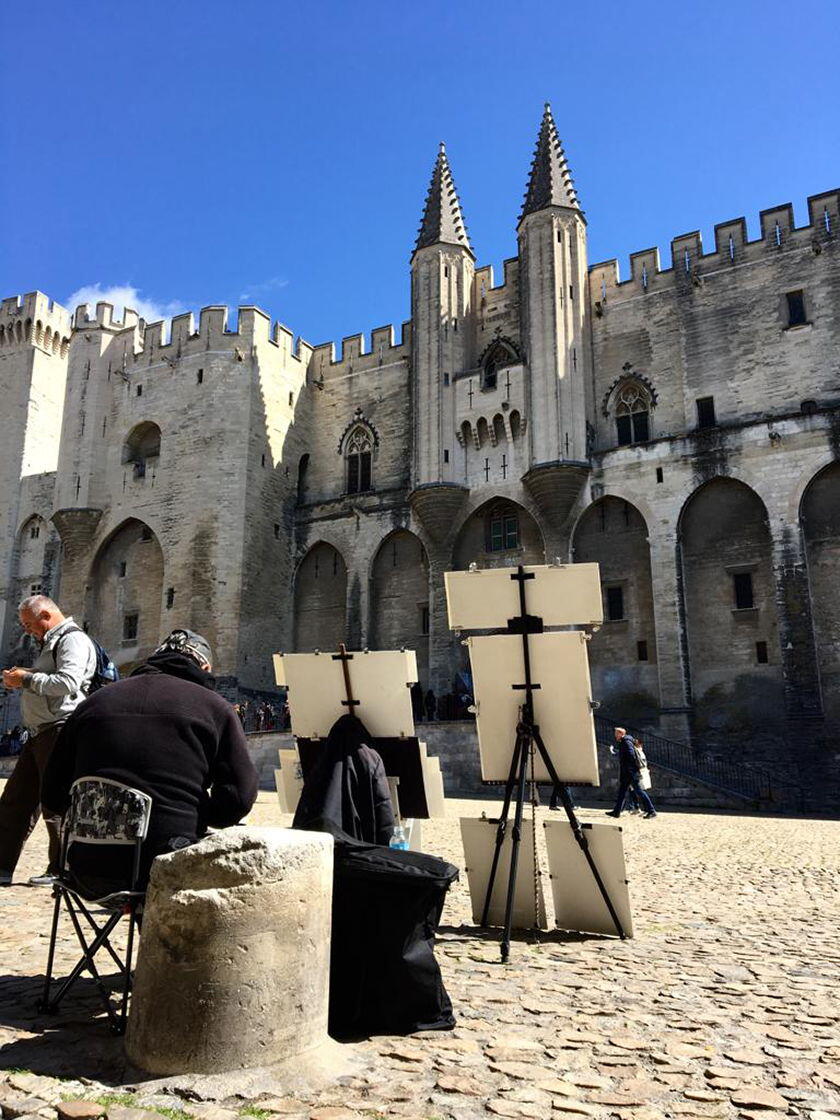 If friends from the UK were planning to visit, what are the five (5) things you would suggest they not miss in Avignon?
Les Halles for the food and wine and soaking in the market atmosphere.
Antique/Flea/Food Markets around Avignon and Villeneuve-les-Avignon.
Palais de Pape and the views from the palace gardens at sunset.
Walking along the river at Ile de la Barthelasse. Taking in the view of Pont Saint-Bénézet and the ramparts from the other side of the Rhone.
In the summer, the ferris wheel is another great way to take in the city views.
I would also suggest that Avignon is worth the visit purely for the cuisine alone.
What are your favourite things to eat in Provence?
Crepes, tarts, baguettes, saucisson, fromage. The list goes on. Even the range of fruits and vegetables from the local markets are so much more varied from what we are used to in the UK. We love to try something new at least once every week, and we can eat with the seasons here with abundance, it's fantastic.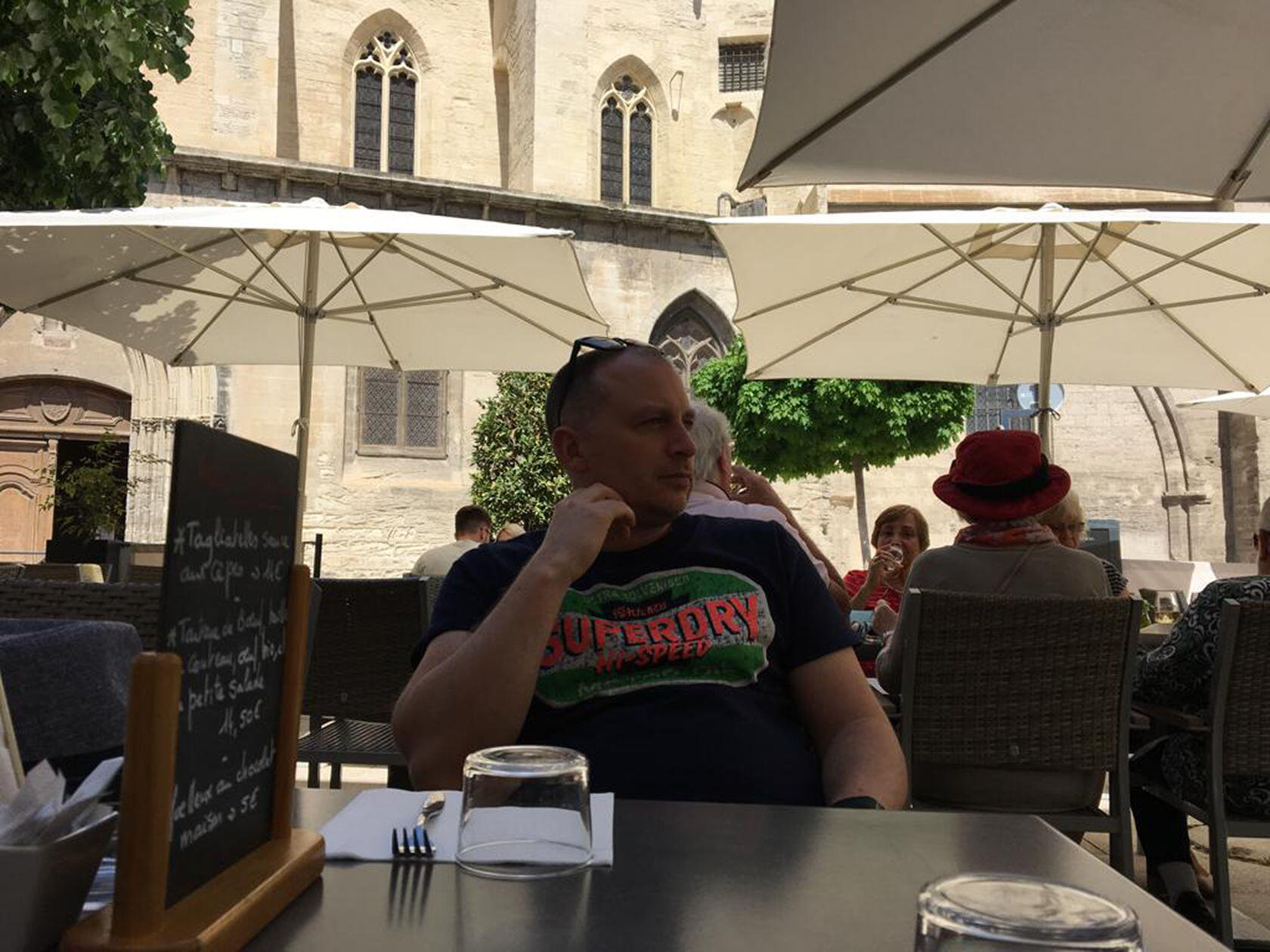 Expat Living in Provence
How would you rate your French language skills?
Improving day by day, but I am still very much a learner at this stage. I can get by, asking for directions, or what I need in shops. But I still struggle to make full sentences or have full conversations with people.
What about French language skills for an expat in Provence?
Don't be fooled into thinking everyone speaks English here, because they don't. It is spoken, but not everywhere. I strongly suggest taking French lessons. Use some online courses or do anything you can to improve your language skills. You will need to without a doubt if you intend to stick around at all. In Avignon, it's a big tourist town, so you can just about get by with a basic level of French knowledge.
What resources have you found to improve your language skills?
I started, as many others have, by using Duolingo on my phone. I soon found other methods more useful for me. I recommend looking for courses or language exchange groups in your area. That is working very well for me right now. I also read children's books and listen to French radio stations throughout the day. I have subtitles on in French if we ever watch any TV in the evenings as well. Every little bit helps.
What resources might you recommend to expats and those considering a move (or short-term stay) to Provence?
As mentioned, Airbnb was a good starting point for us. We were able to secure a month's accommodation at a great deal.
We discovered Leboncoin as an excellent place to pick up bargains such as used household items. The website (like Craigslist in the US or Gumtree in the UK) is where I found my bicycle and my first French teacher.
I would also say the language exchange group that I joined has been invaluable. The group meets every Wednesday and Friday from 5 pm to 7 pm at Camili Books and Tea in Avignon. Anyone is welcome, it's free, informal and we chat in both French and English.
Camili Books and Tea
2nd hand English books and tearoom
155 Rue Carreterie,
84000 Avignon (see map)
Open Monday – Saturday 12h-19h
Tel: +33 (0)4 90 27 38 50
You need plenty of patience, to navigate the bureaucracy here for paperwork, bank accounts, services, registered with doctors etc.. It's unbelievable how many hoops you need to jump through here to get anything done. Proof of address is critical, but it took us around eight (8) weeks to get a bank account.
Other than that, you need a spirit of adventure to get out and explore.
How easy is it to meet other expats?
I have met a few so far, through the French/English group that I attend in Avignon. There are other groups you can join locally that are there to help newcomers integrate. At this point, we haven't had time to join any groups. If you do your online research, you will find plenty of expats in the region.
Is it easy to meet French nationals?
My only real experience with this so far comes from the language exchange group. Here, I have met some interesting French people from all walks of life, age ranges and other parts of the country. I am sure I will build some great friendships going forward. Other than that, I have met other people at a local gym, and a bicycle workshop in the city. The key is finding mutual interests, and you will be fine. It does take time to integrate here, but it's not that difficult if you try.
What would you say is the best thing about expat living in Provence?
For me, the best thing has to be the experience itself. I love learning new things about Provence every day. The chance to visit exciting places, meeting people, trying new foods, it's all like a dream come true for me. You do have to try and push yourself outside your comfort zone as an expat, or you will find yourself very alone. That's probably the worst thing for me. If you aren't open to the possibilities and opportunities in front of you here, then they are not going to happen. I always try to remember that life can be beautiful if you let it be!
All rights reserved. Perfectly Provence articles and other content may not be published, broadcast, rewritten (including translations into other languages) or redistributed without written permission. For usage information, please contact us.
Syndication Information
Affiliate Information
As an Amazon Associate, this website earns from qualifying purchases. Some recipes, posts and pages may have affiliate links. If you purchase via these links, we receive a small commission that does not impact your price. Thank you in advance for supporting our work to maintain Perfectly Provence.