The Mont Ventoux Villages and Our Top Restaurant Picks
Chefs in Provence build their menus around seasonal, locally available produce, small-batch cheeses, ethically raised meats and Mediterranean seafood. However, as a visitor, knowing where to go for good value food is not always evident. So we asked the owners of Le Prieuré La Madelène for suggestions on places they would send clients to eat in the Vaucluse near Mont Ventoux.
This bed and breakfast has five (5) guest bedrooms and a private cottage (gîte). It is the site of a former 12th-century Benedictine priory outside the village of Malaucène at the foot of Mont Ventoux and just a few minutes from Vaison La Romaine. If you are looking for pure Provencal relaxation, Le Prieuré La Madelène is a charming, intimate guest house ideally located for exploring Provence and the Rhône Valley.

Dining in Malaucène
Whether you spent the day cycling on Mont Ventoux, visiting local vineyards, or exploring further afield, the quaint village of Malaucène delivers a range of culinary options for lunch and dinner.
La Chevalerie
Chef Philippe Galas returned to his roots on the flanks of Mont Ventoux after cooking in kitchens from Nice to Aix-en-Provence to Paris. Enjoy the menu selections in the restaurant's garden.
Rue des Remparts
Telephone: +33 (0)4 90 65 11 19
"Très bonne table"
Chez Laurette
Open for lunch and dinner daily, this restaurant is a favourite.
29 Avenue de Verdun
Telephone: +33 (0)4 90 65 24 88
"Une des meilleures tables du village"
Le Pont de L'Orme
The tagline for this restaurant is "For bon vivants and foodies," so you know that you are in for a culinary experience.
88 Route de Suzette,
Telephone: +33 (0)9 87 55 79 20
"C'est excellent"
L'Atelier de la Ferme
With Cloé in the front-of-house and Nicolas in the kitchen, they tag team for an experience that strikes a balance between quality and price.
2 place Louis Cornillac
Telephone: +33 (0)4 90 37 25 64
"Bonnes saveurs"
La Farigoule
They offer great thin-crust pizza with a choice of toppings and service with a smile.
2 Avenue de Verdun
Telephone +33 (0)4 90 65 16 84
Au Fil de la Degustation
Feel like tasting some local wines? This caviste in Malaucène has a great wine, beer, and spirits selection. You can stay and sample on location or take an assortment along with a charcuterie and cheese tray. In 2021, Le Point magazine chose this wine bar as one of France's top 100 wine merchants.
7 Cours des Isnards
Telephone: +33 (0)6 14 39 53 87
Eating in Entrechaux
Located equidistant from Malaucène and Vaison la Romaine is the tiny hamlet of Entrechaux. This farming village sits on a hillside with a feudal castle as its "crown." The chateau, now privately owned, was two separate structures constructed in the 10th and 11th centuries. It is possible to visit the château during the summer months, and while you are in Entrechaux, visit one of these restaurants.
Le Saint Hubert serves traditional Provencal cuisine and a reasonably priced prix fixe menu with professional service.
Telephone: +33 (0)4 90 46 00 05
L'Ancienne Poste is under new ownership. They offer a multi-course menu that is of good quality and value. If the weather permits, dining on the terrace is a lovely experience.
Telephone: +33 (0)4 90 46 09 84
Dining in Vaison-la-Romaine
Vaison-la-Romaine is divided into two parts by the Ouvèze River. On the right bank is the ancient Roman colony and modern town and on the left bank, on top of a rocky spur, is the old medieval town topped by the castle mentioned above.

Vaison is a moderate-sized town in a gorgeous region, surrounded by Mont Ventoux and the hills of the Dentelles de Montmirail. There is plenty to explore in town, including an extensive Roman site, a medieval village on the hillside and a 19th-century "modern" section. If you approach the Vaison area from Avignon, you pass the towns of Sablet and Séguret, framed by the Dentelles.
A team runs Chez Jacotte with Stéphanie covering the front of the house and her, Julie, daughter doing the cooking. A well-prepared plate with good local products. An excellent value for money for an express stopover in Vaison or to take your time.
Telephone: +33 (0)6 60 45 78 68
L'Arbre à Vins is a fabulous wine bar and shop where you will find wines from all over France with at least 50% from the "local" vineyards in Côtes du Rhône, Gigondas, Châteauneuf du Pape, Cairanne and Rasteau. Owner Mathieu Schillinger has a master's degree in wine and curates the collection.
14 Place Montfort
Closed on Sundays and Mondays
La Maison Du'O has operated since 2013 with a gastronomic restaurant (La Table) and Bistro Du'O as dining options. Bistro Du'O is an excellent restaurant whose young chef won a southern Rhône "Top Chef" competition in June 2014 (sponsored by the Chateau Vaudieu winery). Read more about Bistro Du'O.
Telephone +33 (0)4 90 28 84 08
Le Gout de la Pizza delivers a friendly welcome, delicious pizza and good service.
Telephone +33 (0)4 86 38 26 32
Fromagerie Lou Canestou is a cheese shop owned and run by Josiane Deal, a Meilleur Ouvrier de France (MOF). Josiane supplies cheese to about 100 restaurants in the Vaucluse and Bouches-du-Rhône.
10 Rue Raspail
Closed on Sundays
Peyrerol Patisserie, Chocolaterie, and Glacier make exquisite pastries, chocolates, and ice cream, where everything is made on-site.
7 Cours Henri Fabre
Closed on Mondays
The market in Vaison-la-Romaine is on Tuesday mornings. It is one of the larger markets in the area and a great place to pick up supplies for a picnic lunch.
Enjoy the View in Séguret
The village of Séguret is visually stunning in every way. This charming jewel of a town is filled with colourful flowers and crazy charm around every bend of its winding cobblestone streets. Séguret in Provençal means security, probably given to the village due to its geographic situation. Its dominant position allowed the villagers to observe movement in the Rhône Valley without forgetting the château at the top. Find out why Séguret, a hilltop village, is considered one of les plus Beaux Villages de France.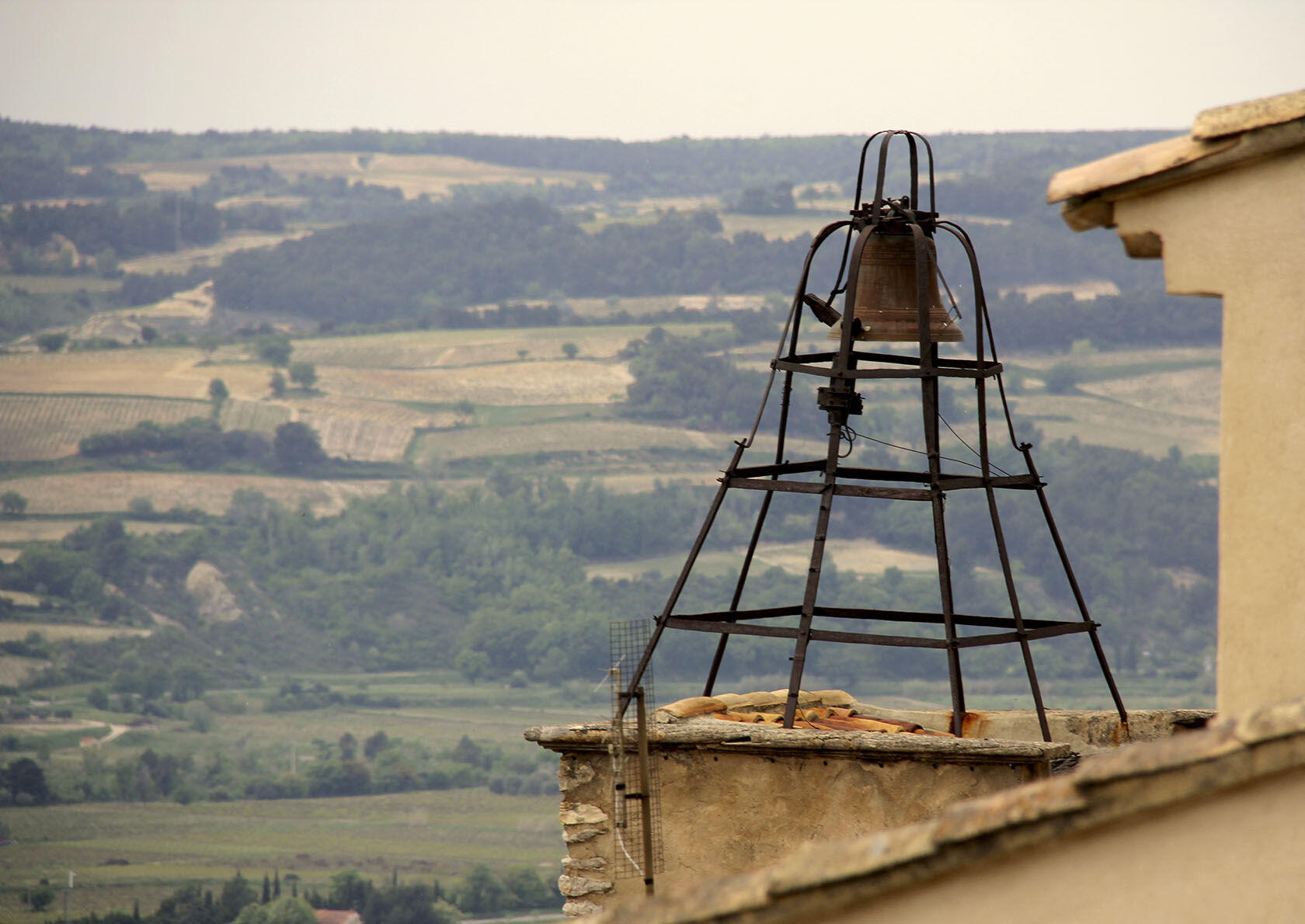 Before your visit, please make a reservation at Le Mesclun, where they offer the food and service of a gourmet restaurant with an excellent price/quality ratio.
Telephone +33 (0)4 90 46 93 43

Beautiful Bedoin
Bedoin is a village in the Vaucluse that grows on you. At first, it may not appear as polished or refined as some of the other famous towns in the area. But give it a chance. Wander the streets and enjoy the atmosphere, the frenzy of excitement as cyclists come and go on their way up Mont Ventoux. Not as instantly charming as many neighbouring towns, you need to slow down to appreciate this Vaucluse hamlet. Explore the local market (on Mondays), enjoy a coffee in one of the local cafes and make sure to buy some bread here;
Boulangerie Olivero Ravel
Le Cours
Telephone: +33 (0)4 90 35 02 49
La Gosse d'Ail is a long-standing family establishment with a good reputation. They offer a traditional menu with fresh seasonal items.
Telephone +33 (0)4 90 12 82 02
Lily et Paul is a trendy restaurant. Make sure to reserve well in advance
14 Avenue Barral des Baux
Telephone: +33 (0)4 90 12 96 11
Don't Skip Le Barroux
Perched on a limestone outcrop in the Vaucluse, between Carpentras and Vaison-le-Romaine, you find Le Barroux. The town is striking, with a 12th-century castle situated at the top of the hilltop. A panoramic view stretches from Le Barroux over the vineyards of the southern Rhône towards Mont Ventoux and the jagged peaks of the Dentelles de Montmirail.
The Château du Barroux once belonged to the feudal lords of Les Baux de Provence, with ownership changing over centuries. The French Revolution and WWII inflicted significant damage to the structure. Today, the castle is privately owned by the Vayson de Pradenne family. However, there are tours, a tearoom and even a whisky distillery to visit inside the walls. Here are several reasons why you should visit Le Barroux.
L'Entre' Potes roughly translates into "between pals," which may be why this restaurant has been popular for many years.
Cours Louise Raymond
Telephone +33 (0)4 90 65 57 43
Charming Crestet
Crestet is a hilltop village in the Vaucluse that oozes with charm. Its winding streets, vaulted passageways, cobblestone steps, flower boxes, and stone archways invite you to wander. The town is in the middle of the gorgeous Provençal countryside with views of Mont Ventoux and the Dentelles de Montmirail.

La Fleur Bleue
Traditional French cuisine revisited with the flavour of local products.
16 Chemin de Sublon
Telephone: +33 (0)4 90 36 23 45
La Loupiote offers pasta, pizza, salads, and grilled meats. Average decoration but friendly welcome, fast and efficient service—a good compromise on the eve of a big bike ride.
Telephone: +33 (0)4 90 36 29 50
L'Epicurien has a large open-air terrace with a DJ who mixes music on weekends. They produce a varied menu to suit all tastes and accommodate groups.
Route de Malaucène
Telephone: +33 (0)4 90 41 99 82
La Terrasse du Crestet offers a lunch menu with meal-sized salads, dinner options, and ice cream! The location has a superb vista towards Mont Ventoux and les Baronnies.
Telephone: +33 (0)4 90 28 76 42