The 9 Best Wines of the Côtes du Rhone
If you love wine, then you will probably have heard of the famous Côtes du Rhone region. It is a wine region that is known for its exceptional quality of produce. In this article, we will present you with the nine (9) vineyards that make up the cream of the crop (in our opinion).
Côtes du Rhone Wines
A good bottle of wine is something to be cherished. An excellent one will make its mark for months, if not a whole lifetime. The creation of outstanding wine is an art in itself. A lot goes into the minute variations that all add up to become a fantastic product. Every detail contributes to the taste, from the soil to the grapes, weather, and the barrels.
The Côtes du Rhone wine region is famous for its outstanding production of wines. It stretches from the south part of Lyon to Avignon, covering almost 200 kilometres altogether. That makes it the second biggest wine region in France, second to the Bordeaux region. Over 2,000 years ago, the Roman Empire originally installed vineyards in the Côtes du Rhone. It was indeed a fruitful endeavour because it has the most diverse soils found in the whole of France. These conditions lend themselves perfectly to making a wide variety of memorable wines.

Around 90% of the region's output is red wines, 6%-7% consists of rosés, and the remaining part is white wines. Overall, 24 grape varietals are used to make the widely appreciated wine styles. The Grenache varietal is the region's king, accounting for around 65% of all the grapes planted in the Côtes du Rhone. The region produces a wide selection of wines to choose from, so it is not easy to pick the absolute winner. However, we have chosen 9 of the best varieties for your consideration. Each is more than worth a taste, and for the aficionados, a winery visitation in France. Rest assured that you will not be disappointed.
The Top 9 of Rhone Valley Wines
Domaine Clos de Trias
AOC Ventoux, by la Barroux
The Norwegian-American winemaker Evan Bakke is known for his sublime winemaking skills. Above all, he specializes in making sultry reds. These get aged for around five years before the date of release. Other than that, he also has lines of original rosés and white wines. These wines are quite special because the grapes are grown on the most ancient soil on the planet, over 200 million years old. All of Evan Bake's collections are biodynamically grown.
Domaine Pique Basse
AOC Cotes du Rhone Village, area of Roaix
When it comes to the rising stars of the business, winemaker Olivier Troper is the one that is being hailed by many. He owns various limestone and clay soil parcels, translating to incredibly smooth reds and refreshingly light rosés and whites. If you want to take a look at the winery, make sure to book an appointment prior. The vineyard is quite popular, and there are waiting lists, so there is not much leeway for spontaneous visits.
Domaine Ruffinatto
AOC Luberon, Menerbes
The Domaine Ruffinato is owned and made by the mayor of Menerbes. His wine productions are sold in limited quantities, so if you want to secure one, you might need to go the extra mile. They are made on high-quality limestone soils. That ensures a rich taste with a good structure, as well as minerality. The rosés and whites are deliciously fresh, by some even considered thirst-quenching.
Domaine De La Mordoree
AOC Tavel
The owner of Domaine De La Mordoree is listed amongst the top 100 of the world. He overtook the business after the original owner, Christophe Delorme, passed away recently. The winery remained in the hands of the family. His wife, daughter, and the original staff are still helping produce some of the region's finest wines. Tavel rosés have reached legendary status for being structured and having a deep, lasting flavour. Their white Liracs have a complex, memorable taste with a factor of freshness. The reds, Chateauneuf du Papes and Lirac, are fine examples of age-worthy, rich flavour. All wines are produced organically.
Chateau St. Cosme
AOC Gigondas, edge of the village of Gigondas
Louis Barroul is known for making impressively tasting AOC Gigondas. His family has owned the winery for over 500 years. The extensive knowledge obtained throughout the years translates to a continuously excellent final product. The majority of wines are made on clay and limestone. The winery is known to be a must-visit amongst wine experts. Upon visiting, you will be pleasantly greeted with a free wine tasting.
Domaine Mourchon
Village of Séguret
A visit to Séguret may pay off for more than just wine. The winery is built above a stunning medieval village, and the views are simply breathtaking. Other than that, you can expect a classy selection of wines to taste. Walter McKinnley's winery owns some of the most intense limestone soils out there. This makes for some deeply structured and sultry red wines. For those who enjoy lighter tastes, the whites and rosé are known to be top-notch.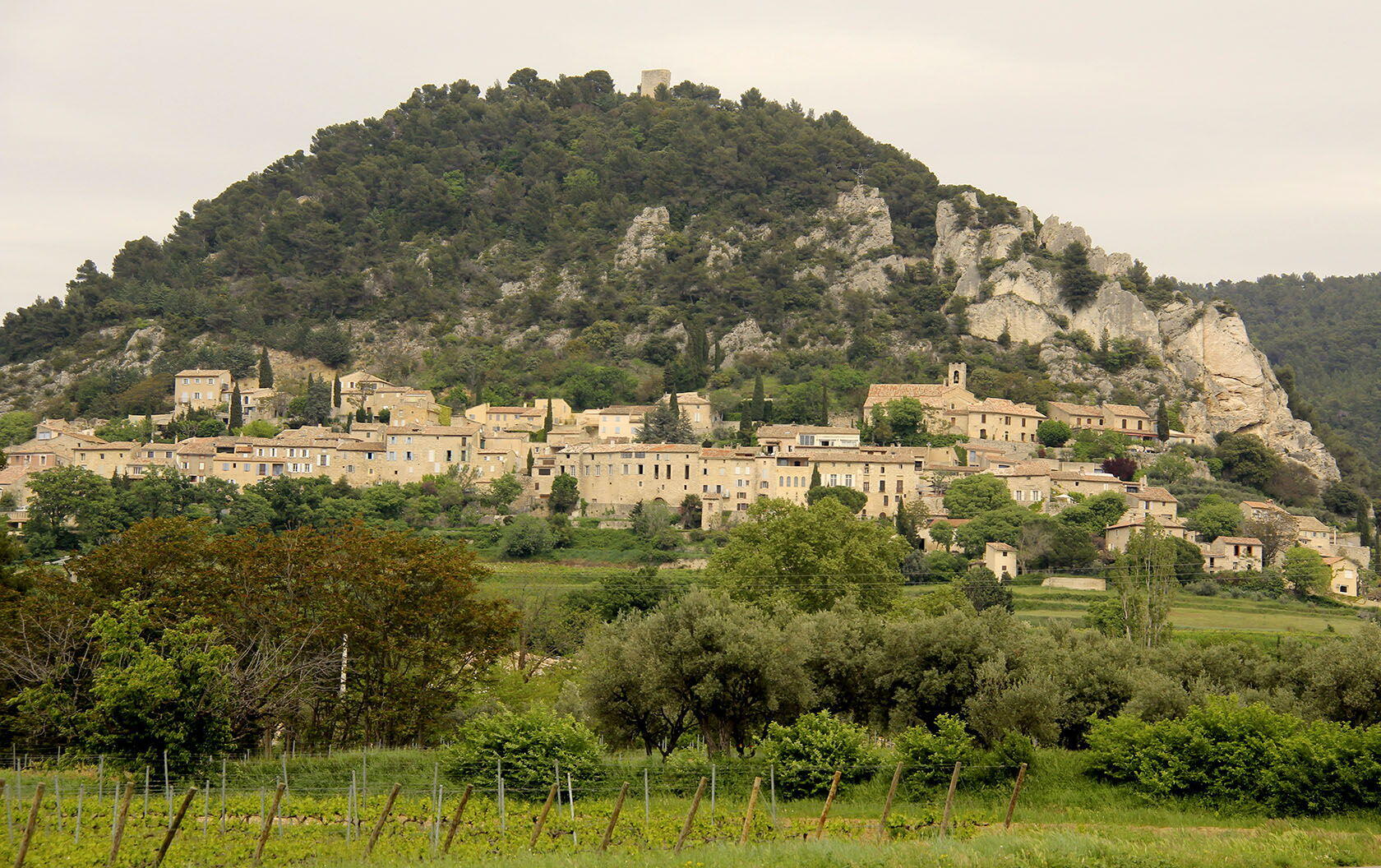 Domaine Richaud
AOC Cairanne
The winemaker Marcel Richaud has attained an iconic status for his excellent wine production. The winery makes exclusively organic products – most of the selection is intensely deep red wines. The grapes are grown on a variety of soils that include clay, ricker rock, and limestone. This winery is special because only a tiny amount of sulfur is added to the wines, thus translating to a smoother overall taste.
Domaine Le Sand De Cailloux
AOC Vacqueyras, near Sarrians
Serge Ferigoule was one of the three winemakers determined to get Vacqueyras into the Cru status around 1990. Mr Ferigoule is a famous figure in the winemaking business. He sports a strong moustache, which has become his famous, characterizing trait. More importantly, he is known for his remarkable wine production – two reds and one white wine. He grows his grapes biodynamically, mostly on limestone and clay-based soil.
Domaine Coteaux des Travers
AOC Rasteau
Robert Charvin is no other than the former president of the AOC Rasteau. The winery works biodynamically, using limestone and blue clay soils for their wine. The results are of a delightful quality – fruity, sweet, and deep tasting reds. The VDN (fortified) wines are very exclusive and are produced only in small quantities. They are known to wonderfully complement main dishes.
We hope to have inspired you to take a trip to the beautiful Côtes du Rhone area, whether in person or just with your taste buds from afar. The wines are truly excellent and famous with good reason. Each of the 9 options will have you pleasantly surprised. So what are your favourite wines and winemakers in the world? We would love to know. Please share your thoughts in the comments section below!
---
About the Author: Thomas Glare
Thomas is a dining expert from Germany, Berlin. He has studied the art of cooking for over ten years and is an avid reviewer of exotic foods and drinks. Exquisite wines are one of his main passions. In his free time, he loves travelling, fishing, and playing video games. His favourite games are Overwatch and the Book of Ra.