Swimsuit Shopping for a Teenager in Antibes
Contributor blog post by Jemma:
When we arrive in France's Riviera this summer, Lolo doesn't have a swimsuit. It's not because she forgot to pack it. She simply doesn't own one that fits.
My new teenager is growing like the queues of passengers waiting for the next French train that's actually running.  That's to say, quickly.  Nothing fits her any more.  Number one on my French shopping list – once we get the food in – is a swimsuit for Lolo.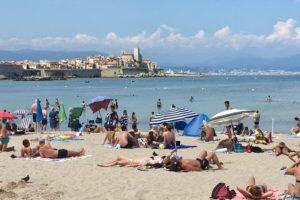 …Continue reading here for Jemma's recount of their mother-daughter excursion to Antibes' Boutique Kiwi a shop for bathing suits. Shopping for the perfect swimsuit is at best elusive – too big, too small, too fussy, too mumsie…You get the picture.
Boutique Kiwi (website)
(part of the Kiwi chain from St Tropez)
2 avenue Clemenceau
06600 Antibes
Tel +33 (0)4 93 34 90 36
Via:: French Lessons