Markets in Provence a Few Favourites in the Region
There's something about French markets that makes them stand out from others we've visited over the years. It doesn't matter where you are in France; a market will always be nearby. Sometimes, a few stalls in a small village or a vast event filling the streets and squares of a pretty town with colour, scent and bustle.
The markets around us in Provence are incredible and are always worth seeking out if you stay in the area. You will also find that towns and villages host the sellers on different days of the week, so whenever you're here, you can find one or two to explore. Continue reading here for the original market blog post and photos as Vaucluse Dreamer explores the markets of Provence.
---
Provence Market Tips
No matter your "home" base in the region, rest assured that the drive to a local market will not be far. Almost every city, town and village has a market day, and some larger locations may even have two markets per week. Temptation at a market is everywhere in the piles of produce, just-picked fruit, fresh goat cheese, and buckets of olives. However, practice a bit of buyer-beware as some vendors are resellers who buy wholesale and re-package their goods for marketgoers.
Study the "Pays d'Origine" signs that indicate where the produce comes from and give you a quality rating, with #1 being the best. Try to buy local, in-season, and, where possible, directly from the producer.
Most markets start around 8 am and end by 1 pm. Although, there are also several evening markets in the summer months. Check the exact times of the market you plan to visit, as there can be variations throughout the year and the region.
Click for List of Markets by Day
A Few Favourite Markets
Aix en Provence – there is a market every day of the week, either in Place Richleme or Place des Precheurs. In addition, there is a flower market in the plaza by the Hôtel de Ville.
Apt – be prepared to rub shoulders at this 'Grande Marché' that winds its way through the old town's narrow streets. You will find everything at this market, from local products and fresh produce to North African cuisine. The city has a fascinating Medieval history. Also, discover Château de Mille just outside of Apt.

Arles – Market days in Arles are Wednesday and Saturday. Following a decree by King Henri III, these weekly markets have been in place since 1584. The Saturday market is the larger of the two markets and one of the biggest in Provence. The 450+ stands line Boulevard des Lices and Boulevard Georges-Clémenceau almost 2.5 kilometres in length, and offer anything you might want, including live poultry, eggs, olives, fresh rockfish, garden plants and herbs and summer dresses. Travel Tip: How to spend a day in Arles.
Avignon – Les Halles – Place Pie (open daily except Mondays from 6h to 13h30). Many food vendors are located in this central market, and a public parking lot is attached to the building.  Avignon is a large city on the Rhône River. A TGV station and seemingly endless big box stores are on the outskirts of town. However, the old city centre with the magnificent Papal Palace are inside the walls and a must for any visitor.
L'Isle sur la Sorgue – A Sunday morning market with a well-deserved reputation for being large. If you arrive later in the morning, parking can be a challenge. Many people visit this town as much for the market as for the approximately 300 antique stores. The first Sunday in August is the annual floating market (marché flottant), where vendors dress in traditional clothing and sell produce from their boats. Markets are only one reason to visit this charming town.
St Remy de Provence – The Wednesday morning market is considered by many as one of the best markets in Provence. However, during the summer, the market can be crowded. So, go early and wander the market to see what looks good. From butcher to the cheese stand and beyond, Keith shares his local tips for navigating this popular market.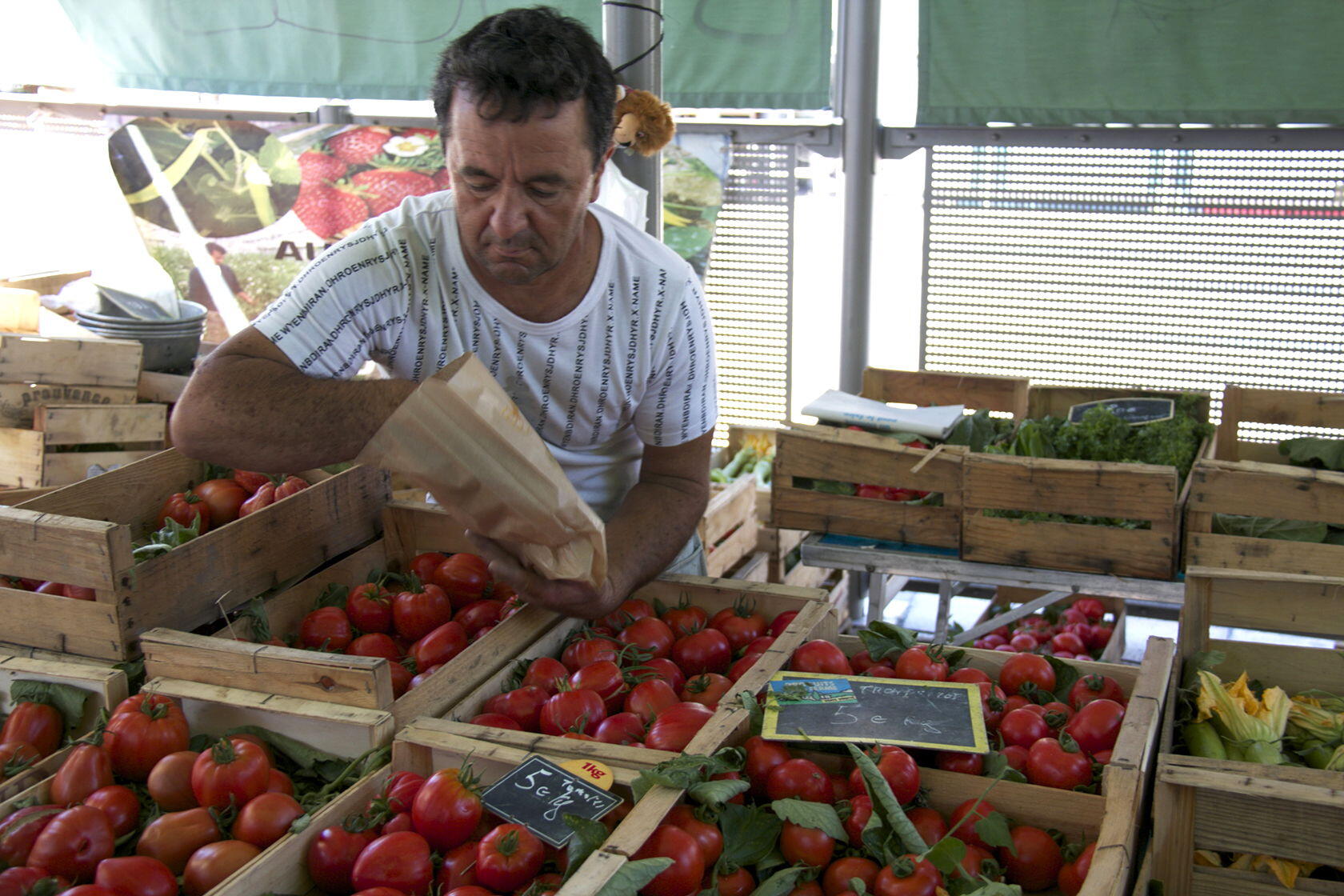 Nice – The market days in Nice are from Tuesday to Sunday. While there are several markets in Nice, the two (2) most famous and interesting are the Cours Saleya market in the Old Town of Nice from 9 am to 1 pm and the market in the Liberation district from 7 am to 1:30 pm.
The Cours Saleya market is on the most famous street of Vieux Nice, parallel to the sea and at the foot of Castle Hill. It was where painter Henri Matisse lived on this street—while at the market, look at the Nice Opera House, rebuilt at the end of the 19th century by François Aune, a pupil of Gustave Eiffel. A flea market replaces the fruit and vegetable market on Mondays.