Spanish Paella in Provence
Spanish Culture in Provence
It is easy to believe yourself in Spain when visiting the south of France in summer. At almost all village festivals, Abrivados and fêtes votives, Camargue cowboys, in their traditional colourful attire, run their white horses and bulls through the streets. Women wear beautiful Soleiado or flamenco dresses, and the irresistible music of the Camargue gypsies and frequent cries of Olé can be heard everywhere. We all think of ourselves as Spanish then. Most of all, the wine flows freely, and every restaurant offers Paella menus.  Not perhaps the authentic Valencian version which is made with snails and rabbit. This version contains a bit of everything to please everyone – from chicken and chorizo to squid (or more often cuttlefish), prawns and mussels, all cooked with delicious saffron flavoured rice.
Making Paella
But we don't have to wait for a summer festival to make Paella – we can make it all year round. And we don't even have to stick to the ultimate Spanish decree that the dish should never be served after sunset and should always be made by a man!
For authenticity's sake, you might want to invest in a paellera, a low, wide, inexpensive pan – though it can be made in any low flat pan.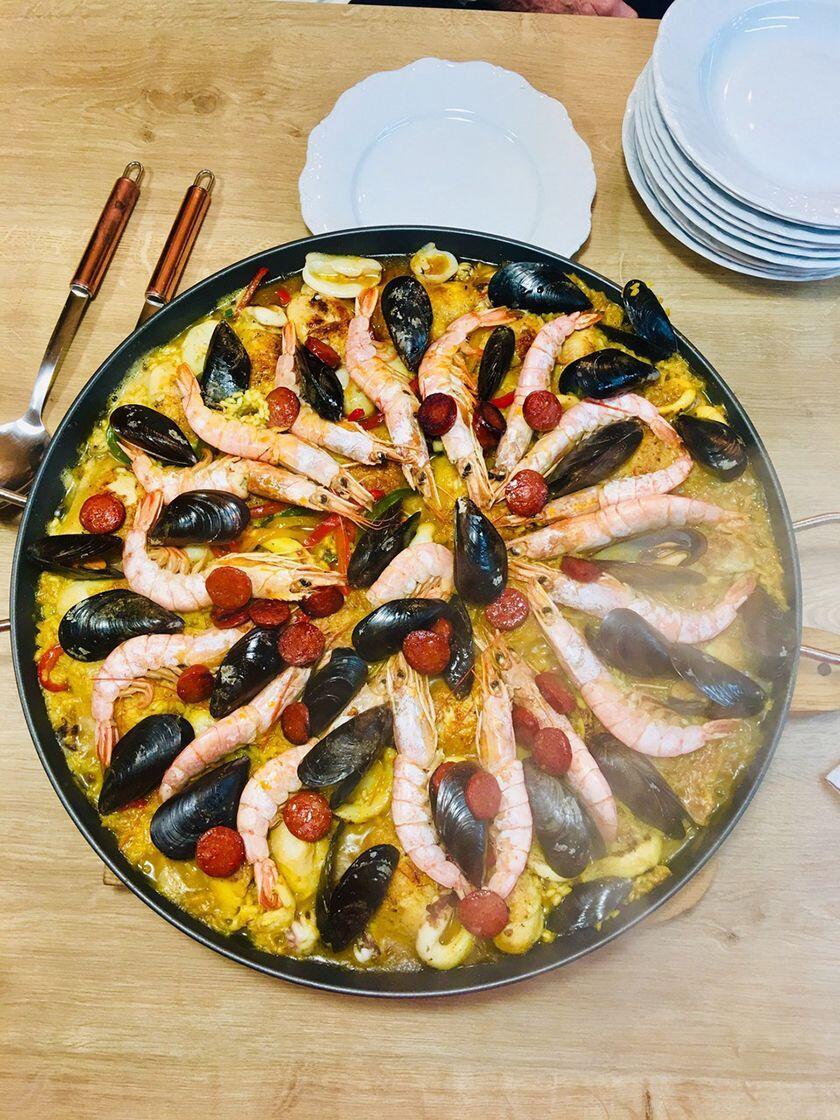 Paella Recipe
Although paella is considered a Spanish dish it is very common to find it at markets in Provence. The vendor cooks up their version of this hearty rice dish in a paellera. The exact cooking time will depend on your ingredients and how long the rice takes to cook.
Ingredients
8

chicken thighs and 8 drumsticks

skin-on, bone-in

olive oil

200

g (7 oz)

Quality Chorizo

sliced into ½ cm rounds

1-2

Onions

cut in wedges

2

large pinches of

Saffron

2 1/2

L (10.5 cups)

Chicken stock

4

Squid or 2 Medium Cuttlefish

chopped into bite-size pieces

1

each

Red, Yellow, and Green Bell Peppers

cut into strips or pieces

2

handfuls of

Fresh or Frozen Peas

1

heaped tsp

Paprika

smoked or dulce

700

g (3 cups)

Round-grained Paella Rice

16

large

Raw Shell-on king prawns

from sustainable sources

700

g (3 cups)

Mussels

cleaned

1/2

bunch

Fresh Flat-leaf Parsley

2

Lemons
Instructions
Start by frying the chicken pieces in a little olive oil in a frying pan over a medium-hot flame, until nicely browned.

Remove the chicken from the frying pan and arrange on the cold paellera pan.

In the same frying pan fry the chorizo slices with the onion wedges for a few minutes, then remove from the pan and add to the chicken in the still cold paellera.

Meanwhile heat the chicken stock, pouring a few tablespoons of it into a small bowl to infuse with the saffron.

Finally, briefly fry the squid (or cuttlefish) and the peppers in the frying pan, then add to the chicken, chorizo and onion mixture and spread it all out artfully over the surface of the paellera.

Scatter with peas, sprinkle with the paprika and the saffron-infused stock, and finally the rice.

Now put the paellera over high heat and warm through the ingredients for a few minutes.

Pour over the hot stock, stir briefly to mix and turn the heat to medium to high, checking continuously that it doesn't burn, but don't stir again. After about 10 minutes turn down the heat to medium and artfully place the prawns and mussels on top of the ingredients. Cover the paellera with aluminum foil and continue to cook till the rice is soft but still has some bite.

Sprinkle with chopped parsley and serve with wedges of lemon.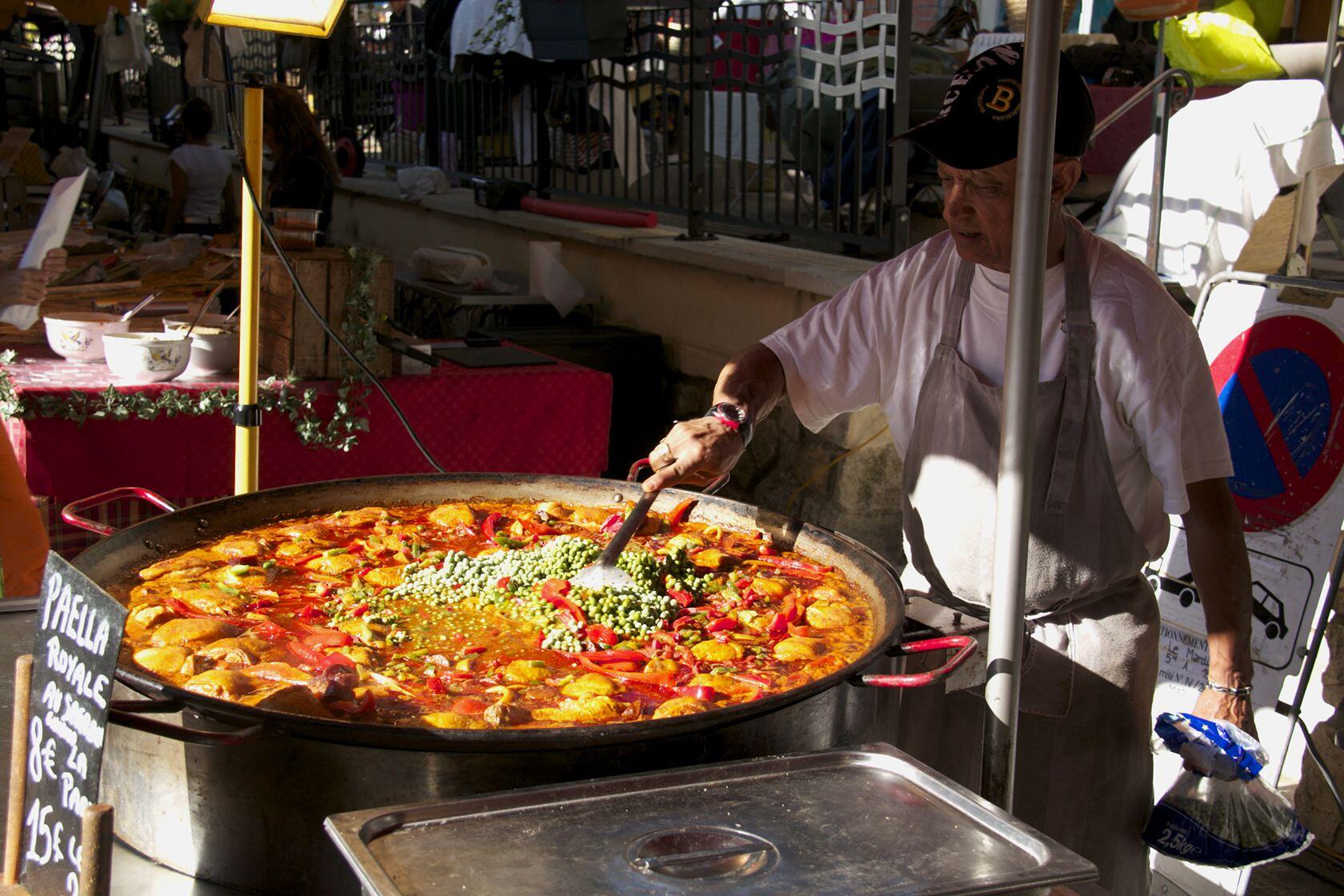 More on Paella in Provence
Read about a midsummer's eve – La Grande Paella – a festive village dinner and social event.
Saffron like grapes, milk and other natural products is impacted by terroir. Apparently, crocuses grown in North Africa will produce saffron that has a slightly different colour and aroma from that grown in Haute Provence. This spice is one of the most expensive in the world due to the intensely laborious production process. There are roughly four flowers for each bulb, and each bloom has three stigmas. It takes about 200-220 flowers to produce 1 gram of saffron (or between 150-200,000 flowers for 1 kilogram). Discover the story of a saffron grower in Provence's Jabron Valley.