Savoury Quick Loaf a Ham and Olive Cake
Quick bread recipes do not contain yeast and therefore there is no lag time required for the dough to rise. This recipe takes one (1) hour, 15 minutes of preparation and 45 minutes cooking time. Sweet quick bread recipes typically include a fruit or vegetable base, think banana, pumpkin, zucchini. These are of course delicious and perfect with a cup of coffee or tea.
What about a savoury snack or nibble with a glass of rosé? This savoury quick loaf a Ham and Olive Cake is a great snack or pre-dinner bite. It's often enjoyed by kids here in France when they get home from school for their goûter. In French, this is called Cake aux Olives et Jambon – yes they use the English word "cake."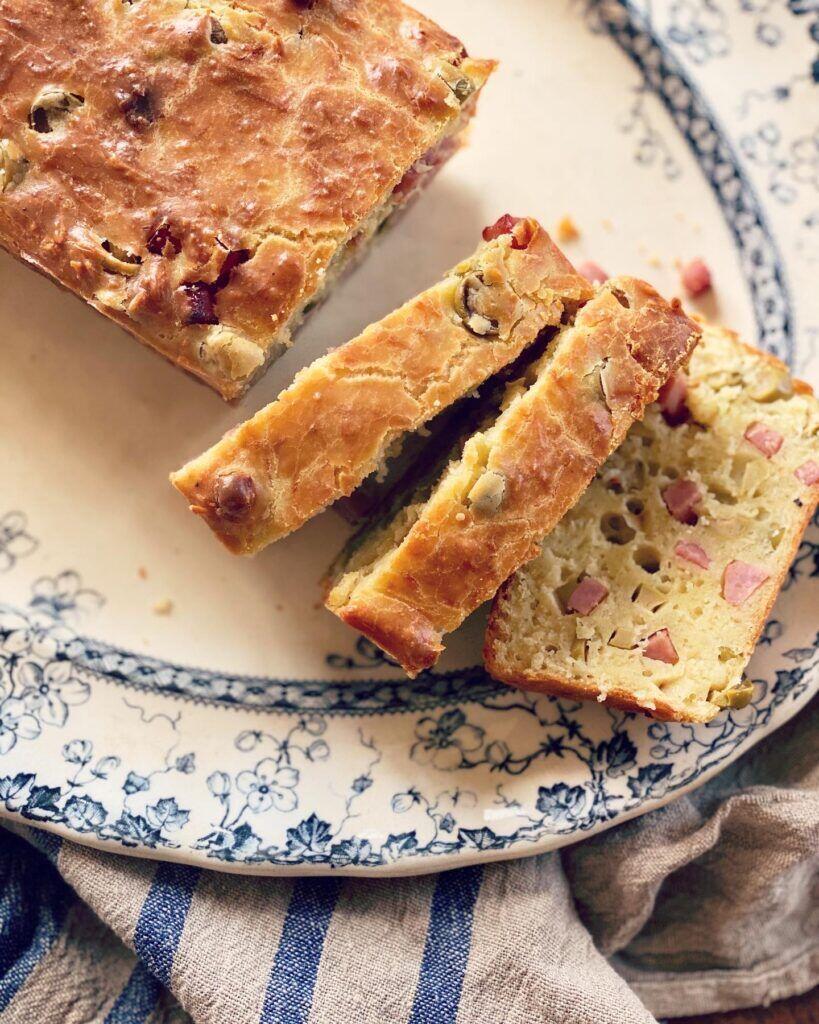 Savoury Ham and Olive Loaf - Cake aux Olives et Jambon
This recipe is simple and very forgiving. For example, you can add a little less flour and another egg instead, or add a little more cheese. Once you have the base you can make a vegetarian version with fresh goat cheese, semi-dried tomatoes and lots of thyme. Play with it to make it yours!
Ingredients
200

g (7oz)

All Purpose Flour

1

sachet

Dried Yeast

3

Free range eggs

large pinch

Salt

Ground Pepper

be generous

1

large tbsp

Dijon Mustard

100

ml (3.4oz)

olive oil

100

ml (3.4oz)

Semi-skimmed Milk

150

g (5.5oz)

Gruyère or Comte cheese

grated

200

g (7oz)

Ham hock

diced

150

g (5.5oz)

Sliced Green Olives

Butter

for greasing the pan
Instructions
Preheat your oven to 200°C (390°F). Grease a standard size loaf tin.

In a dry frying pan, fry the diced ham for 2 minutes until golden. Set aside.

In a mixing bowl add the flour, yeast, eggs, salt, pepper, and oil. Mix well then add the milk, grated cheese, sliced and drained olives, mustard and the ham. Mix well.

Pour into the loaf tin and place in the oven for 45 minutes. If you notice that the cake is browning too quickly, you can place tin foil on top. Take it out of the oven and leave to cool in the tin.

Enjoy lukewarm or cold as a snack. You can also be sophisticated and serve it with a salad like a quiche but I honestly think it's better eaten with your fingers.
Notes
*For the ham, you can buy it in French supermarkets already diced. Internationally, you should be able to find pre-boiled small ham hocks. You can also, of course, use shredded leftovers from a ham roast.
*If you like extra cheese- go for it!
Other Recipes for Bread
Cake Aux Olives Vertes – Green Olive Cake
Two recipes for Fougasse – Natural and with Tomatoes, Olives, and Peppers
Please share this with friends and family.