Savoury Quick Loaf a Ham and Olive Cake
This savoury quick loaf of Ham and Olive Cake is a great snack or pre-dinner bite. It's often enjoyed by kids here in France when they get home from school for their goûter. In French, this is called Cake aux Olives et Jambon – yes, they use the English word "cake."
This quick loaf recipe takes one (1) hour, 15 minutes of preparation and 45 minutes of cooking time. Sweet quick bread recipes often include a fruit or vegetable base, think banana, pumpkin, zucchini. These are, of course delicious and perfect with a cup of coffee or tea.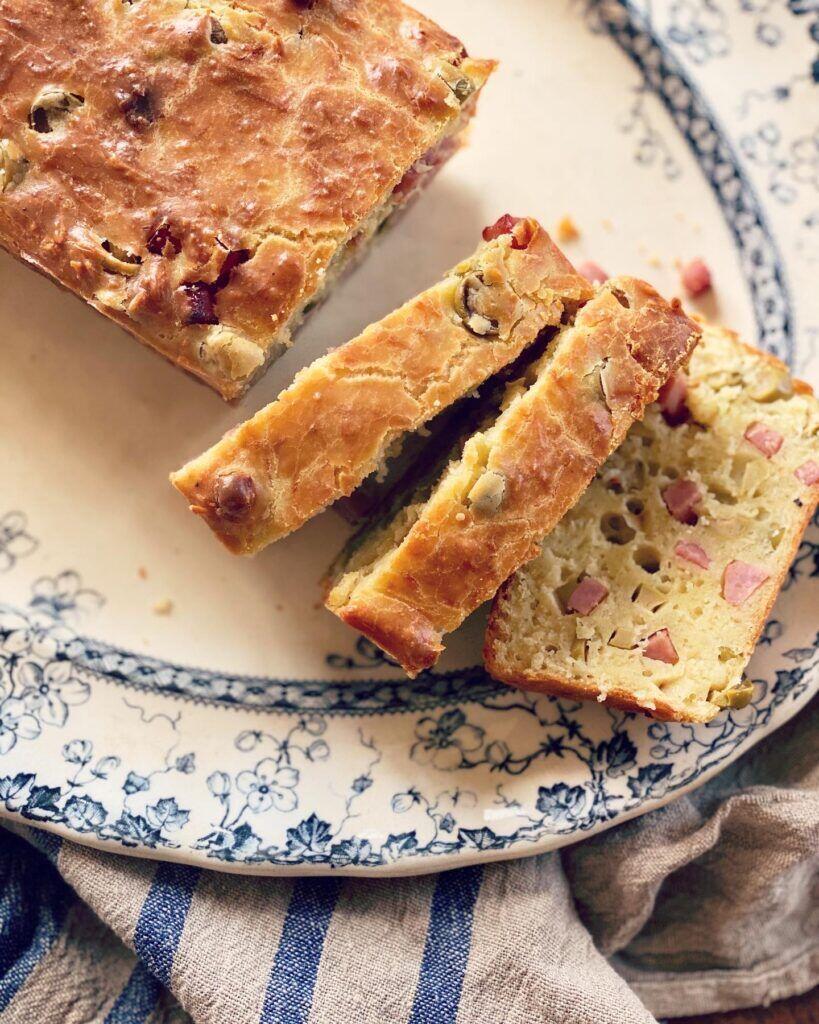 Savoury Ham and Olive Loaf - Cake aux Olives et Jambon
This recipe is simple and very forgiving. For example, you can add a little less flour and another egg instead, or add a little more cheese. Once you have the base you can make a vegetarian version with fresh goat cheese, semi-dried tomatoes and lots of thyme. Play with it to make it yours!
Ingredients
200

g (7oz)

All Purpose Flour

1

sachet

Dried Yeast

3

Free range eggs

large pinch

Salt

Ground Pepper

be generous

1

large tbsp

Dijon Mustard

100

ml (3.4oz)

olive oil

100

ml (3.4oz)

Semi-skimmed Milk

150

g (5.5oz)

Gruyère or Comte cheese

grated

200

g (7oz)

Ham hock

diced

150

g (5.5oz)

Sliced Green Olives

Butter

for greasing the pan
Notes
Eat this bread as an appetizer as savoury snack or nibble with a glass of rosé.
Head to the Curious Provence website for the instructions on how to make this savoury ham and olive loaf.
Other Recipes for Bread & Flatbread
Cake Aux Olives Vertes - Green Olive Cake
A quick and delicious appetizer bread that's easy to make and even easier to eat! A savoury delight with salted olives, rich smoky duck breast and creamy bites of Gruyère. A must for your next dinner party.
Check out this recipe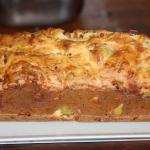 Fougasse d'Aigues Mortes
Fougasse d'Aigues Mortes is a sweet brioche-style bread dusted in sugar. This traditional chewy bun can be enjoyed on its own or with other pastries. Either way, it's sure to impress.
Check out this recipe

Fougasse with Olives and Cherry Tomatoes
The combination of sweet cherry tomatoes and tangy black olives make this focaccia-style bread a stunning addition to any meal. You can even enjoy it on its own with some olive oil or accompanying some soup for a well-rounded and delicious meal.
Check out this recipe

Fougasse Pissaladière (Onion, Olive and Anchovy)
If you prefer, you can make a plain version of fougasse. However, we like this variation with a Pissaladière topping (onion, olives and anchovies) as it is really typical of this region and one with rosemary & salt. And delicious with a glass of rosé.
Check out this recipe

Fougasse with Tomatoes, Olives, and Peppers
This fougasse is rich and savory, almost a meal in and of itself. Pair with a more structured, but dry rosé for a perfect aperitif.
Check out this recipe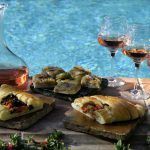 Tarte Soleil - Puff-Pastry Appetizer
From the chef, "Provençals like things sunny and pretty, so this is a popular take on the local, traditional fougasse. It can be filled with any strong-flavoured spreadable mixture such as tapenade or anchoiade or a sundried-tomato paste or even a spinach/ricotta or goat cheese." 
Check out this recipe

Pizzaladière Provence Pizza
The pizzaladière is a Provençal variation that combines Italy and Provence in a delicious and very simple dish, using the best ingredients you can. Serve with a salad and enjoy with a glass of Mirabeau Classic Rosé! Bon appetit.
Check out this recipe