Market Fish Recipe: Fillet of Red Mullet with Pea Risotto
There is often a wonderful selection of fresh fish in the Uzes Saturday market, but it was the lovely red mullet (rouget) that caught my eye. So here is an easy recipe using these tasty fillets with a wonderful creamy pea risotto.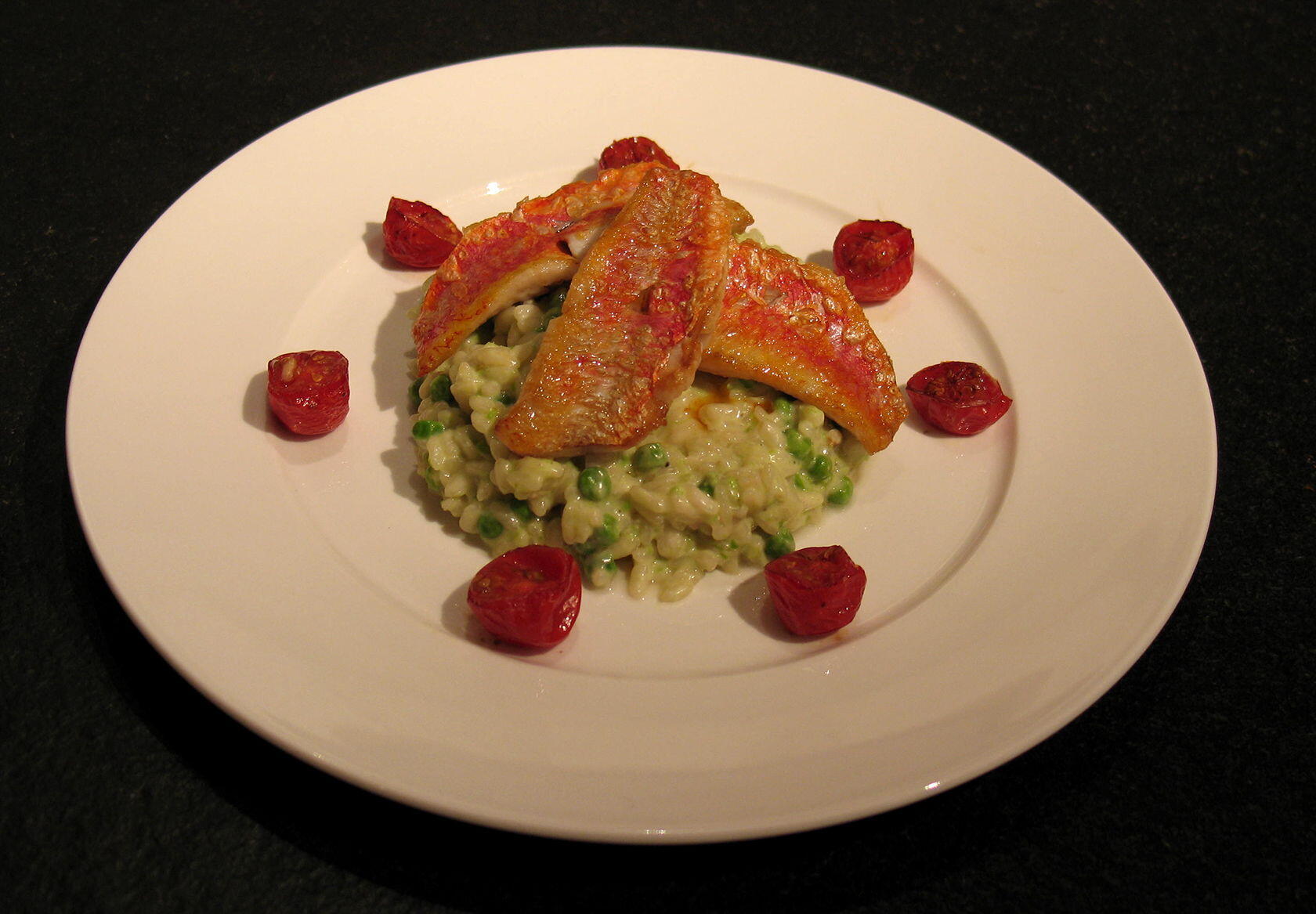 Fillet of Red Mullet with Pea Risotto
A simple yet elegant fish fillet served on a creamy warm pea risotto.
Ingredients
4

Red mullet

1

shallot

50

gr

Butter

125

ml

double cream

200

gr

Frozen petit pois

500

ml

Chicken stock

150

ml

Dry White Wine

2

tbsp

Grated parmesan cheese

200

gr

Arborio rice

Sea Salt

olive oil

Ground Pepper

12

Cherry Tomatoes

Balsamic Vinegar
Instructions
If you are preparing your own fish, take care to remove all the pin bones and then wash the fillets in cold water.

Pat them with kitchen paper to remove all moisture (if they are too damp the skin will not crisp up when cooked), cover and set aside.

In a small saucepan, boil the cream and add half the frozen peas, cook gently for two minutes and season to taste with salt and pepper.

Place the mixture in a liquidiser and blend until smooth. Set this pea puree aside.

Heat the chicken stock in a pan and set aside.

Finely chop the shallot and gently sauté in a pan with half the butter - do not let the shallots colour.

Add the rice to the shallots and, stirring continuously, cook for a few minutes until the rice is nice and shiny.

Add the white wine and continue to stir until all the wine has been absorbed into the rice.

Reduce the heat to a gentle simmer and add a quarter of the hot chicken stock.

Continue to add the stock in quarters until it is all absorbed, stirring occasionally.

Taste the risotto, it should be thick and creamy in texture, but the grains of rice should still have a slight bite.

Add the rest of the peas, grated parmesan and remaining butter, stirring well and then add the pea puree. Set aside and keep warm while you prepare the fish.

Slice the cherry tomatoes in half, drizzle with balsamic vinegar and place under a hot grill for 5 minutes.

Rub the fish fillets with olive oil and sprinkle with sea salt. Heat a sauté pan until hot, add the fillets skin side down and cook for approximately 2/3 minutes until the skin is crispy.

Flip them over and cook for 1 minute, removing from the heat immediately to prevent over cooking.

Serve the fillets on top of the risotto with the cherry tomatoes.
Notes
If you're not confident at filleting fish, ask the fishmonger to do it for you, as red mullet are fiddly.