Quince trees in Provence
On one of our many walking routes, there are several rows of quince trees (coing in French) which we saw planted just a few years ago.
They have a lovely blossom in spring and produce large fruit, but what is interesting is their love of wet clay soil. We took this last week and the second shot today, a week later, after rain on Friday. Continue reading here for the full story.
Cooking with Quince:
Quince Almond Tarte Tatin
This tart tatin aux coings et aux amandes (quince and almond) is a twist on the classic apple version. Quince takes a bit of work to peel, but the result is worth the effort.
Check out this recipe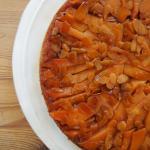 Quince Puff Pastry Tarts with Roasted Pecans and Vanilla Sauce
The colours of fall (orange quince, brown nuts and vanilla sauce) come together in this dessert. The trick if you are having company is to make the pieces (pastry, quince compote and toppings) in advance.
Check out this recipe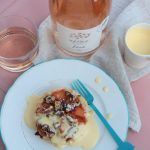 Pâte de coings (Quince Cheese) with a Cheese Course
The following recipe for pâte de coings a Provencal mother's tried and true method. Pâte de coings or quince cheese a traditional Provençale recipe, which takes time to make. This thick jelly is lovely served on its own or with aged Compté cheese. It's also one of the 13 traditional Christmas desserts served in France. 
Check out this recipe

Quince Paste - Pâte de Fruit de Coings from Provence
Quince resembles large, tough pears. The cooking time for this recipe will vary depending on the fruit. Serve quince paste (pâte de fruit de coings) with a selection of hard cheeses for an appetizer or an alternative to a sweet dessert.
Check out this recipe