Pink Elephant Martini Cocktail Recipe it's La Vie en Rose
Celebrating La Vie en Rose – Think Pink!
I recently threw a birthday luncheon for my good friend, Claire, and served Pink Elephant Martini Cocktails as the welcome drink! This was a huge success. Claire loves the color pink and is very elegant. As you can imagine, a lunch in Provence starting with this sublime cocktail delicately garnished with pink cotton candy, made her feel like a true Princess.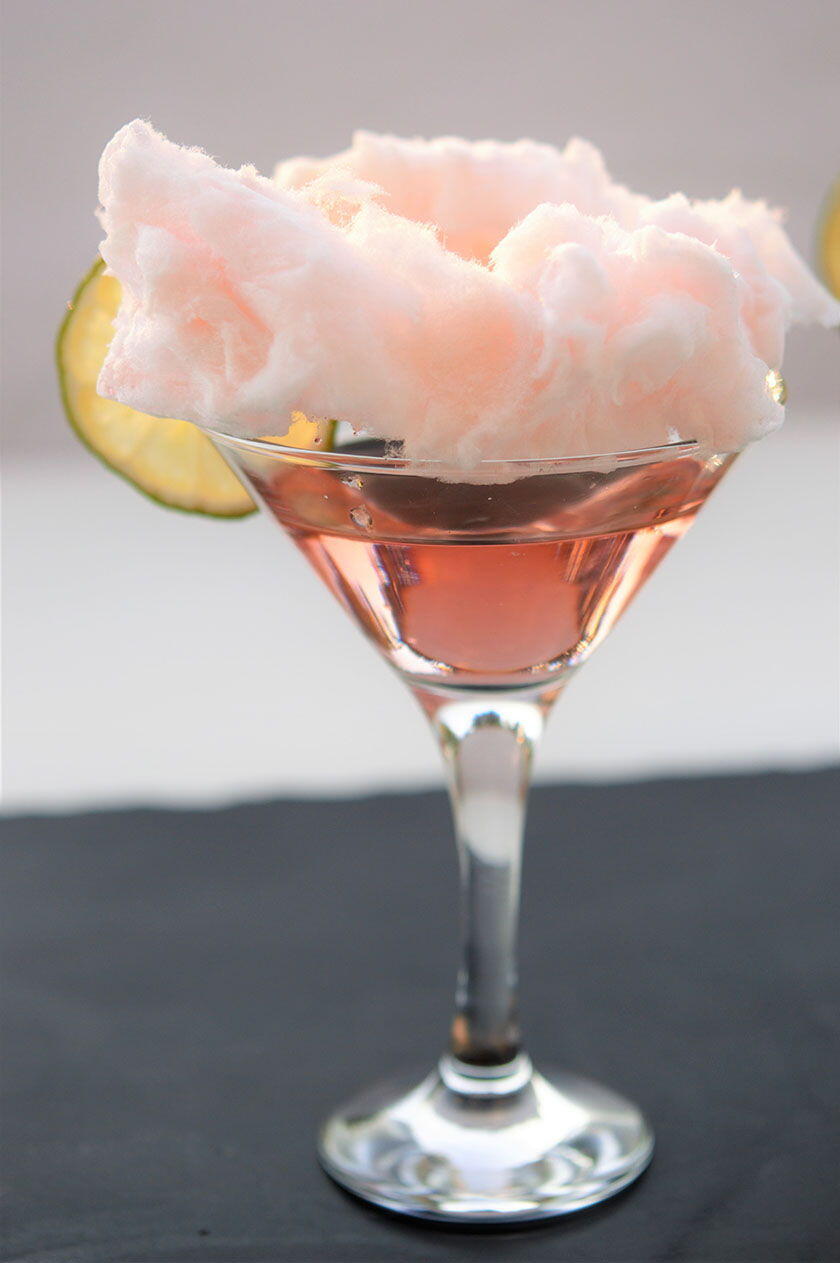 Luckily we had a sunny break in the Fall rain and it was a spectacular afternoon starting with the Pink Elephants, followed by velouté de chou-fleur (cauliflower soup), Salade au Chèvre Chaud (hot goat cheese salad) et des Gambas sautées à l'ail (prawns sautéed in garlic).  Et finalement, a tarte au citron (lemon tart)!
Cotton Candy Mission
In order to make my beloved Pink Elephants…
I went to our mini local store called "Casino Shop" in Puyricard (just north of Aix) and made a dramatic plea for the whereabouts of purchasing pink cotton candy. The owner of the shop told me that no, he did not sell barbe à papa (cotton candy) or the sugar that is needed to make it. I even asked if he knew of any circuses that were in the area like so many times in the past where cotton candy could be sold. Again a no, and I'm sure the expression on my face was 50% discouragement 50% determination. So, off I went and halfway home, I realized that I had forgotten to buy some limes to make the Pink Elephant Cocktail.
The owner seemed happy to see me and that one of his customers had an idea how to help me. She told me to go to nearby Venelles to a store called Zeeman which sells clothing and accessories and yes, packages of pre-made cotton candy. I was so touched that this the owner of Casino Shop went out of his way to help me!  This is part of the acceptance process of living in France:
1.  Present a problem in a dramatic but funny way, never reverting to English.
2. Determine if you have effectively involved your audience into problem-solving mode, then be even more dramatic, using hand gestures and facial expressions.
3. Celebrate when your French neighbors come up with a solution to your problem!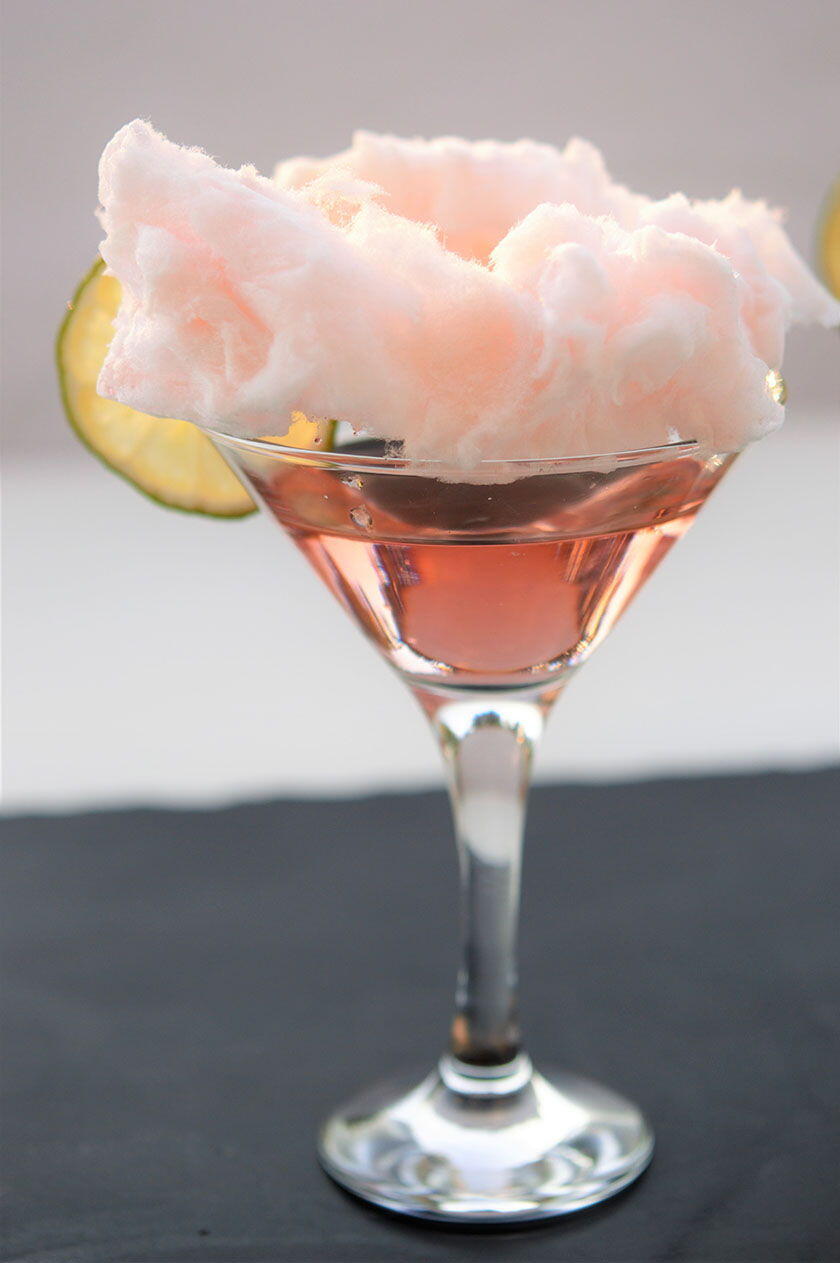 Pink Elephant Martini Cocktail
This cocktail is festive, fun and easy to mix. Enjoy!
Ingredients
4

shots of

Vodka

4

squeezes of

Lime

to taste

Fentimans Rose Lemonade

4

slices of

Lime

Pink Cotton Candy
Instructions
In a Martini glass (or cocktail glass of your choice) add a shot of vodka and the lime juice.

Top up with the pink lemonade and serve with a slice of lime and a tuff of pink cotton candy
Notes
Practical note: Instead of placing the cotton candy around the rim of the glass you can also place a tuff of pink cotton candy in the Martini glass and serve with a flask of the cocktail. The cotton candy is fragile once it touches the drink, it will start to dissolve.
Lemon Tart Recipes
Victoria's Lemon Tart for any Season (and Reason)
Ok it's orange, but still delicious A Twist on Lemon Tart – Tarte à l'Orange by Mirabeau Wine
David's Cocoa & Lavender Lemon Tart A Fine Sweet Sour Balance
Lemon Meringue Tartlets by Gilles the Provence Gourmet
All rights reserved. Perfectly Provence articles and other content may not be published, broadcast, rewritten (including translations into other languages) or redistributed without written permission. For usage information, please contact us.
Syndication Information
Affiliate Information
As an Amazon Associate, this website earns from qualifying purchases. Some recipes, posts and pages may have affiliate links. If you purchase via these links, we receive a small commission that does not impact your price. Thank you in advance for supporting our work to maintain Perfectly Provence.