New Patricia Sands Book: A Season of Surprises at the Villa des Violettes
It was a pleasure to read an advance copy of A Season of Surprises at the Villa des Violettes, the latest book by Patricia Sands. This novella is the second in a series about Katherine (Kat) and Philippe's new home (Villa des Violettes), and soon-to-be Bed and Breakfast near Antibes. The love story continues to evolve, but life can't always be perfect, even on the French Riviera. Sands introduces the gritty side of living on the French coast in this book.
The Author
Patricia Sands is the author of six (6) books, starting with her first publication The Bridge Club. The three-part Love in Provence series introduces you to Kat and Philippe. These books involve love, loss, friendship, illness and plenty of colourful characters. Also set in Provence, Drawing Lessons introduces a new set of characters and a completely different part of the Mediterranean coastline. The last two novellas by Sands return readers to the Cote d'Azur and the arrival of the first B&B guests at Villa des Viollettes.
Open the pages to any one of Patricia Sands' books, and she treats you to a dose of escapism. Maybe you've never been to the French Riviera, but you will visit the azure coastline through her words, and come away with a better understanding of local culture. Anyone who has travelled to, or hopes to, Provence will enjoy this book and others by Patricia Sands.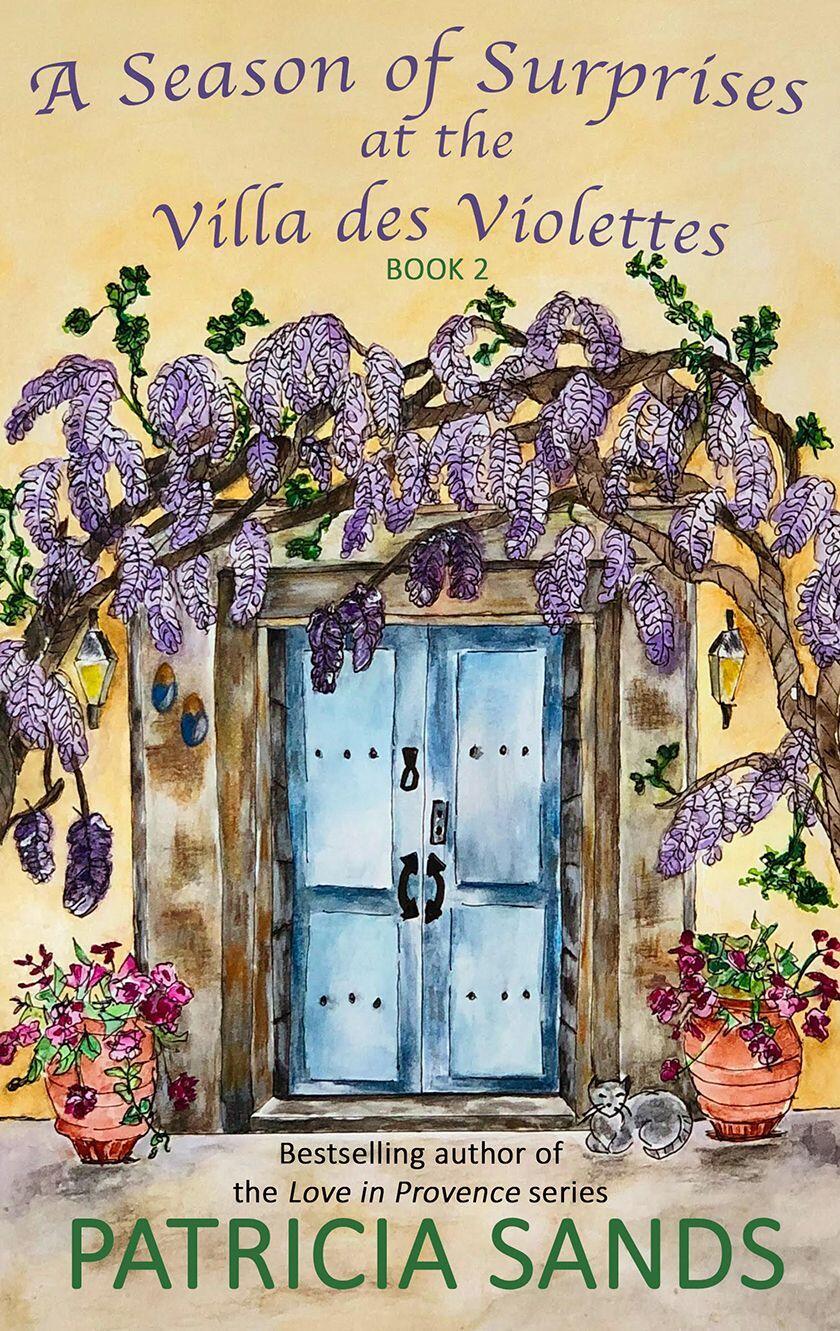 Book Review
This novella, A Season of Surprises at the Villa des Violettes, is a quick read yet covers a lot of ground. Learn about the 130-kilometre Route du Mimosa from Bormes-les-Mimosa to the French perfume capital of Grasse. Along the way, you are guaranteed to see (through Sands' words) the yellow blooms highlighted by the blue Mediterranean backdrop in February and March. Enjoy an evening at the Nice Carnival as Kat discovers the entertaining annual traditions of Philippe and their friends. Although living on the French Riviera sounds ideal, Patricia Sands introduces a dose of reality. Sadly, there is an active sex trade in the region, and many young girls from Europe get tangled in its nasty web. This book is a page-turner that you will not want to stop reading. And, like all of Patricia Sands' novels, you will be sad when the story ends.
Buy a Copy
A mix of love and intrigue set in Provence, this book arrived just in time for summer. Add A Season of Surprises at the Villa des Violettes to your reading list.  If you missed the first book in this mini-series, please read about The First Noël at Villa des Violettes here.
All rights reserved. Perfectly Provence articles and other content may not be published, broadcast, rewritten (including translations into other languages) or redistributed without written permission. For usage information, please contact us.
Syndication Information
Affiliate Information
As an Amazon Associate, this website earns from qualifying purchases. Some recipes, posts and pages may have affiliate links. If you purchase via these links, we receive a small commission that does not impact your price. Thank you in advance for supporting our work to maintain Perfectly Provence.