Holiday Reading The First Noël by Patricia Sands
Published at the end of November, The First Noël at the Villa des Violettes is the first novella in a three-part series by Patricia Sands. The First Noël with its holiday theme is a chance to reconnect with the characters from the Love in Provence series or dive into the story at this point. Giveaway! Please scroll to the bottom for details.
In this book, Sands evolves Katherine (Kat) and Philippe's love story and brings deeper insight into the culture and lifestyle on the French Riviera. Threaded with a bit of mystery, a solid dose of holiday stress (after all who doesn't suffer from that?), and a wonderful "hug" of social interaction with friends and family this novella is an engaging read.

As with all of Patricia Sands' books, she explores Provencal traditions and a bit of history. There are many Christmas customs in Provence, and The First Noël at the Villa des Violettes is a great way to discover some of these. Sprinkled with plenty of French phrases, you can improve your French vocabulary as you read the story of the first Christmas in Kat and Philippe's home.
If you are looking for a bit of escapism reading, this book is the answer. The First Noël delivers a literary getaway to the beautiful Côte d'Azur crafted by Patricia Sands. You might even be tempted to book a guest room at Villa des Violettes so you can meet the duo of Chocolate Labradors.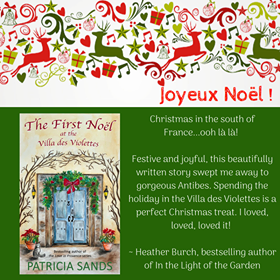 Give "The First Noël at the Villa des Violettes" to anyone on your list who might need a virtual escape to Provence and the Côte d'Azur. Available on Amazon.
About the Author
Patricia Sands is one of those people you cannot get enough of, she is warm, open and always ready for discovery. Bitten by the European travel bug at age 21, Sands spent a year backpacking and exploring local cultures, many miles away from her home in Toronto, Ontario. Through life's twists and turns, she became a "possibilitarian" – her mantra for anything you want to do is within your grasp. Read more about Patricia Sands' backstory here.
Her first novel The Bridge Club was published in 2010.
The Promise of Provence (2013) began the Love In Provence series (read more here). It was followed by Promises to Keep (2014) and I Promise You This (2016). The series explores Provence, love, marriage, and friendships it's a chance to discover the south of France without travelling.
Drawing Lessons (2017), is Patricia Sands' fifth novel. The book is also set in the South of France, but with new characters and a focus on the city of Arles and the wild natural landscape of the Camargue. Please read our book review here.
Giveaway! Please leave a comment below or on our Facebook Page for your chance to win one of two copies. Winners will be chosen by random selection.