A Recipe for Mango Pomegranate Salsa
In a desire to bring a part of my world to Cotignac, and to enjoy with a chilled glass of rosé, I figured a mango pomegranate salsa was the way to go! It's easy, simple, fresh, tasty, and quick to make. It can be enjoyed as is with some of your favourite crisps, or over some fresh grilled fish, in tacos, on chicken or with a duck breast as an entree!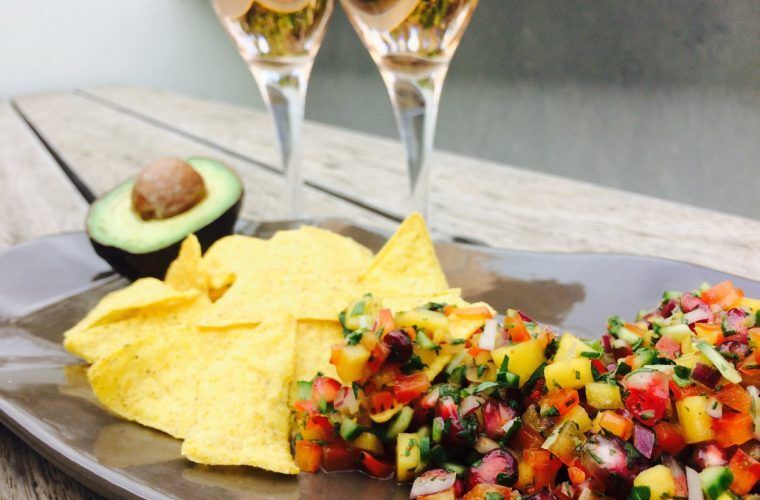 Mango Pomegranate Salsa
Highlighting the bright crisp flavours of the pomegranate, mixed with sweet mango, peppers, onions, cucumbers and tangy lime juice.
Ingredients
1

firm ripe mango

finely chopped (brunoise)

1

large pomegranate

seeded

1

red bell pepper

brunoise

1/2

Red onion

brunoise & soaked in cold water

1/2

Cucumber

seeded & brunoise

3

Limes

juiced & zest

1

bunch

fresh cilantro

roughly chopped

fat pinch

chilli flakes

to your liking

to taste

Salt and Pepper

drizzle of olive oil
Instructions
Toss all ingredients together in a bowl, call over some friends and serve!

Great with a lovely pomegranate rosé sangria too!
Notes
** Brunoise is the term for finely chopped. It is defined as a culinary knife cut in which the food item is first julienned and then turned a quarter turn and diced again, producing cubes of about 3 mm or less on each side, or 1/8-inch dice. In France, a "brunoise" cut is smaller, 1 to 2 mm on each side, or 1/16-inch dice [source: wikipedia]
**Note about lime juice... squeeze only until juice stops flowing, don't over squeeze the lime as you end up with bitterness.