Make a Savoury Leek Tart from Provence
French cuisine is known for its delicate pastries and desserts. However, light, flaky pastry also complements a savoury tart perfectly! This recipe is similar to a classic French quiche. Serve this tart warm or at room temperature. Make Rose's leek tart for lunch and serve with a green salad, or take it along on a summer picnic.

Savoury Leek Tart
Savoury tarts are a great way to enjoy some wonderful comfort food. This flaky, creamy tart is a great way to impress a loved one or enjoy it all to yourself!
Ingredients
1

Shortcrust Pastry

6

Fresh Eggs ⁠

2

cups

Whole Cream

the equivalent of 2 briquettes ⁠in France

11

oz

Smoked Bacon

optional, if you are a vegetarian

3

Leeks

according to their size, you may need to add cream if the top of the preparation is not completely covered ⁠

5

oz

Grated Emmental

Salt & Pepper

to taste

Nutmeg

to taste

Fresh Parsley

for garnish ⁠
Instructions
⁠First, prick the dough with a fork and put it in the oven for a few minutes at 180°C (350°F), just long enough for it to harden and brown a little with the heat (this will make it crispier on the bottom). ⁠

Cut the leeks into small pieces, clean properly to remove any dirt, and then set aside.

Brown the bacon in a pan and set aside as well, making sure to drain them beforehand. ⁠

In a bowl, using a whisk, combine the cream, eggs, salt, pepper, and nutmeg. ⁠

Place the leeks, bacon and grated Emmental cheese on the pre-cooked dough, then pour the preparation. ⁠

Bake for 25-30 minutes at 200°C (400°F). ⁠

Decorate the tart with the leaves of fresh parsley if you wish. ⁠

It will be eaten very easily with a salad with a light olive oil dressing. Bon appétit! ⁠
Notes

Sparkling, dreamy, sensitive, Rose has enjoyed travelling through Provence since she moved there (a few years ago), her eyes filled with wonder, with her little dog Roy-Marius.
This young business manager passionate about charming real estate, history & the art of living in Provence divides time between her daily discoveries and the property entrusted to her.
Don't be surprised if… From Sainte-Victoire to Luberon, you cross her on her bike, crisscrossing the small roads in the middle of lavender fields… strolling, basket in hand, on the local markets… or sitting on a terrace, sipping
a fresh rosé from Provence. Follow Rose on her travels around the region on Les P'tits Bonheurs de Rose.

More Savoury Tart Recipes from Provence
Leek and Goat Cheese Tart
This light tart recipe is the perfect accompaniment for a crisp glass of Provencal rosé on the patio or by the fire. No matter what the weather is like, this savoury and creamy tart is absolutely delicious. With leeks and goat cheese being easily accessible in most regions year-round, make this tart with a fresh green salad for a dish that is sure to impress. Make sure to allow enough time for your dough to rest before using it.
Check out this recipe

Chicken, Leek and Ham Pie
Tender chicken and ham chunks with leeks in a creamy sauce topped with flaky puff pastry.
Check out this recipe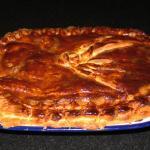 Tomato Pesto Tart
This recipe calls for the freshest tomatoes and basil. While the tart is baking make the pesto and a salad, and lunch is ready. Enjoy!
Check out this recipe

Fig, Walnut and Lardon Quiche
I love to make seasonal quiches, as there's always a nice combination that will work. Figs are lovely with nuts, so you can make a very tasty number with some crushed almonds or walnuts, figs and some lardons for extra taste.
Check out this recipe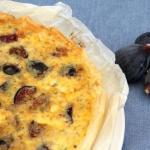 Tarte Provençal à la Tomate
Obviously the best outcome is a tart baked with your own garden harvested tomatoes. This quick and easy tart makes a fast and fancy meal that everyone will enjoy. The sweetness of the tomatoes pairs well with the Herb de Provence, spicy mustard and flaky pastry crust. For a quick change -p, try using coloured tomatoes in a rainbow pinwheel pattern. It will look and taste as if it took you hours, but that can be your little secret!