Lunch in Gordes at Restaurant Le Mas
With confinement measures now making way for a return to normality, many of us are relishing our newly reclaimed freedom to eat out and visit favourite restaurants once more. And as part of that freedom,  I, for one, am embracing the sheer joy and novelty of not having to cook for myself yet again, which is a real delight.
Lunch in Gordes
The following account of lunch at Restaurant Le Mas, just outside Gordes, was written only days before confinement was announced. Given the challenging times we all faced then, and the uncertainty as to how long the restrictions would last, I didn't feel it was le bon moment to share this article. Now that we can venture out again it's time to tempt the Perfectly Provence community with forbidden (and unattainable) fruit. And, à mon avis, it's never too late to talk about the enjoyment of food partaken in the company of friends. So, back to March……
Spring Weather in Provence
Gusty winds earlier on this year meant that the region had taken quite a buffeting from the famous Mistral. But one of the benefits of this fabled wind is that, as it whistles down from the Rhone valley, it chases away any clouds and often ushers in clear blue skies and sunshine.
For me, one of the many hugely appealing aspects of life in Provence is the possibility (sometimes even in early spring) to enjoy a meal outdoors in the fresh and fragrant air of the Lubéron. It was the case in mid-March when the warmer temperatures tempted me to reserve at one of my local restaurants to enjoy some convivial company, good food and perhaps a delightfully chilled glass of the local tipple, a pale pink Rosé.
With that in mind, two friends and I arrived at Restaurant Le Mas near the outrageously pretty village of Gordes – officially designated as one of France's "Plus Beaux Villages" – to sit in the warm sunshine and enjoy a typically Provençal outdoor lunch. In classic rural style, the restaurant is positioned in what lots of people might consider being the middle of nowhere. However, the directions are clear, and it's barely a five-minute drive off the D2 as you head up towards Gordes (watch for the right turn just after the garage in Les Imberts, and then another left turn, before following a single track road for a kilometre or two and you're there).
Talented Chef
Le Mas was taken over last summer by a young chef, Alexis Osmont. Before that, it had been a long-established fixture in the area's restaurant scene for around three decades. The previous owner still lives close by, and Alexis had worked with her for some years before finally firing up the stove himself last summer. A paved pathway leads Alice In Wonderland-like through the garden towards the handsome stone house and its walled courtyard – there's also a stylish and welcoming indoor dining room for when the weather is more inclement. The outside tables are set simply with small plant pots of flowers, and cushions are smilingly proffered for a more comfortable sit on the metalwork chairs while you peruse the menu.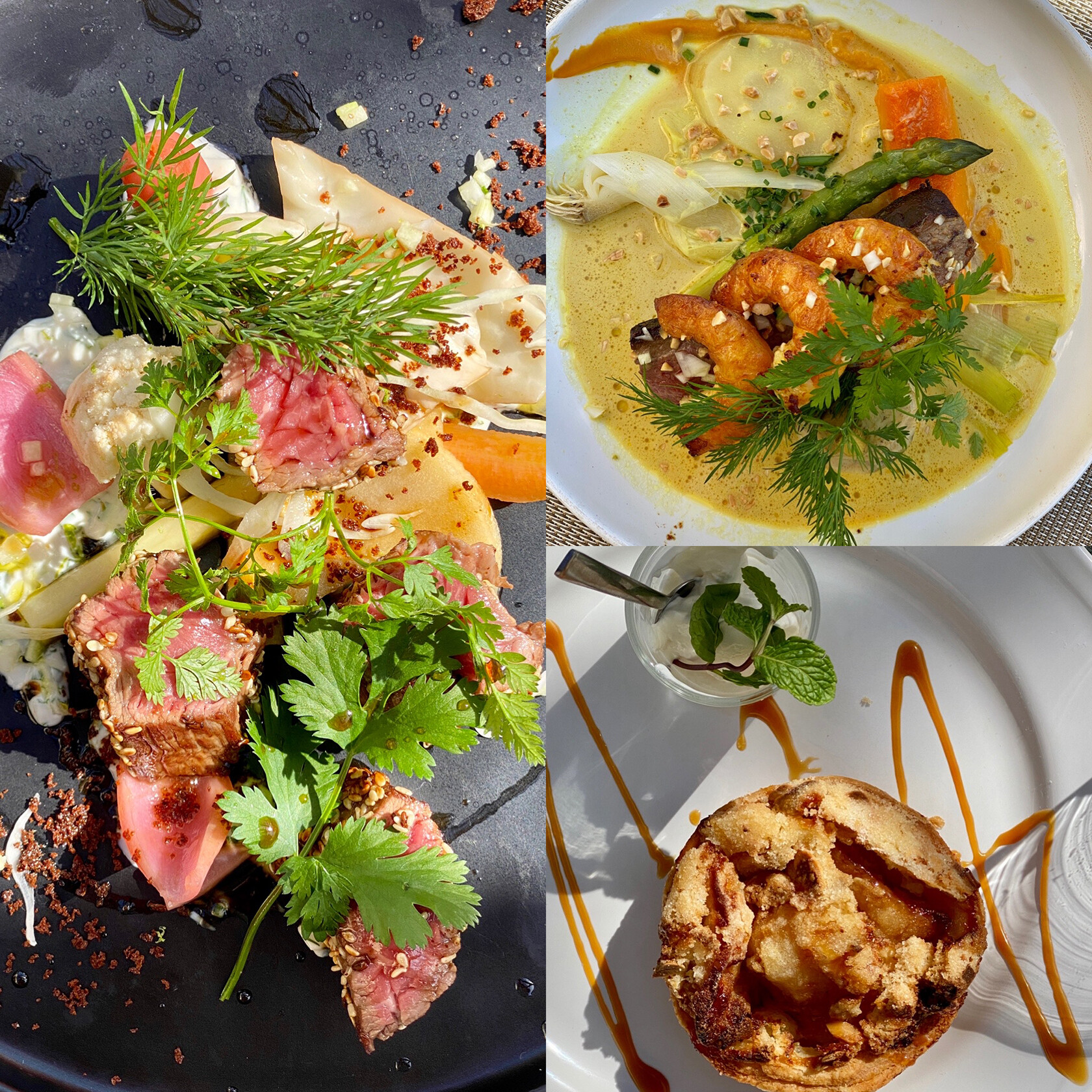 Delicious Choices
The carte offers four choices for each course, along with a Menu du Jour. Our starters were preceded by a glisteningly dark black olive tapenade, which we spooned onto thin slices of crisply fresh baguette – perfectly proportioned to whet the appetite. Dishes were imaginative, using a combination of the abundant, seasonal local produce with more far-flung ingredients and inspirations. I started with a Tataki of beef served with sesame seeds and finely sliced pickled vegetables – a fresh and tasty starter that also had the pleasant effect of cleansing the palate. My friends chose, respectively, "Gravlax de saumon maison," with an accompanying, slow-cooked egg and "Marinière de palourdes et coques au chorizo." I had decided that, for once, I wouldn't scrounge slices and spoonfuls of my friends' choices and was assured that both the salmon and the shellfish stew were excellent – they certainly looked enticing.
For the main course, I had opted for the curry of duck breast with prawns, intrigued as to how that particular marriage would work out. The duck was nicely cooked, pink and tender, and the sauce was only mildly curried so didn't overwhelm the meat. As for the prawns, they were good, but I'm not sure they added to the dish. On the other side of the table, they had "Carré de cochon fermier, royale de foie gras au vin rouge" and roasted scallops with aubergine confit and a meat jus, Again, the scallops looked colourfully enticing, and the very generous serving of pork was a crowd-pleaser.
Don't Skip Dessert
I am only an occasional pudding eater – preferring a savoury end to a meal – but I decided to share a "tarte aux pommes de mon père" with its crème épaisse, and I must confess that I didn't regret that choice for a second. Beautifully cooked crisp pastry topped with deliciously caramelized apple amply demonstrated the chef's skills in the sweet department. In conversation later, we discovered that Alex was the pastry chef of the restaurant in its previous guise – et ça se voyait bien!
Wine Selection
For my friends – sadly, I was driving, and make it a rule never to mix the grape and the steering wheel – lunch also provided the happy discovery of Domaine Marsaleix. This organic vineyard, established in 2013, is located just a few kilometres away from Gordes. Grower, Joël Marsaleix, produces a white, red and rosé under the AOC Ventoux classification, and he operates very much with an eye on conservation of the land. The grapes benefit from the position of the Domaine, as it sits nestled between the Lubéron and the Vaucluse mountains, where the terroir and climate provide the flavour and character for which Provençal wines have become renowned. It would be well worth seeking out the vineyard to try some of them for yourself.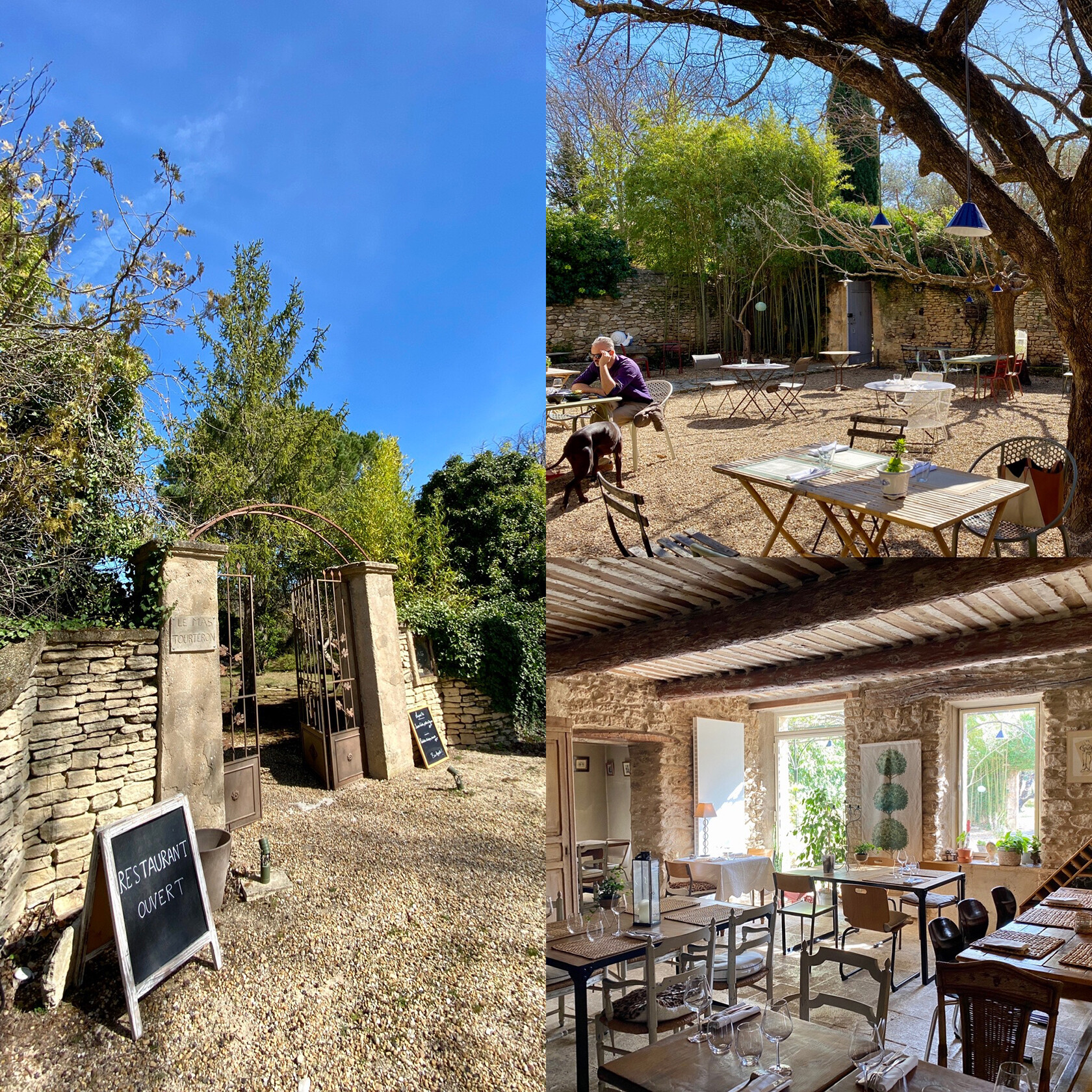 Planning a Return Visit
Several hours after our arrival, it was time to take our leave of Restaurant Le Mas. I'm sure I will return soon to this charming place. Alexis's exuberant enthusiasm for his métier makes not just for tasty inventive food but also brings with it a warm welcome and friendly conversation. At around €55 per person for lunch, with coffee and drinks extra, it's not the cheapest place you'll find. But I have always believed that good things are worth paying for and, especially after recent months. Hopefully, people will pick up where they left off before March 17th and start eating out and support their local restaurants.