Perfect for Lunch in Provence Tomato Tarte Tatin
A few weeks ago, we ate lunch at a lovely restaurant which offered an unusual, at least for France unusual, three-course vegetarian menu option. The choices looked so yummy, that most of us chose the vegetarian option. I will soon write a post about our visit to Venasque and lunch at Les Remparts. For now, I will say our starter of "Tarte Tatin aux Tomates" (Tomato Tarte Tatin) was to die for. It was so good!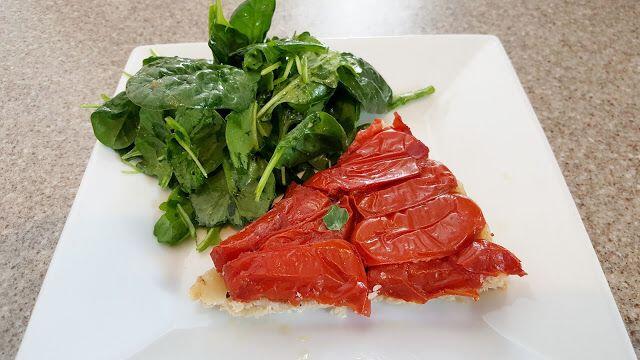 Tomato Tarte Tatin
Highlighting the wonderful flavours of fresh Roma tomatoes and Oregano on a light and flaky tart shell served with crisp salad greens.
Ingredients
3

tbsp

Butter

1

tbsp

brown sugar

2

Garlic Cloves

finely diced

2 3/4

lbs

Roma tomatoes

halved and seeded

2

tbsps

Balsamic Vinegar

1

tbsp

fresh Oregano

finely chopped

Salt and Pepper

to taste

Pie pastry for a 12-inch tart

Extra fresh Oregano for garnish
Instructions
Preheat the over to 400 degrees.

Have on hand an 11 or 12-inch tart pan with removable base and a rimmed baking sheet.

In a large skillet of sufficient size to hold all the tomatoes, melt the butter over medium heat.

Add the brown sugar and cook it until it is fully dissolved.

When it starts to caramelize, add the diced garlic.

Take it off the heat.

Add the tomatoes and arrange them cut sides up in the skillet.

Put back on the heat and lower the temperature and cook for 10 minutes or until the tomatoes release most of their juice.

Add the Balsamic vinegar and cook for 2 minutes more.

Remove from heat.

Arrange the tomatoes in an 11 or 12-inch tart pan with removable base, cut sides up.

Spoon some of the juices from the pan over the tomatoes.

Sprinkle with the Oregano and salt and pepper to taste.

Roll the pie pastry and with sharp knife or scissors, cut it into a 12-inch round.

Place it on top of the cooked tomatoes, tucking it in at the edges.

With a fork, make small holes in the pastry.

Set the tart on a rimmed baking sheet and transfer to a preheated oven.

Immediately reduce the oven temperature to 375 degrees. Bake the tart for 30 minutes, or until the pastry is golden brown.

Remove from oven.

Let the tart sit for 5 minutes after you take it out of the oven.

Run a knife around the pastry to loosen it from the pan.

Set a large plate upside down on the tart and using pot holders, turn the plate right side up so the tart comes out.

Garnish with oregano.

Cut the tart into wedges and garnish with oregano.

Serve with dressed greens.