Lamb and Chicken Couscous a Traditional Moroccan Recipe
Ras El Hanout is a spice blend essential to Moroccan cooking and critical for a traditional lamb and chicken couscous recipe. The name translated literally means 'head of the shop' for which actual mixtures vary, and in some cases, maybe closely guarded family secrets. A less direct translation is 'best of the shop' a savoury combination of as many as 60 spices, ground and mixed together. These are typically found in every ras el hanout; anise, cardamom, cinnamon, ginger, mace, nutmeg, ginger, black and white peppers, and turmeric.
…Continue reading here for details on Ginger and Nutmeg's cooking class on how to make a traditional couscous. Although, the origins of this dish are North African it is quite common to find restaurants that serve couscous in many cities in Provence and along the Côte d'Azur.
Read about a flower-filled visit to Lauris, in the Luberon, and a couscous lunch La Table de Margot here.
How couscous is taking over French favourites here.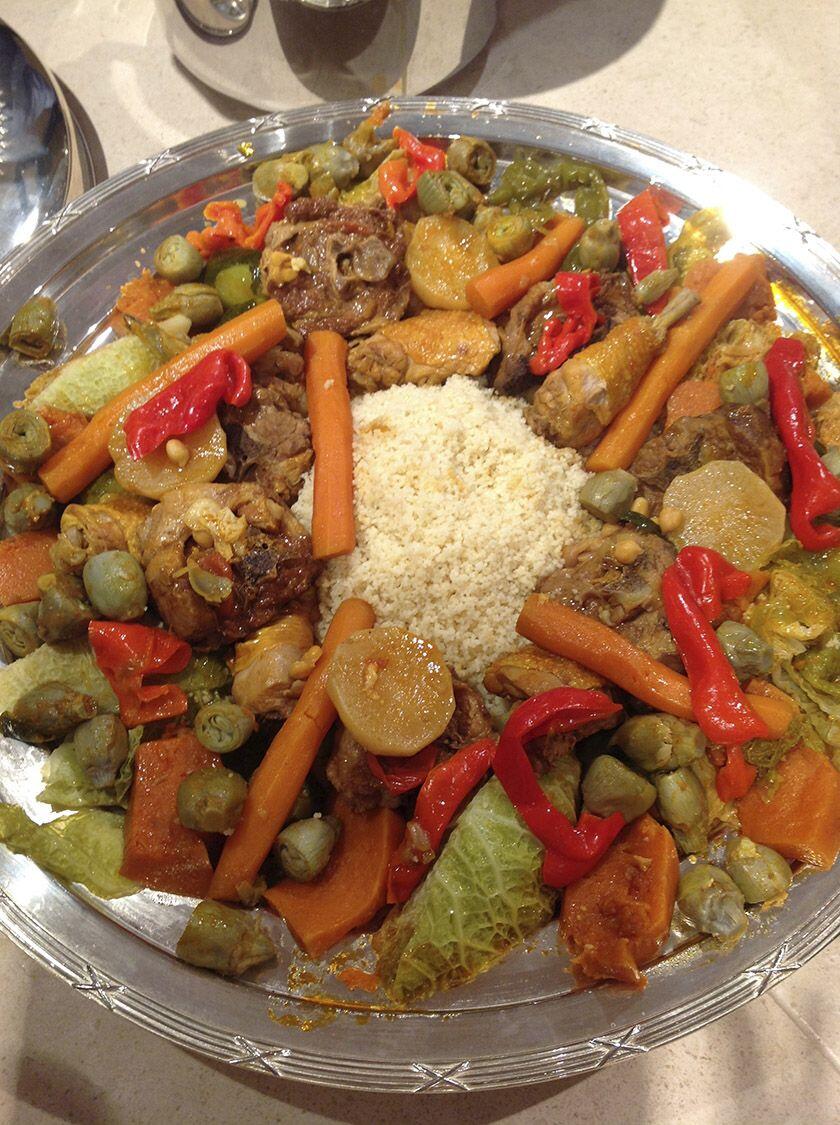 Couscous with Lamb and Chicken
This recipe is a traditional preparation and presentation for couscous. The recipe comes from a Provencal friend in France who lived in Algeria for a period of time.
Ingredients
3-4

tbsp

olive oil

6

pieces

Lamb Collar

including the bone, neck

6

Chicken Thighs

including the skin

1/3

cup

Tomato paste

1

medium

Onion

chopped

3

cloves

Garlic

crushed

1

tbsp

Cumin

ground

1

tbsp

Ras el Hanout

a Moroccan spice blend

4

cups

Water

4

Carrots

peeled and chopped

1

Turnip

peeled and diced

2

Zucchinis

diced

1

Green pepper

seeded and chopped

1

Red Pepper

seeded and chopped

1

small

Napa cabbage or regular cabbage

chopped

6

Canned Artichoke Hearts

drained

1

cup

Chickpeas from a can or bottle

drained

2-3

tsp

Salt

1

tbsp

Harissa

from a can, mixed with a little water

1

package

Instant Couscous
Instructions
In a large stockpot, heat the olive oil on medium and brown all the meat slightly.

Remove the chicken and set aside on a plate.

Add tomato paste, chopped onion, garlic and spices to the pan; allow the spices to cook for 1-2 minutes.

Then add the water and turn up the heat until the water boils.

Reduce the heat to medium and cover the pot.

Cook for about 15 minutes.

Return the chicken to the stockpot.

Add the carrots and turnip and cook for another 15 minutes.

Taste the sauce at this stage and adjust the spices if necessary.

Add the chopped zucchini, peppers and cabbage.

Cook for 5 minutes.

Add the artichokes and chickpeas and salt to suit your taste.

Reduce heat to low and simmer, until your couscous is ready.

Prepare the couscous according to the package instructions.

Serve the couscous on a large platter surrounded by the meat and vegetables.

With a large slotted spoon remove the meat and vegetables and arrange around a central mound of couscous.

Strain the remaining liquid from the pot and serve in a bowl alongside your meal.

Serve the harissa on the side.
Notes
Note: Prepare your couscous following the instructions on the package for four people. Including boiling the water, the preparation time for it is typically no more than 10 minutes; you should plan to make the couscous right before serving.
This recipe was previously published in the City Palate Magazine March/April 2014