Easy Recipe for Sweet Potato Gnocchi
Recipe by Jeany Cronk @MirabeauWine:
Here's a lovely recipe, not for every day I admit, you will have to channel your inner play dough fan, but it tastes so good that you will struggle to buy another bag of ready-made gnocchi from the supermarket. Don't be too perfectionist about looks, mine were pretty ugly and a hotchpotch of sizes, just tell yourself it's the taste, not the looks that matter. …Continue reading here for all of Jeany's tempting photos for this savoury recipe.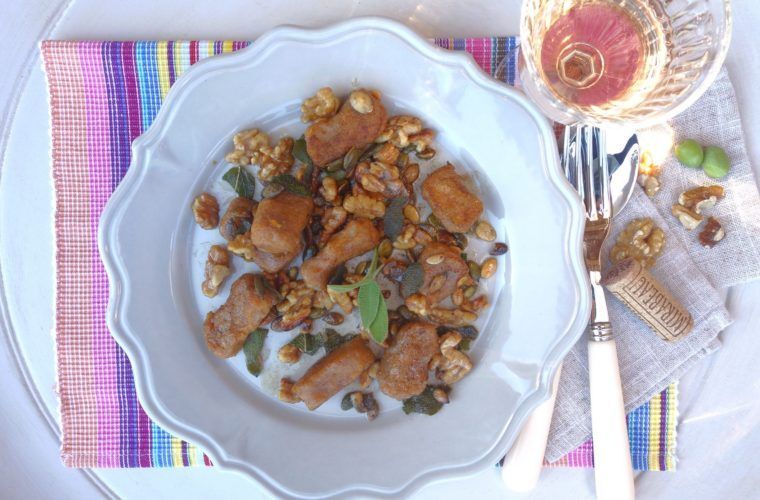 Sweet Potato Gnocchi with Sage, Walnut and Pumpkin Seed Butter
Simple baked potatoes transform into delicious little bites packed full of fall flavours with sage, walnuts and pumpkin seeds.
Ingredients
4

Floury potatoes

2

Sweet potatoes

150

gr

bread flour

50

gr

walnuts

50

gr

pumpkin seeds

A nice big bunch of sage leaves

a knob

Butter

Extra virgin olive oil

Sea Salt

Nutmeg
Instructions
Heat your oven to 180 degrees Celsius (350˚F)

Pop your potatoes and sweet potatoes onto a baking tray.

Bake them until they are totally soft inside (test with a knife), the advantage of baking over boiling is that you will lose a lot of moisture, which you will see comes in handy later in the process.

Leave your potatoes to cool down a little so you can handle them

Then scoop out all the flesh into a bowl and mix it all with a fork, you're aiming for the smoothest possible consistency, so give it some mashing!

Season with plenty of sea salt and nutmeg.

Add the flour bit by bit to make sure you don't put too much and make the dough too dry.

You need to soak up enough moisture for it not to be too sticky so you can handle it, so just add until it's lost it's stickiness and can be formed.

Roll the dough into little ropes and just cut off small chunks, about 2cm each.

You can just leave them as a parcel or give it a bit of a gnocchi forming treatment.

Sprinkle it with some more flour to make sure they stay in shape.

Take a large pan and heat up some butter and olive oil, fry off the crushed walnuts, pumpkin seeds and sage and leave on a very low heat to make sure the butter doesn't burn.

Take a big saucepan and boil some water, turn down the heat to stop the water from bubbling.

Very gently immerse your gnocchi (you will have to do this in batches) only for a couple of minutes max.

Turn your pan to medium heat and gently deposit the (drained) gnocchi into the pan.

Coat them in the butter and roast them both sides until slightly browned (turn them carefully, they are a bit squidgy).

Check the seasoning and get your guests in order to serve straight from the pan- these will not age or reheat very well.