Quick and Easy Coconut Curry Chicken Soup
Traditional Provencal cuisine used hyper-local ingredients, picked from the potager (kitchen garden), foraged in the hills, and hunted nearby. In a region where dairy and beef were only available for the wealthy, ingredients such as coconut milk, curry and lime definitely were not part of any cook's pantry.
Today, Provencal menus are hyper-global with chefs who make use of spice combinations from around the Mediterranean, North Africa, the Caribbean and Asia. The best part about this recipe for Coconut Curry Chicken Soup it's complified (read: simple).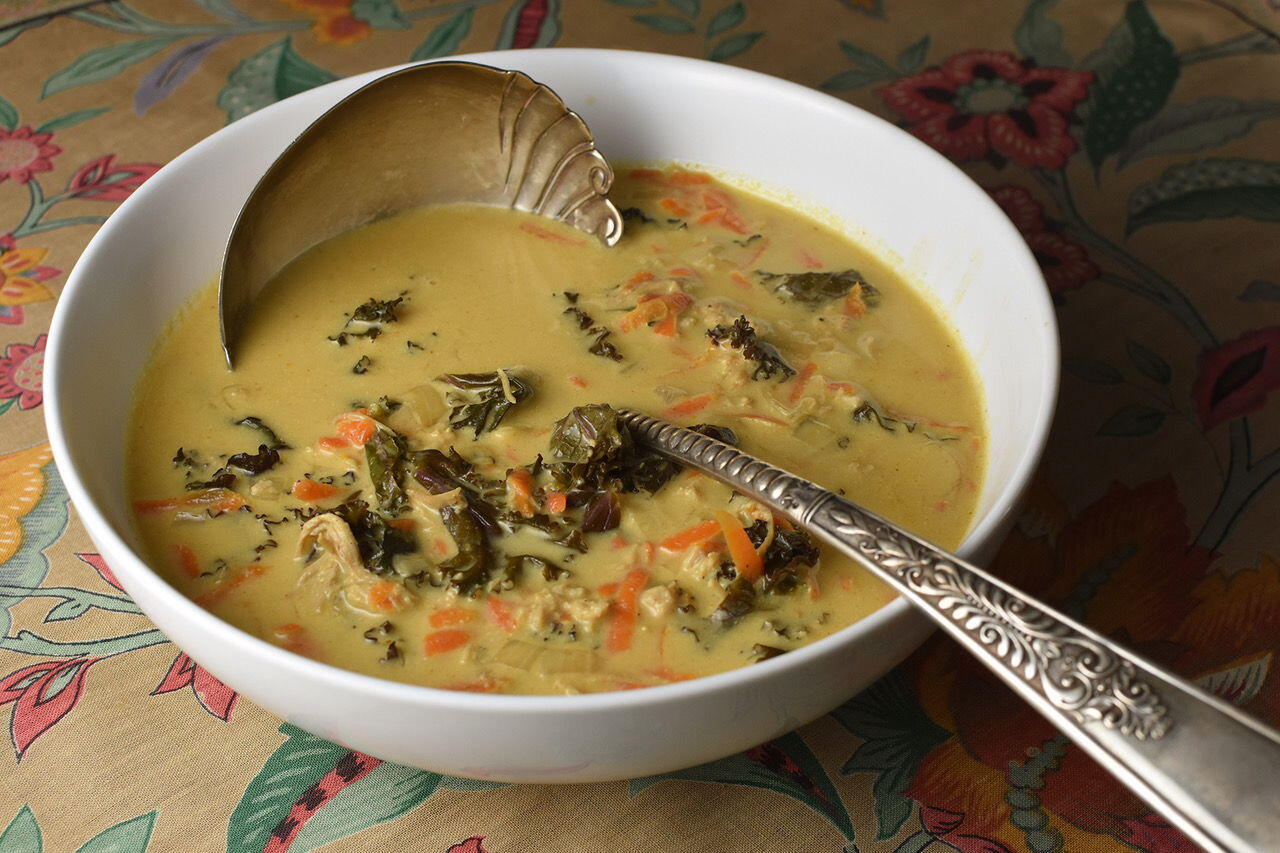 Coconut Curry Chicken Soup
This recipe was adapted from a similar version on the culinary blog "Pinch Me, I'm Eating" (https://www.pinchmeimeating.com/). Enjoy the flavour combination of curry, coconut and lime in this Thai-inspired soup. The recipe serves 4 people as a main course.
Ingredients
For the Broth:
1

small

Onion

chopped

2

tbsp

olive oil

1

tsp

Curry powder

1

tsp

Salt

or to taste

1/2

tsp

Mild Chile Powder

1/4

tsp

Cayenne

2 14-

oz cans

Coconut Milk

I used light

4

cups

Chicken Broth

1/2

cup

Lime juice

2

tbsp

Soy sauce

2

tbsp

Oyster Sauce
For finishing the soup:
3

cups

Cooked chicken

shredded

3

large

Carrots

grated

1

large bunch

Kale
Instructions
In a large saucepan, sauté the onion in olive oil until clear and soft.

Add the curry powder, salt, chile, and cayenne, and cook for 1 minute.

Add all remaining broth ingredients and bring to a boil. Reduce to simmer.

Add the cooked, shredded chicken and carrots; simmer for about 10 minutes, or until carrots are tender.

While the soup is simmering, remove tough stems from the kale, and tear or cut into bite-sized pieces (maybe 2 inches square). Take a moment to squeeze it tight a bit - massaging the kale breaks down the tough fibers.

Stir in kale pieces until wilted and tender - about 7 minutes.

Serve immediately.