Destination Antibes and Nice: Three Nights on the Côte d'Azur
Dorothy, you're not in Kansas Provence anymore.
Getting out of the car in Antibes, I encountered a touch of humidity and crowds in the streets. Cliché perhaps, but I had driven just over two (2) hours to the Côte d'Azur. This town was a different part of Provence than the one that I left behind.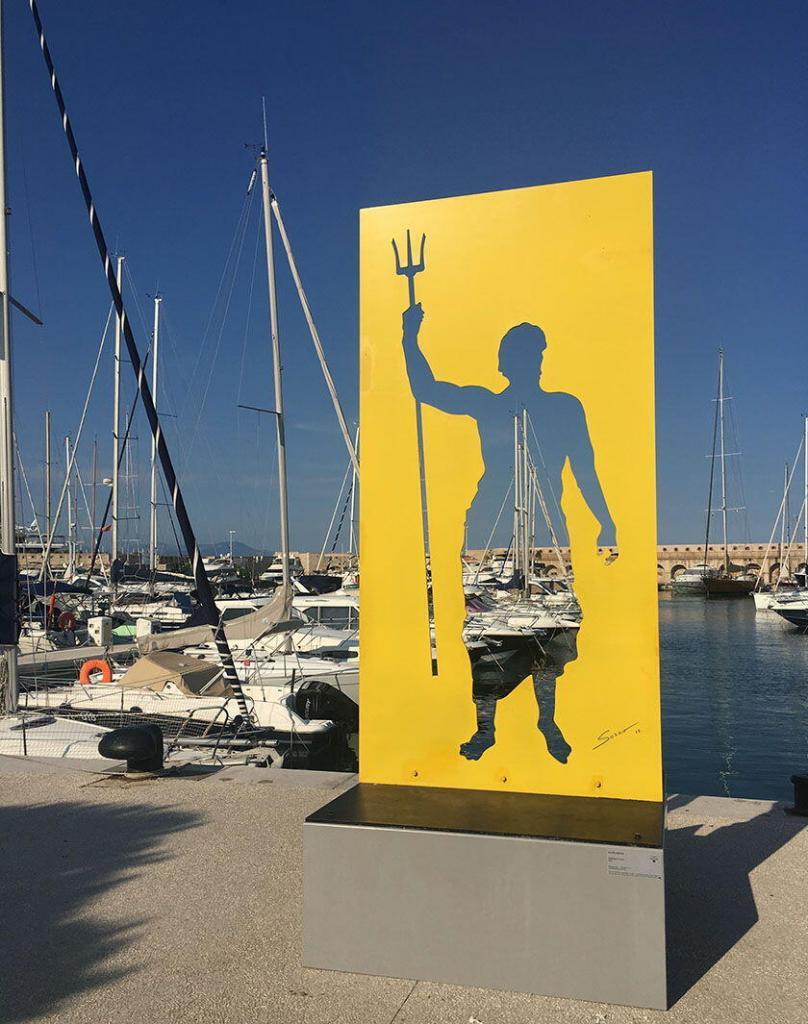 First Evening Discovery
The crush of humanity was explainable on a Sunday evening. After a hot summer day at the beach, families and sports fans gathered at local bars to watch World Cup soccer. However, more surprising was the fact that some of the retail stores were open on a Sunday evening.
Welcome to the French Riviera!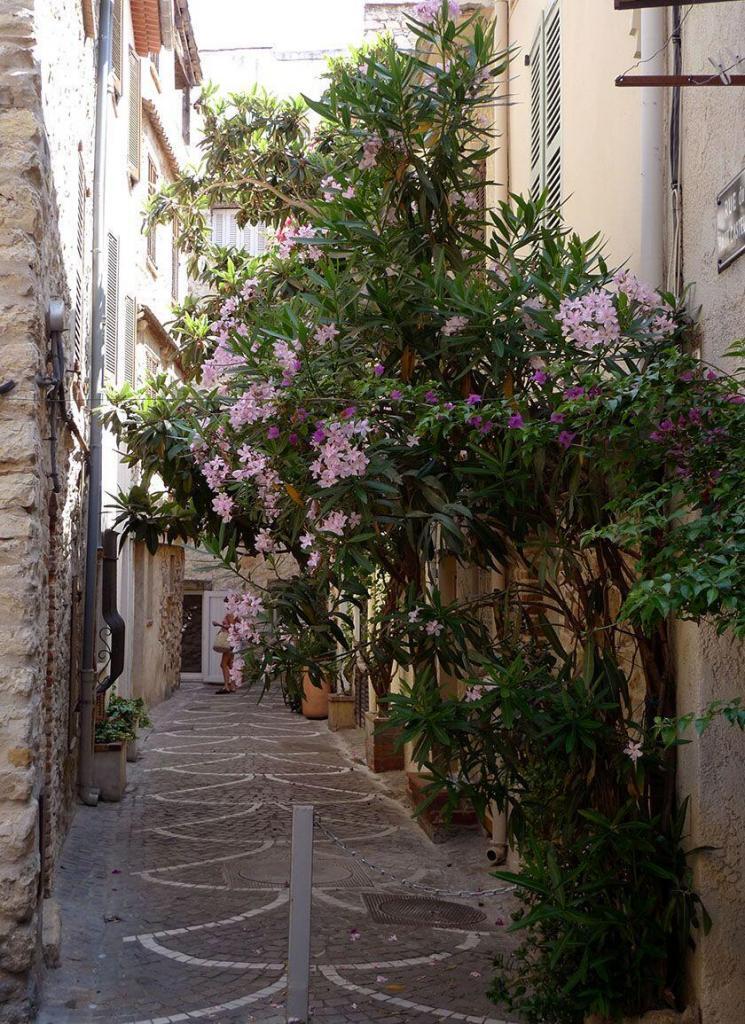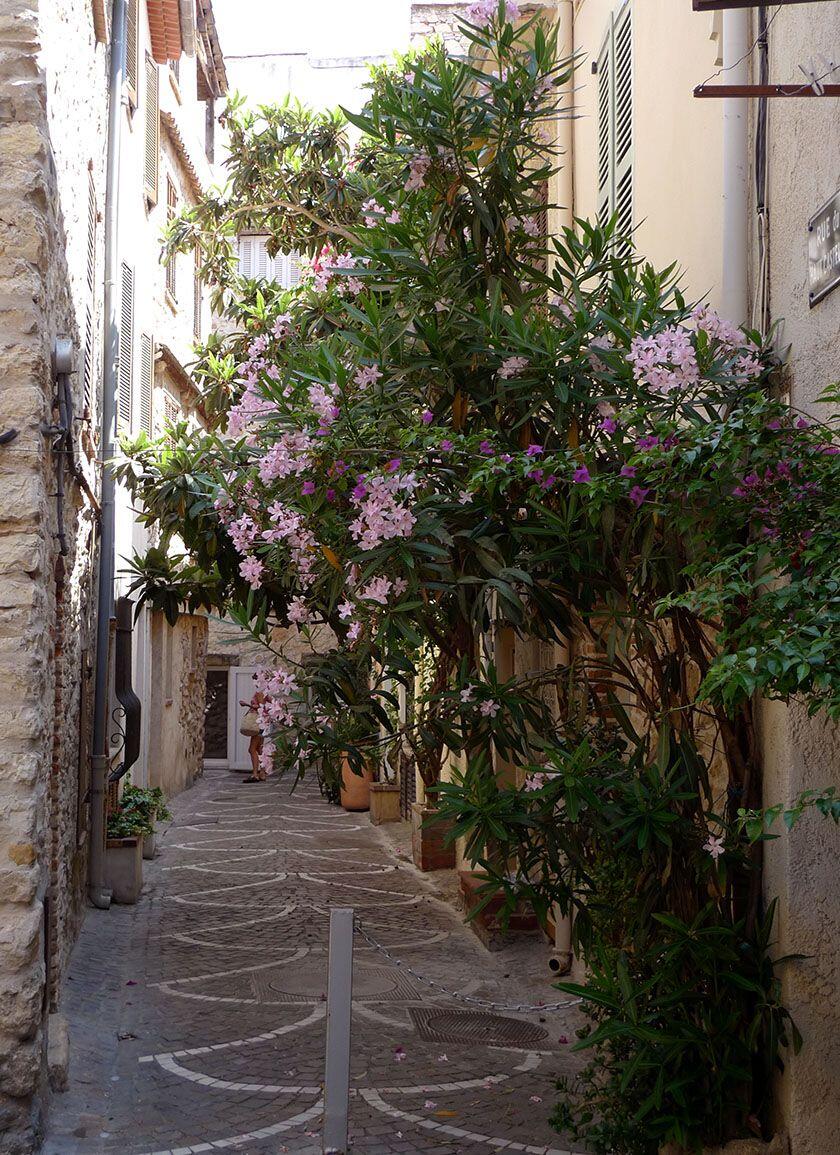 Easily walkable Vieil Antibes is a treasure trove of pedestrian-friendly streets and plazas filled with restaurant tables shaded by oversized umbrellas. There are winding alleyways with Azaleas flaunting their dazzling flowers against stone walls. Down these lanes are surprises around every corner like a carved door from the1500s, an almost hidden chapel, and stunning sea views.
Strolling in Antibes
The old town is surrounded on two sides by restored rampart walls. Outside the one-time defensive walls is Port Vauban "Europe's largest marina" this is where vessels of every size and shape moor – from superyachts to fishing boats. There must be a "pecking order" to determine which boat gets dockside access, but that is not for this non-seafaring girl to sort out.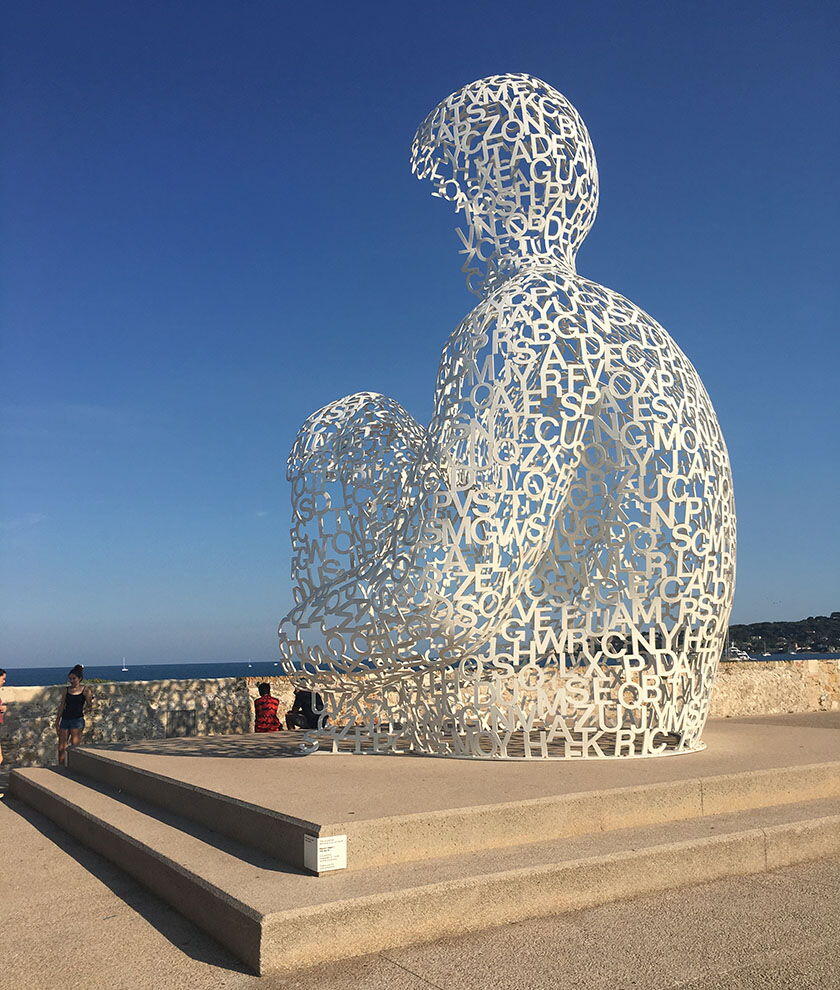 It's a quick stroll along the top of the ramparts to see "Le Nomade" an 8-metre high, cast iron sculpture by Catalan artist Jaume Paume. It is well worth the walk for the view of the old town from that perspective.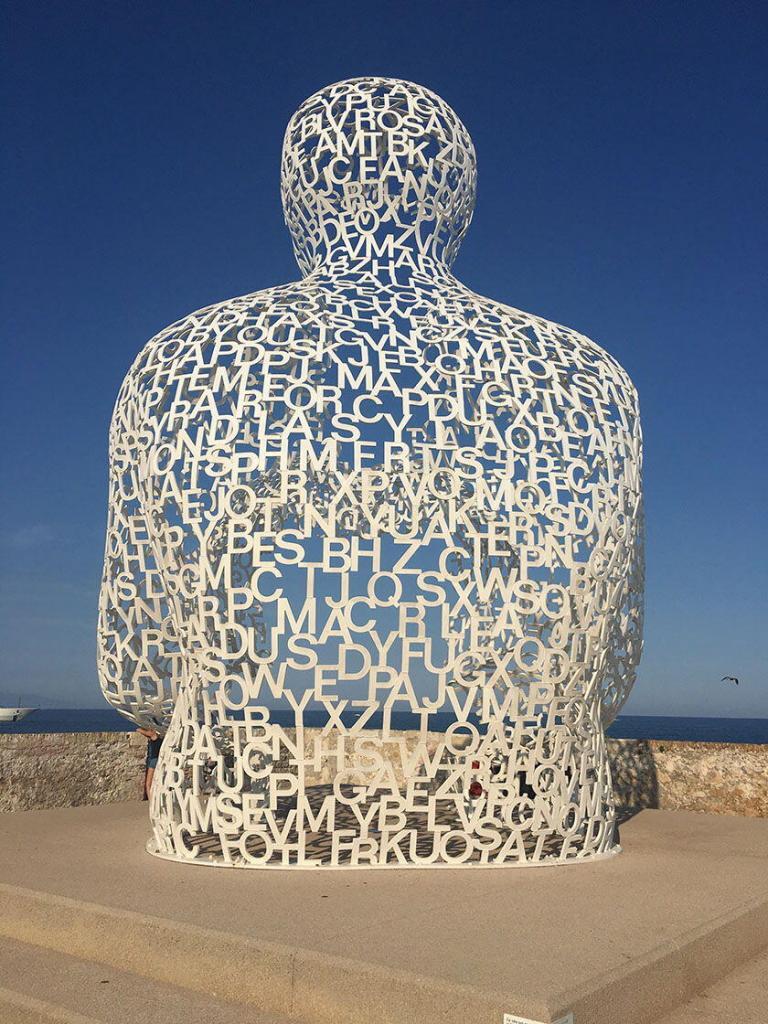 Facing the sea to your right is Plage de la Salis and to your left the Fort Carré. During the day the Salis Beach is dotted with umbrellas, lounge chairs, and snack shacks where you can get local specialties like pan bagnat (Cocoa & Lavender recipe here). Patricia Sands accurately describes this sandwich as "Salad Niçoise on a bun."
After spending an hour of strolling (flâner) aimlessly, I settled into a chair at the hotel's bar à vins, ordered a rosé-piscine (with lots of ice) and watched the game with the soccer fans.
Monday on the Côte d'Azur
Patricia Sands arrived off the train from Nice just in time for my second coffee. Much of the inspiration for her "Love in Provence" series came from this relatively small Riviera town. Although Antibes is no longer the fishing village of yesteryear, there are still fishermen casting their lines into the blue Mediterranean. Tourism and retail appear to be driving the local economy sufficiently for a sizeable inner-city development project to have municipal approval.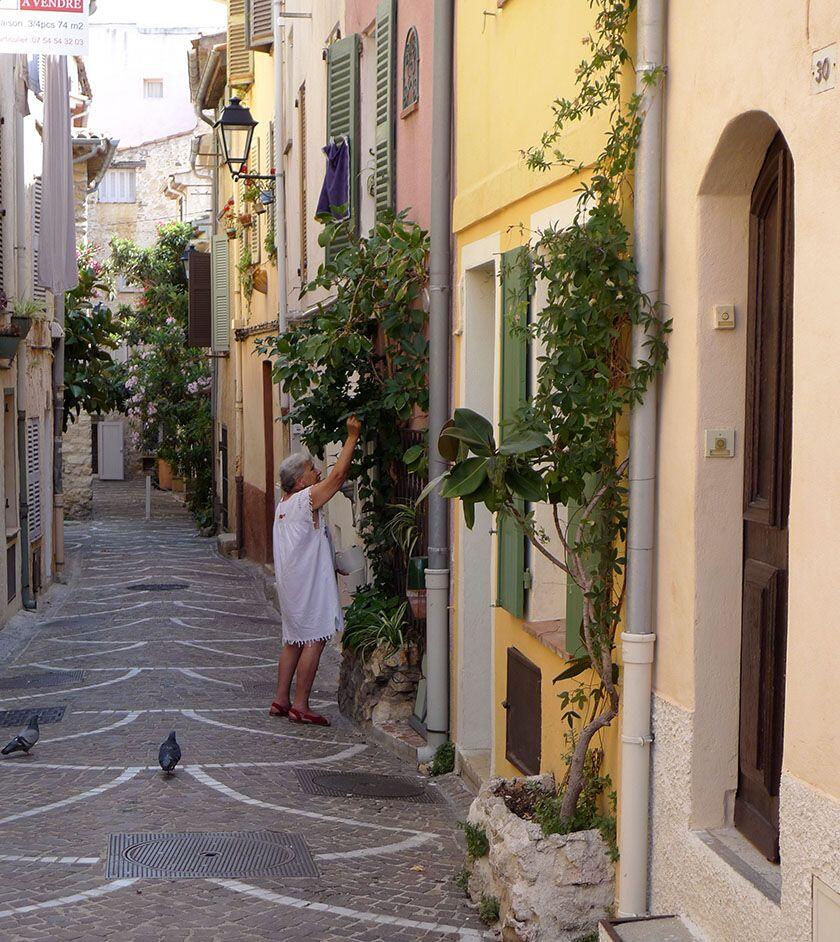 After coffee, we set off on a wander through the streets. Patricia pointed out some of the hidden corners of Vieil Antibes, her favourite laneways and where she gathered inspiration for her books' characters.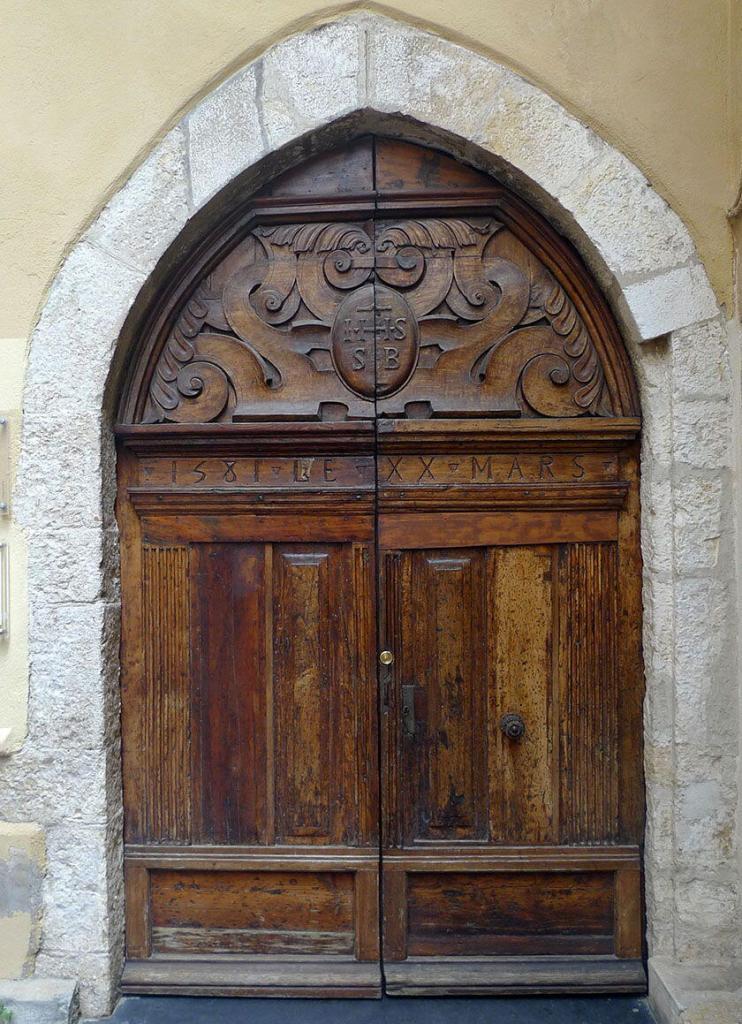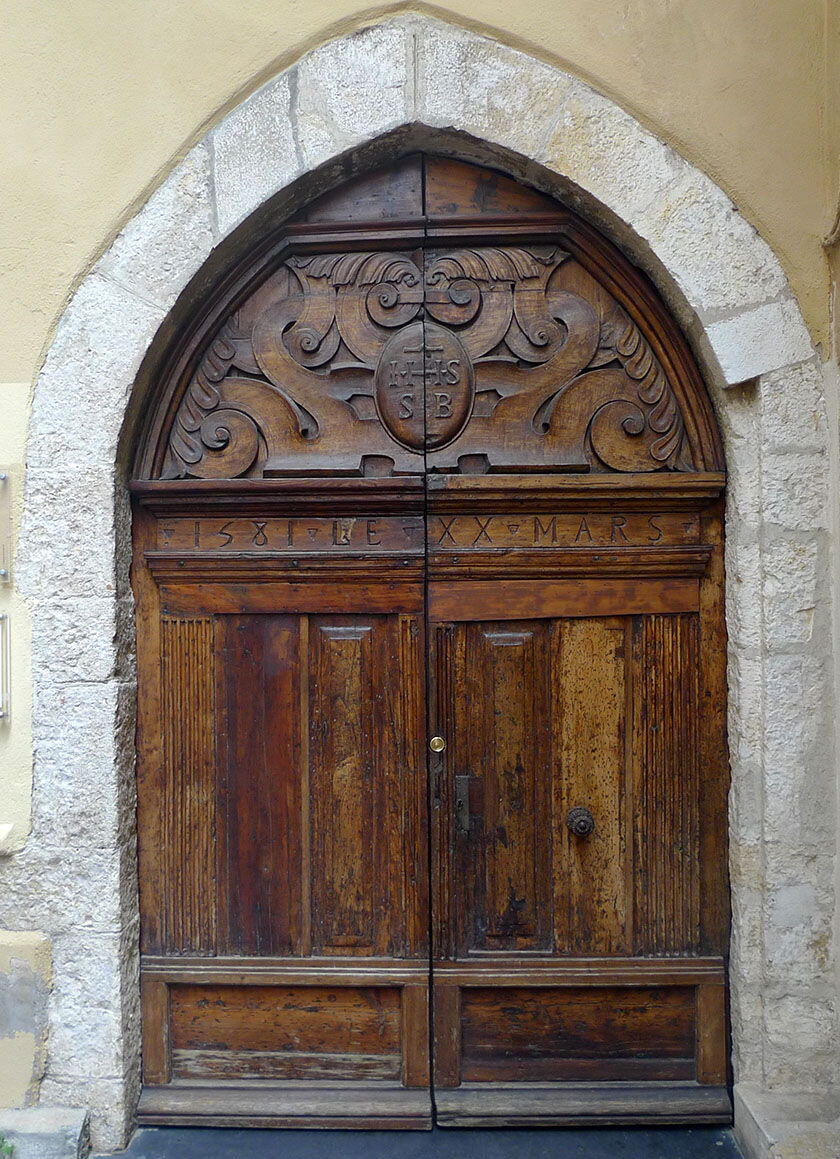 We paused for a moment in front of carved doors of la Chapelle Saint Bernardin a small chapel circa 1581. Sadly, the church was closed so I could not view the interior, but Patricia explained that even today that location "speaks to her" and that during some moments of writing block just laying her hands on the doors helped move the stories forward.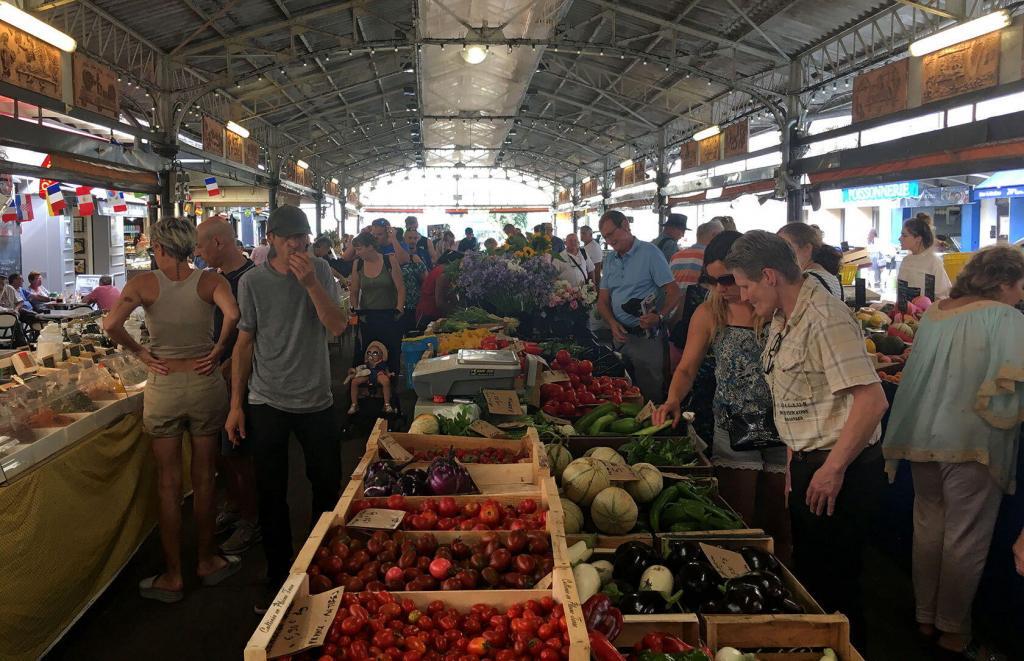 Many of the streets end at the covered market (Marché Provencal). Although it is not open on Mondays, you can imagine "Love in Provence" characters meeting nearby to discuss politics (and gossip) over their first cafés of the day. The market is open Tuesday through Sunday mornings with a tempting spread of local produce, French cheeses, some cured meats and loaves of bread. It is worth seeing the market, although one gets the sense that is a fraction of what it might have been in the past before the grocery and convenience store options nearby.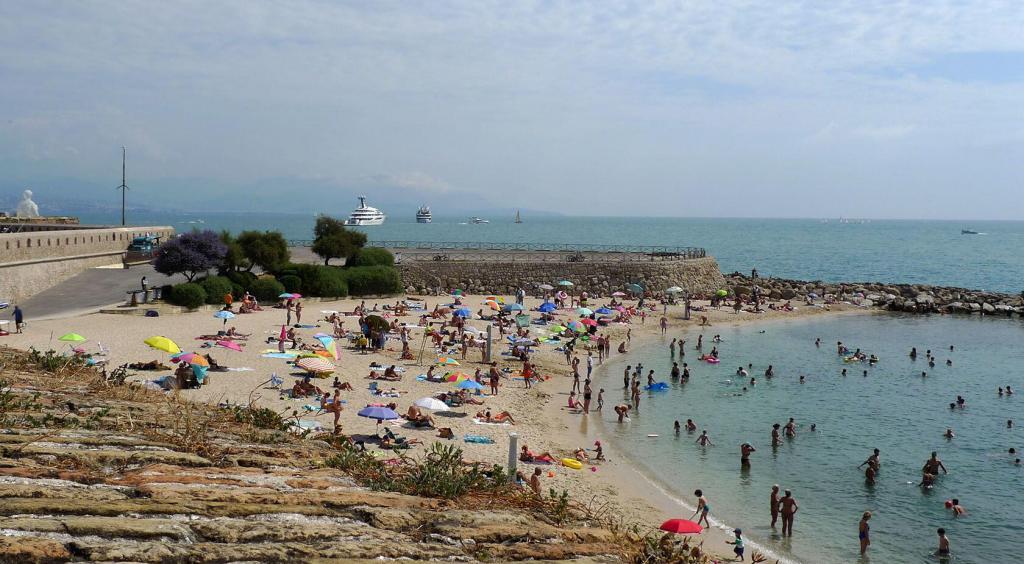 Antibes a Town Within a Town
Patricia Sands explained that the Commune libre du Safranier (created in 1966) operates as an island within the larger city of Antibes. The Commune has a mayor, although with little political power. However, the commité (committee) is free to coordinate their events. The Commune also has some of the most beautiful (and Instagrammed) streets in Antibes.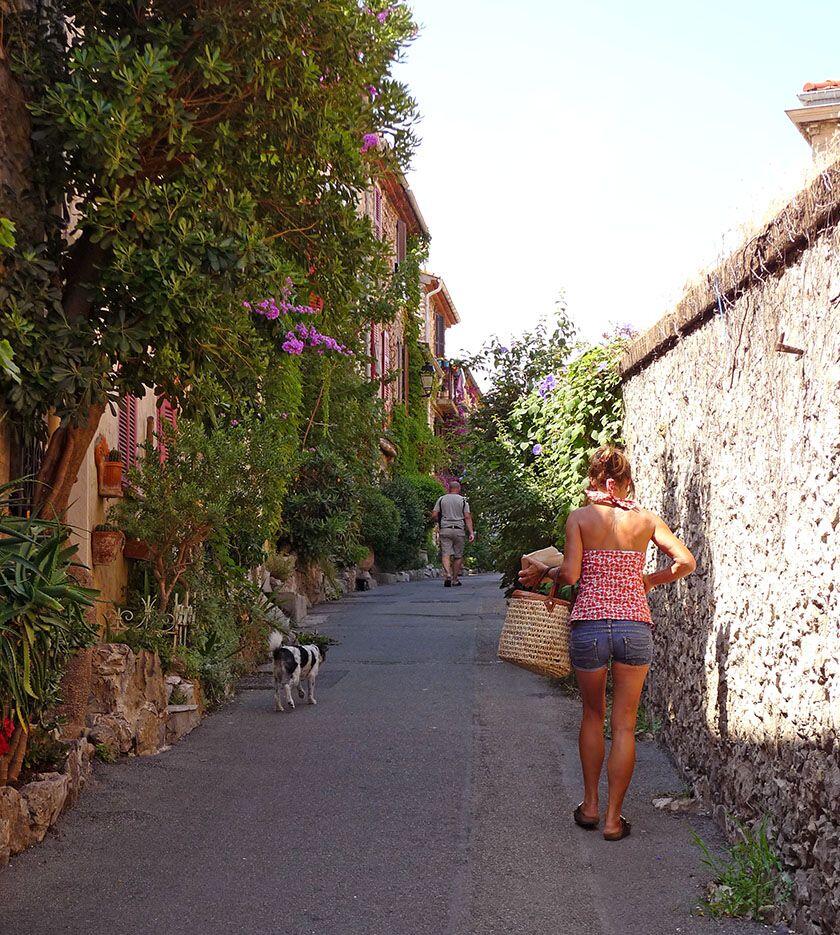 Lunchtime approached, and we headed to Royal Plage a restaurant and beach bar operated by the Hotel Royal Antibes. It is best to make a reservation in advance, as Patricia Sands had done, as this is the only full-service restaurant on the Salis Beach. Our lunch was fresh and delicious, but we skipped dessert leaving room for Lebanese lemonade at nearby Le Phenicia. Their unique combination of lemonade, crushed ice and mint was beyond refreshing on a 34C day.
Before long, it was time to say goodbye, as we both had errands to run and dinner plans. A few hours later I met up with a trio (not singers) at Café Kantor, a friend, her teenage daughter and their adorable dog. This restaurant has an old-school bistro style charm with a menu that straddles both Italian and French cuisine. However, if you are a dessert fan that is the real reason to make your way to Café Kantor. The buffet table looks like it might collapse under its load of sweet options. The ladies had their hearts (and sweet tooths') aimed at a traditional mille-feuille. The slice was big enough to serve six people.
Tuesday – Game On
The Hotel Relais du Postillon was Patricia's recommendation for a place to stay in Antibes. This centrally located 2-star hotel has only 16 rooms, each one with slightly different décor, and crisp bed linens. The owners upgraded the windows which work well to block out the street noise. The hotel offers a decent breakfast buffet and good coffee, for those (like me) who need their cuppa. This hotel is also where Patricia Sands wrote parts of her novels and gathered inspiration for her characters.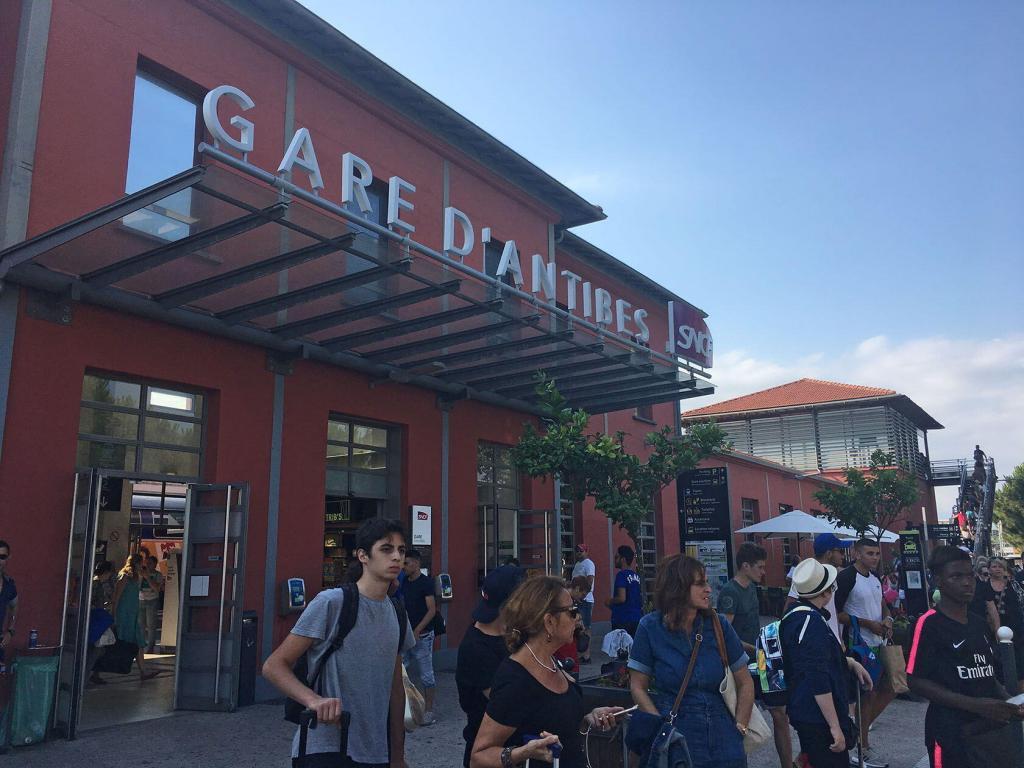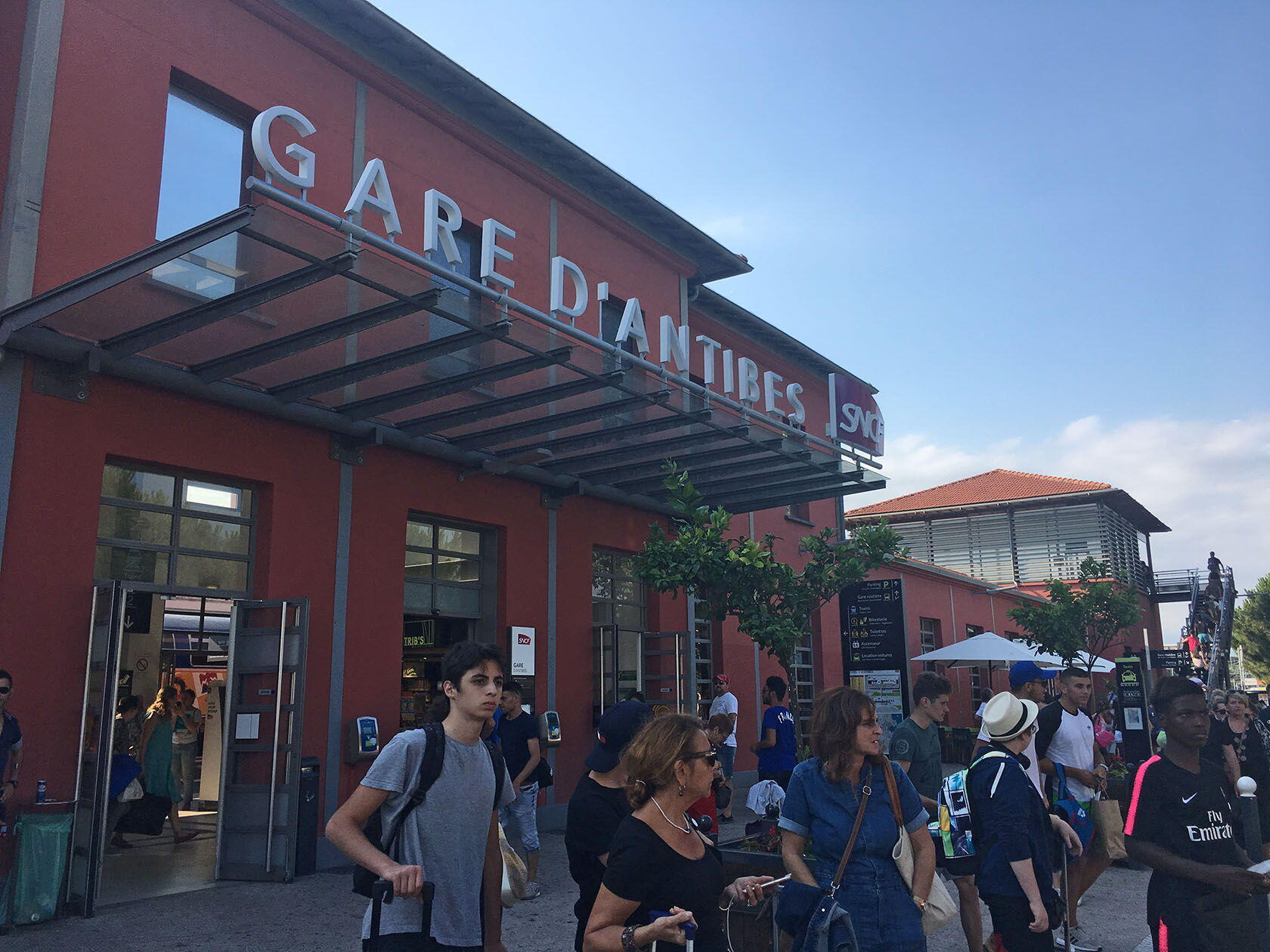 The train station in Antibes – Gare d'Antibes – is an easy 10-minute walk from the hotel. The trains to Nice run frequently, but the self-serve ticket kiosks were well beyond my ability to sort out. Instead, I purchased my return billet (ticket) from a real live person. Twenty-five minutes later the train pulled into the Nice Ville station, located in the Liberation area of the city. Currently, there is a massive construction project adjacent to the station, which long-term will add shops, restaurants and other amenities to this part of town.
It did not take long to connect with Viktorija Todorovska of Sip Taste Share, she and her beau moved to Nice about two years ago to "test out" French Riviera living. I am sure you can guess how that is going for two food lovers, who embrace the climate and bike riding. After we got caught up over coffees, it was time to stroll the Marché de la Libération. This neighbourhood market is open daily (except Mondays), and this is where you find tempting seasonal, produce that is mostly local although Viktorija explained there is one dedicated merchant who brings their wares from Italy.
A Local's Stroll in Nice
We strolled down Avenue Malaussena towards the waterfront it is about a 15-minute walk to Vieux Nice. In the old town, we visited the Cours Saleya Market (closed Mondays). This market is geared more toward the transient tourist crowd, as there are many stands with "typical" Provencal products. There are plenty of stalls for anyone looking for gifts to take home, such as soaps, olive wood products and linens. Although the market might be somewhat tourist-facing, Viktorija explained that in the heart of winter the bright flower kiosks are a mood booster.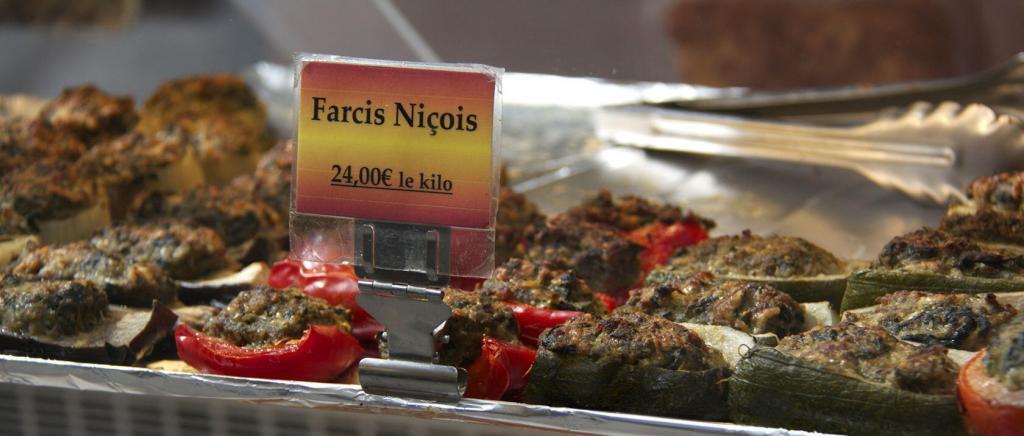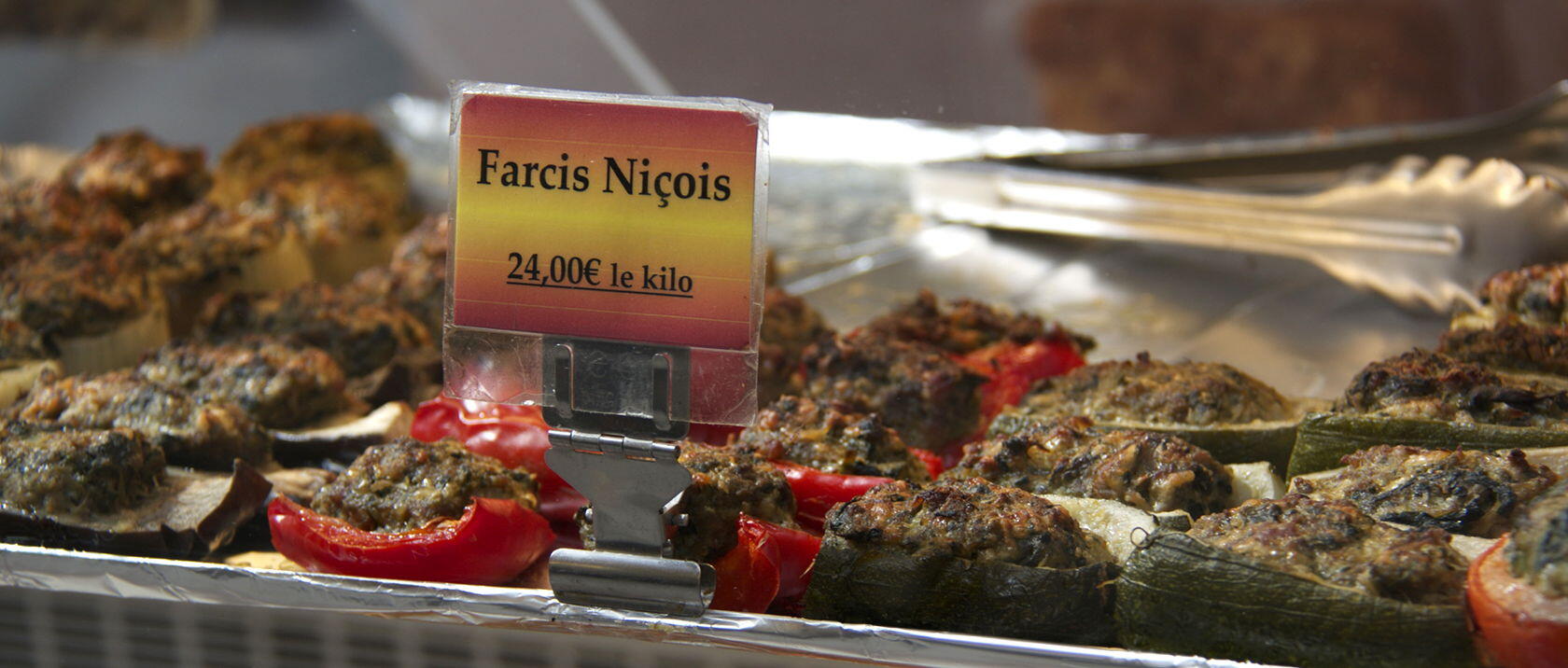 The daily noon cannon had marked the lunch hour with a boom, and it was time to sample some Nicoise fare. Interestingly Viktorija chose a restaurant that I would have thought was a tourist trap. My lesson was "Don't judge a book restaurant by its cover." This tiny spot might have 20 tables outside and a kitchen the size of a boat galley. The hardworking ladies running the show are part of an esteemed group of restauranteurs that must serve Nicoise specialties – "Cuisine Nissarde" – prepared from scratch, with local ingredients and never use products that are out of season. The food was delicious.
After lunch, we strolled Vieux Nice to see Rosa Jackson's Les Petits Farcis, a popular and highly-rated cooking school. Before Viktorija left, we stopped at her favourite gelato store – Oui, jelato. Their cooler was tempting enough to twist the arm of a non-ice cream fan…trust me.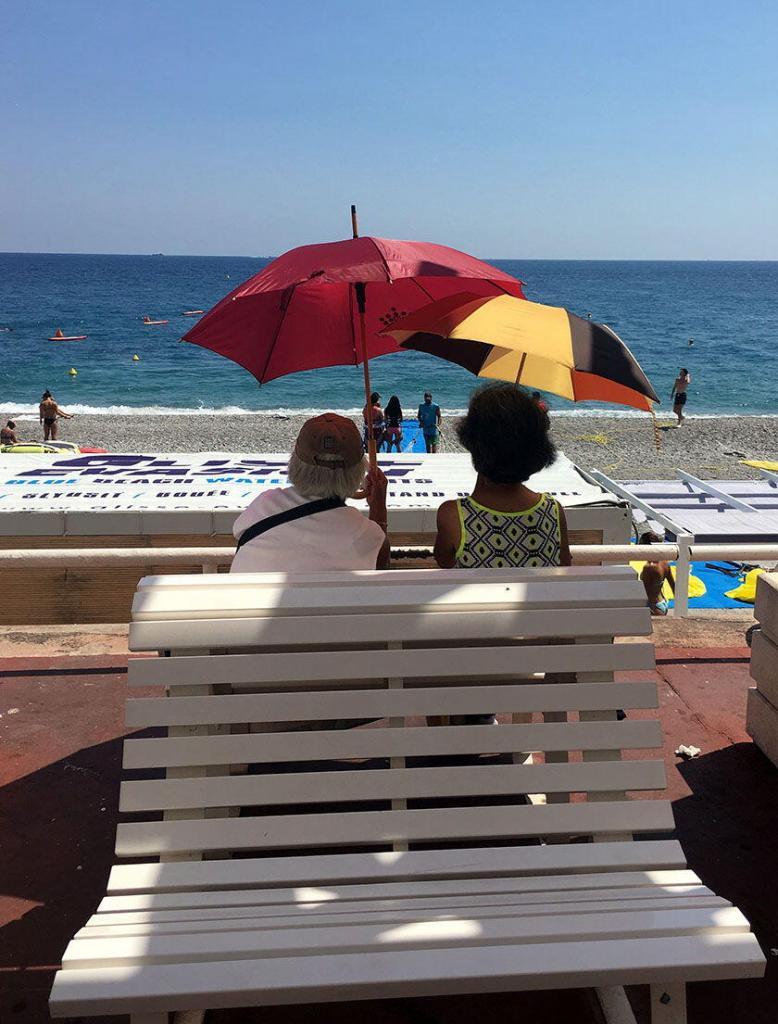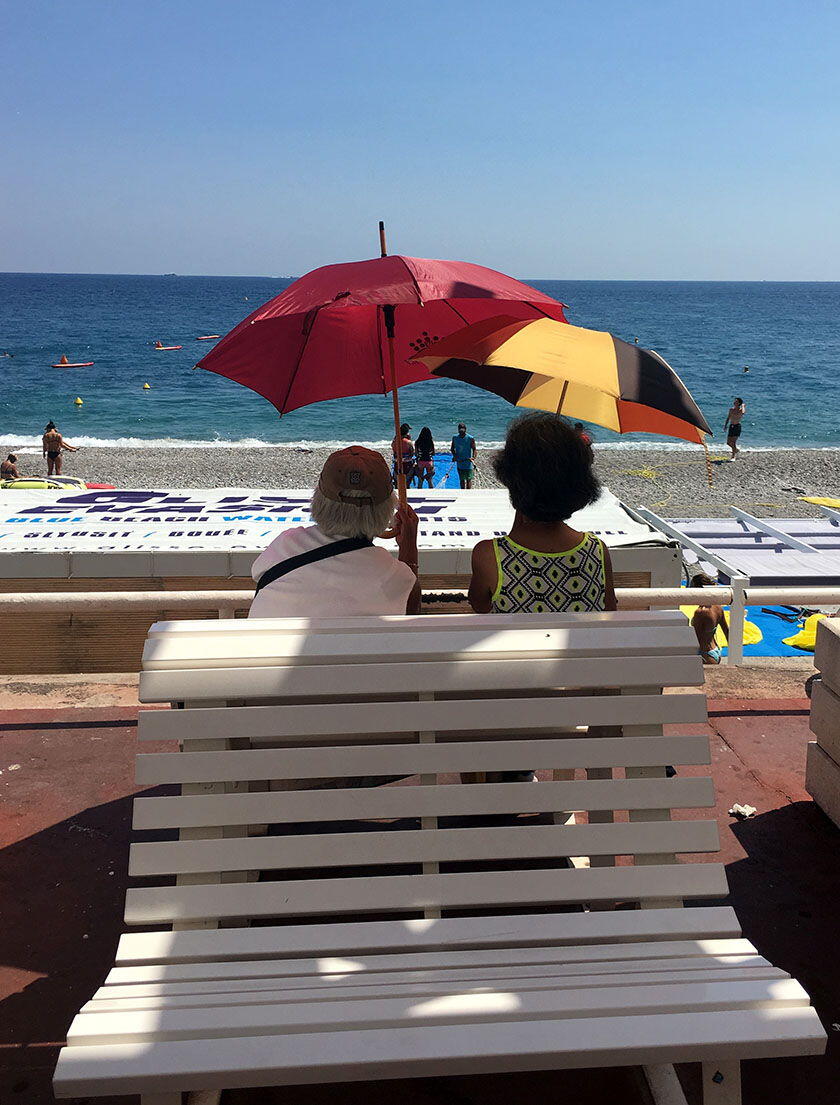 One cannot leave Nice without a walk along the Promenade des Anglais, so I met Patricia Sands at the Beau Rivage for a drink. We chatted and let our eyes and minds wander towards the sparkling Mediterranean. La vie est belle – life is good!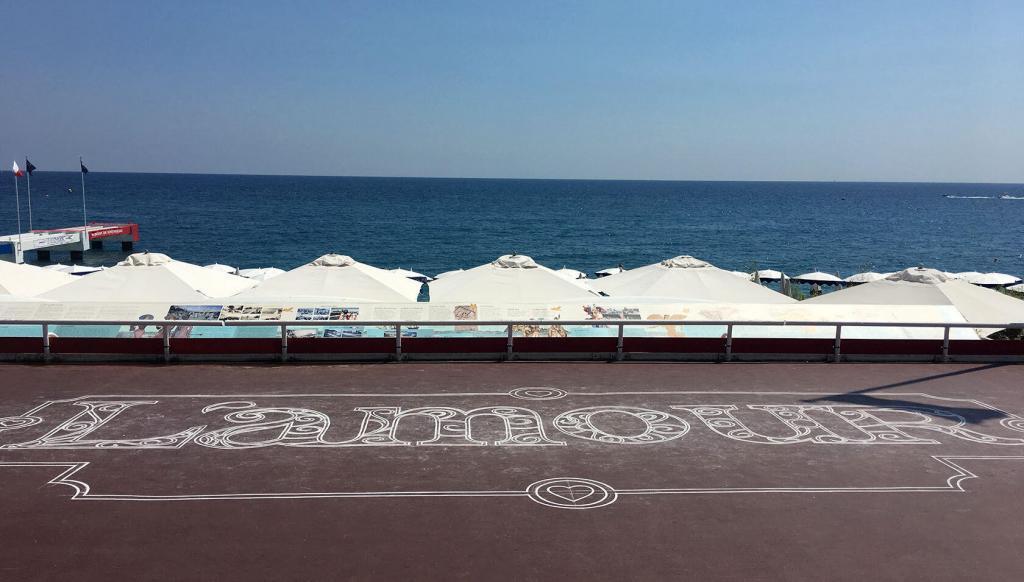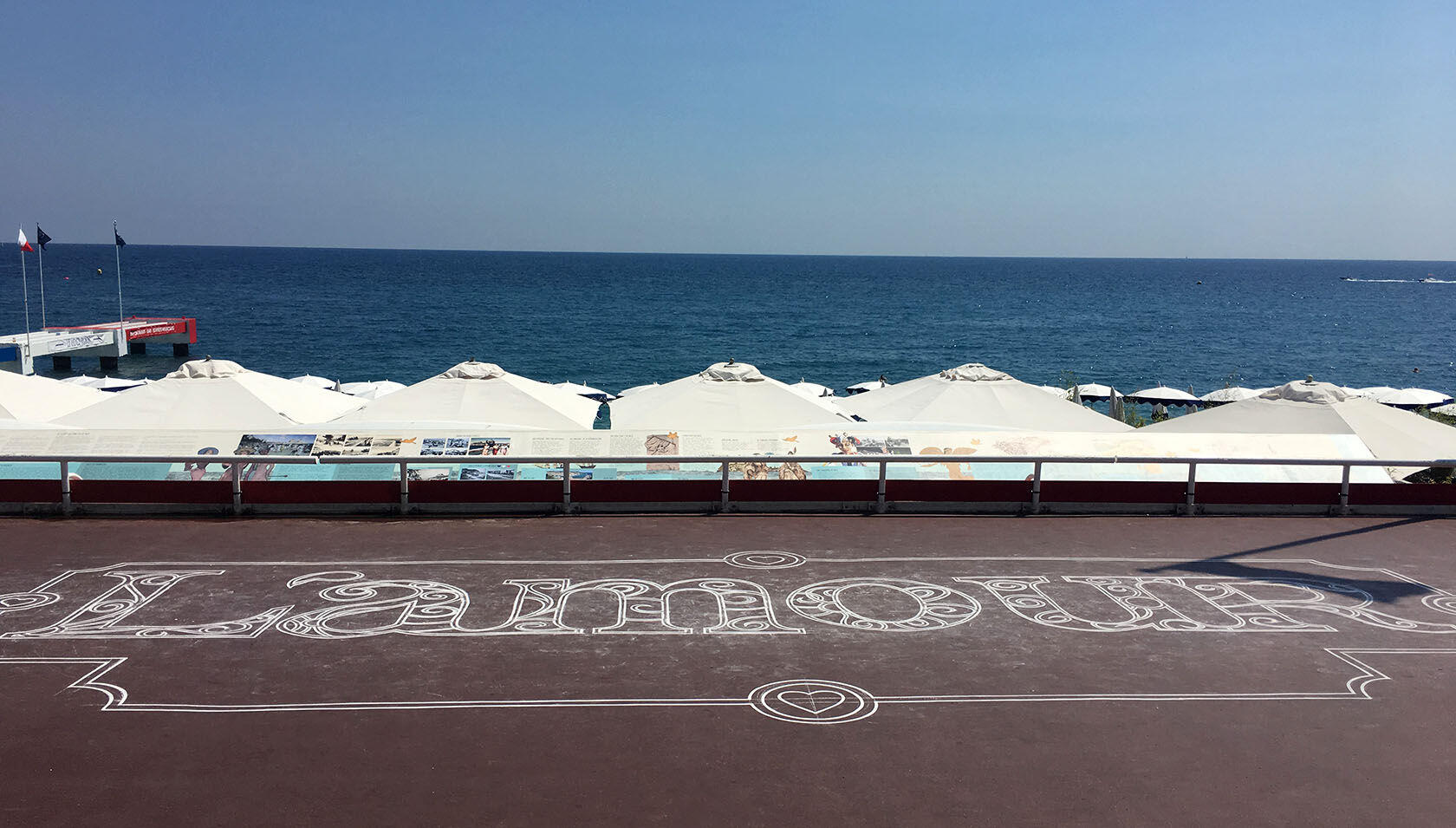 Or at least it was until I got back to the Nice Ville train station. The co-mingling of sweaty commuters, a semi-final World Cup Soccer game starting at 20h (8 pm), and delayed SNCF trains was a bit of an explosive mixture. The train finally arrived in Antibes, about 45 minutes later than initially scheduled. Not being a huge soccer fan, I put the experience down to a language refresher on some descriptive French words that don't need to be used very often.
Game on!
Les Bleus on gagné! (they won)
Wednesday and Time to Leave
The morning dawned bright, but some soccer fans might have been a bit less sparky after their late-night revelling. I strolled the waterfront before breakfast, saving my first café for a flat white from la Torref de Fersen a tiny coffee roastery that is worth waiting for — he opens at 9 am. As a note, a torréfacteur is someone who roasts products to enhance the flavour of coffee, cocoa, almonds, hazelnuts, and barley.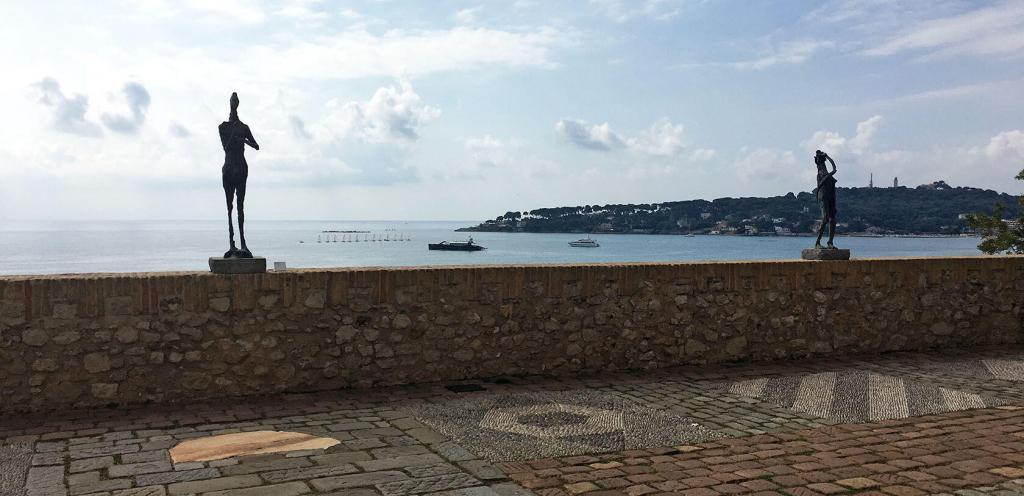 The Picasso Museum opens at 10 am and not a minute earlier. I was informed by the attendant at the ticket booth when I arrived at 9:53 am. It is well worth visiting le château Grimaldi (a building with many "lives"). This location is where Picasso – the master artist – worked in 1946 making the third level his atelier (studio).
With my coffee and culture boxes checked was time to depart the Côte d'Azur, and return to "my" Provence, where the cicadas are singing.
Antibes Address Book:
But, Coffee First:
La Torref de Fersen (Facebook)
25 rue de Fersen, Antibes
Tel: +33 (0)9 67 04 64 68
Choopy's Cupcakes & Coffee Shop (website)
A good coffee shop with a breakfast menu, tempting cupcakes and even some gluten-free options.
6 rue Vial, angle rue du Marc, Antibes
Tel: +33 (0)4 93 64 90 68
Here, are some essential planning tips for travel along the Côte d'Azur in the summer (or anytime).
Culture:
Picasso Museum
Place Mariejol, Antibes
Closed Mondays
Shop:
Choisy La Galerie
Beautiful lady's dresses and tops, designed by Christian Choisy and made in France.
22 Rue James Close, Antibes
Tel: +33 (0)9 86 54 44 65
Read: Antibes Dress Shopping and Wearable Art at Choisy La Galerie
Eat:
Le Royal Plage
16, boulevard du Maréchal Leclerc, Antibes
Tel: +33 (0)4 83 61 91 91
Le Phenicia
1 avenue Barquier, Antibes
Tel: +33 (0)4 93 33 76 27
Other places and towns to visit on the French Riviera – from St Tropez to Menton.
Accommodation in Antibes
Private Villa: Set in a quiet residential neighbourhood, five (5) bedroom La Calado is a quick walk to Antibes' Old Town. This beautifully refurbished holiday rental has all you need for a stay on the Côte d'Azur. Initially constructed in 1926, the meticulously restored villa maintains its classic elegance. Spread out over four floors; the spacious home has plenty of private corners. Click here for more details on La Calado.
Central 2-bedroom in Antibes: Clos des Vignes, in Old Town Antibes, is a charming two-bedroom rental on the French Riviera. Only steps from tempting boutiques and a selection of restaurants the house is a peaceful escape. Shop for supplies at the Provencal farmer's market, or spend the day at one of the nearby beaches before heading back to your private terrace with seaside views for cocktails and dinner al fresco. Click here for additional details on Clos des Vignes.