B'stila b'djej Recipe a Traditional Dish from Morocco
You don't need to spend much time at the Marseille airport or at the city's Noailles market (le marché des Capucins) to sense a strong North African influence in the region. At the market, you can shop for all the ingredients that you need for this B'stila b'djej recipe. The market located in the centre of Marseille is open daily Monday through Saturday. It is a busy shopping experience, so keep a close watch on your wallet/purse. Don't get too distracted by the range of items for sale from household goods and clothes to fresh herbs and Morrocan spices – it's the latter that you need for this delicious savoury dish.
This recipe is a perfect Sunday project. Enjoy!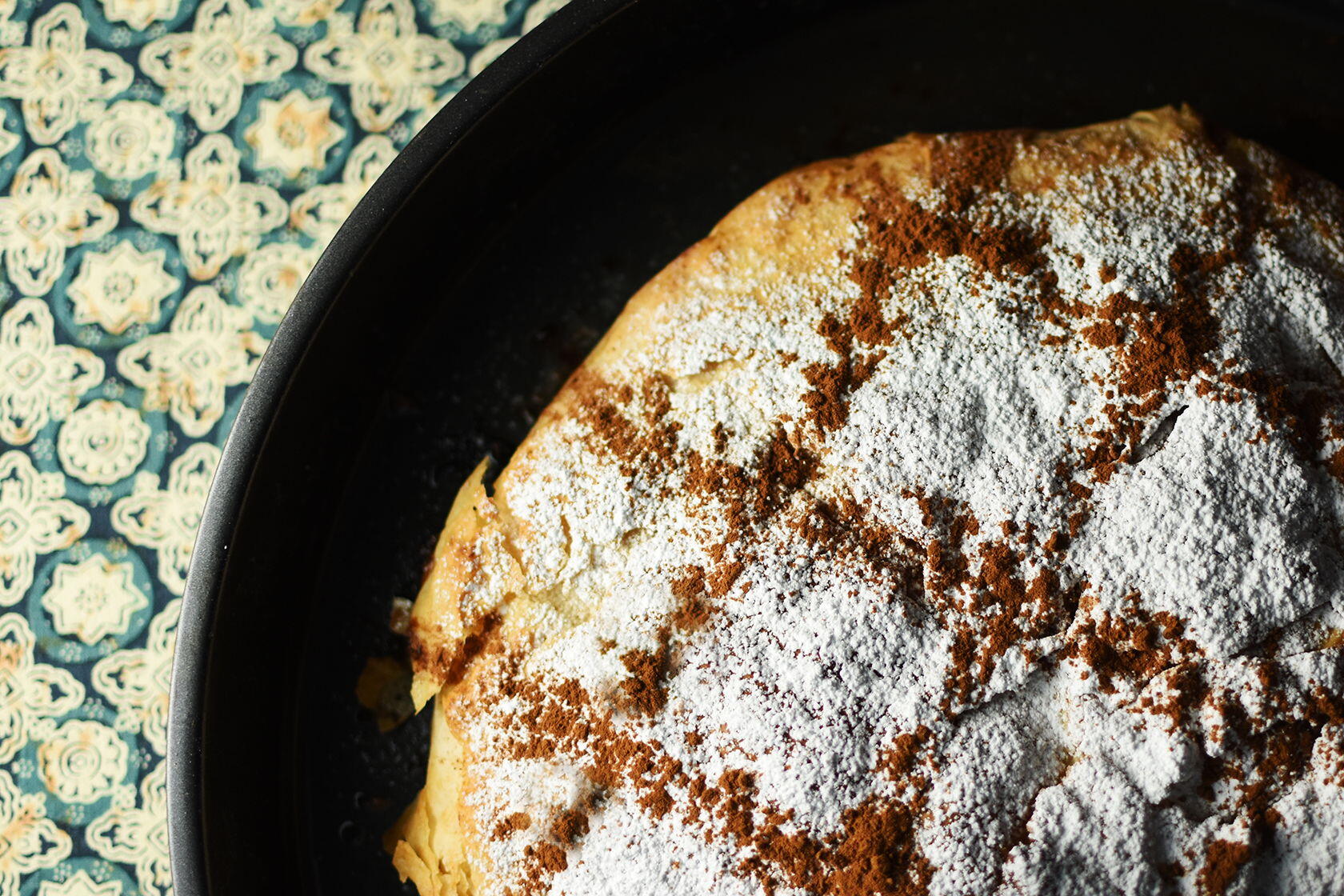 B'stila b'djej a Traditional Moroccan Dish
Adapted from the recipe by Kitty Morse. This recipe is sweet-savoury and completely delicious Moroccan dish. It takes a bit of effort, but the results are well worth your time.
Ingredients
Filling:
2

tbsp

Extra virgin olive oil

1

large

Onion

finely chopped

1 1/2

tsp

ground cinnamon

1

tsp

Ground Ginger

1/2

tsp

Saffron threads

1/4

tsp

Ground Turmeric

8

Chicken Thighs

Skinless, boneless

1/4

cup

Fresh Parsley

finely chopped

1/4

cup

fresh cilantro

finely chopped

1

cup

Water

2/3

cups

confectioners' sugar

1

tsp

Salt

1/2

tsp

Black pepper

freshly ground

4

Eggs

beaten
Almond Mixture:
1/2

cup

Sliced Blanched Almonds

1/2

cup

confectioners' sugar

1

tsp

ground cinnamon
Assembly:
12

sheets of

Phyllo Dough

thawed

16

tbsp

Unsalted Butter

melted

confectioners' sugar

for garnish

ground cinnamon

for garnish
Instructions
Heat the olive oil in a large pot over medium-high heat.

Add the onion and sauté until golden brown - about 10 minutes.

Add the cinnamon, ginger, saffron, and turmeric and cook for 30 seconds or so to open up the flavors.

Add the chicken, parsley, cilantro, and water.

Bring to a boil, then reduce heat and cover. Cook for 20 minutes - the chicken should be done.

Remove chicken pieces and place them on a plate to cool.

Continue to simmer the spice and herb mixture until it cooks down a bit - about 5 minutes. (If it is already looking thick and reduced, skip this last step.)

Add the sugar, salt, pepper and stir, then add the eggs and stir frequently until eggs are almost set and have a (lumpy) custard-like texture. Set aside.

For the almond mixture, add the almonds, sugar, and cinnamon to the bowl of a food processor fitted with the steel blade. Process with pulses; you want the mixture well blended but not too finely chopped.

Preheat the oven to 425°F.

Shred the cooled chicken and add it, and all accumulated juices, to the egg custard. Mix well.

Remove 12 sheets of phyllo dough from the package and wrap remaining pieces for another use. Place a very damp towel over the 12 sheets to keep them damp.

Brush a shallow pizza pan with some of the melted butter.

Place one full sheet of phyllo dough onto the pan and brush well with butter.

Repeat this with two more sheets of phyllo, laying each at a 30° angle so they don't align with the sheets below.

After the third sheet, sprinkle with half of the almond-cinnamon-sugar mixture.

Top with a sheet of phyllo, butter that sheet, then add two more sheets, buttering each time.

Spoon the chicken mixture into the center of the six layers of buttered dough. Spread the filling to be a 10-inch circle.

Cut remaining six sheets (keep them stacked) of dough into 11-inch circles. Continue to cover with a damp towel.

Take one of the circles of dough and place it on top of the filling, and brush it with butter. Repeat with two more circles of dough, then sprinkle with the remaining almond-cinnamon-sugar mixture.

Take the excess flaps of dough from the bottom and bring them up one at a time to wrap the filling; don't worry, it won't cover it completely.

Butter the pulled-up flaps of dough and top with a circle of pastry.

Butter the circle, then repeat with final two circles of pastry, buttering the last one. Tuck any excess dough underneath to make a tidy, circular package. Note: If your dough breaks during handling, don't worry; just gently patch it together and it will look fine when it comes out of the oven.

Bake the b'stila until golden brown - about 25 minutes.

Sift confectioners sugar over the top and then sprinkle the sugar with cinnamon in a decorative pattern. (I have always felt this resembles the patterns of the Beni Ourain Berber carpets – see photo)

Bring to the table and serve immediately with grilled or sautéed vegetables on the side.
Notes
Note: phyllo dough is notoriously hard to work with. It can be very brittle, so be careful not to bend the roll as you unwrap it. Also, it needs to be kept damp. Once you spread out the 12 sheets you need, cover them with a very damp towel.