Breakfast in our Favourite Luberon Villages
As you have probably guessed, I am a little bit restricted at the moment after my tumble a couple of weeks ago and am already missing being able to get out on the bike. I have very quickly realized that I am really not very good at being sedentary and know that I will be back turning the pedals as soon as I possibly can.
If I'm honest it's not just the cycling that I miss, but our breakfasts too. Over the years a stop at a boulangerie for a coffee and a croissant or pain au chocolat has become as much a part of our ride as putting on our shoes and fastening our helmets.
Favourite Places for Breakfast:
Simiane-La-Rotonde: The Patisserie Petit Fours is situated by the side of the main road that runs on towards Banon. Open until noon except for Mondays when it's closed.
Bonnieux: Buy croissants and pain au chocolat from the Boulangerie near the Church or on the terrace of the Bar Le Terrail.
Don't miss the Pont Julien named after the nearby town of Julia Apta, now known as Apt, this ancient and amazing stone bridge built in the year 3BC stands majestically just off the D900 from Avignon to Apt. Used originally by Roman soldiers and traders it went on to carry vehicular traffic for more than two millennia.

Bonnieux is one of those magical places in Provence where you find a remarkable "secret" garden. The village streets and alleyways climb, in some cases steeply, up the side of a hill. The benefit of this slopeside location is that many buildings have sweeping views of the pastoral Luberon Valley. Walk up to the church, at the very top, to justify that extra glass of local rosé.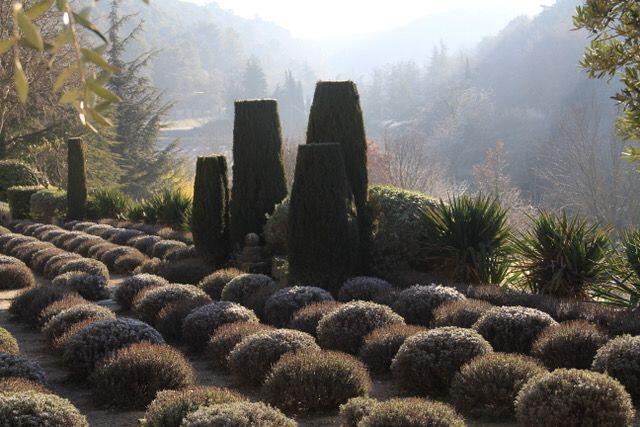 Experience village life in Bonnieux – Bonheur en Bonnieux is a newly-renovated 1300-square foot, three-bedroom/two bathroom apartment located in the heart of Bonnieux. Guests especially enjoy the large, well-equipped kitchen and the adjoining covered terrace. Relax here over a meal, sip a glass of wine, and observe Bonnieux's daily life.
Villars: The boulangerie is tucked away up the street to the left of the village square. The shop has a massive wood-fired bread oven.
Saint Saturnin: Tuesday is our favourite day for breakfast here as it's market day in the village. With the market, there's always plenty to watch.
Continue reading here for the original post.
All rights reserved. Perfectly Provence articles and other content may not be published, broadcast, rewritten (including translations into other languages) or redistributed without written permission. For usage information, please contact us.
Syndication Information
Affiliate Information
As an Amazon Associate, this website earns from qualifying purchases. Some recipes, posts and pages may have affiliate links. If you purchase via these links, we receive a small commission that does not impact your price. Thank you in advance for supporting our work to maintain Perfectly Provence.