Antibes Free Walking Tours a Chance to Discover the Old Town
Contributor blog post by Access Riviera:
Reviewing a Walking Tour
Antibes is one of the French Riviera's most popular destinations and rightly so – it has an amazing history, beautiful old buildings, interesting monuments, great restaurants, fantastic festivals, an award-winning market and it's a photogenic place too!
Recently, I joined a tour with Antibes Free Walking Tours to discover the best of Antibes in a few hours and find out why this relatively new company is being talked about!
…Continue reading here for Rebecca's objective review of this guided walking tour of Old Antibes (Vieil Antibes). The Antibes Free Walking Tours run Tuesdays through Saturdays. The walk is approximately two (2) hours long from 10:30 am to 12:30 pm. It is one thing to guide a group of tourists, but for someone like Rebecca who is local and already has an in-depth knowledge of the facts and history of Antibes the tour information must be accurate. According to this Access Riviera post, the Cédric (the tour leader) ticked all the right boxes for walking pace, accurate historical information and the right balance of humour to keep the group interested.
Book Your Walking Tour
Antibes Free Walking Tours (website)
You can book your tour online
Tel: +33 (0)7 82 85 19 97
email: info@antibesfreewalkingtours.com
Instagram
Facebook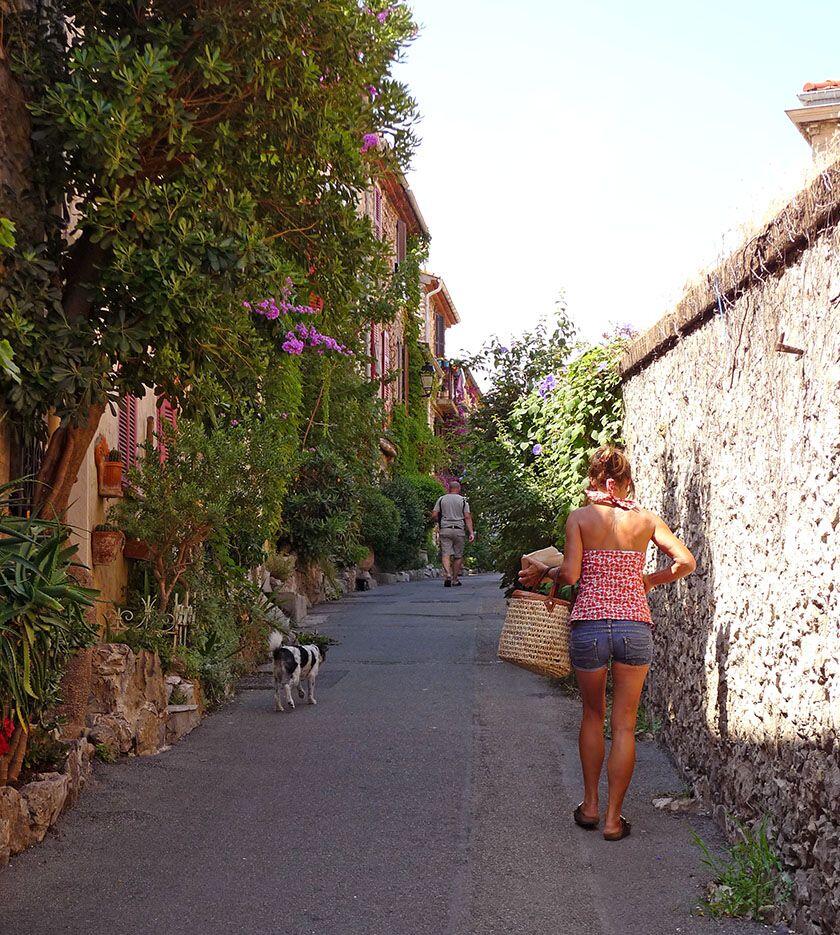 What to See in Antibes
The Picasso Museum (Musée Picasso) in the Château Grimaldi. Long before the Grimaldi family took possession of this location in Antibes in 1385, it had been a Greek villa and then a Roman military encampment (castrum). The City of Antibes bought the Château in 1925. Pablo Picasso used this space as his studio in 1946 for six months. Even if you are not a fan of his work, it is worth visiting the museum. On three levels, the exhibition space is not huge nor crowded. With the balance of natural lighting and high ceilings, you are able to appreciate the large and smaller works equally. In addition to works by Picasso, there are pieces by Nicolas de Staël, Hans Hartung and Anna-Eva Bergman. Don't miss the terrace that overlooks Plage du Ponteil. The Museum is closed on Mondays and opens at 10 am.
World War II Memorial HMS Unbroken. Most people walking along the water's edge in Antibes are focused on where they might place their towel to camp for the day at the beach. Only a small number of folks might pause to take a look at the commemorative WWII limestone monument and read the details on the plaque. The story is one of extreme bravery on April 21, 1942, when the HMS Unbroken submarine surfaced in the sea near Antibes (in the German-occupied territory) to deliver two radio operators who were to work with the local Résistance group.
As Deborah the Barefoot Blogger describes, it is easy to fall in love with the doors and windows of Antibes.
If you can't travel to Antibes or the French Riviera at the moment, order Patricia Sands' 3-part series "Love in Provence" series. Set in the old town of Antibes, these novels make you feel like you are Katherine Price buying her produce at the covered market, having a café in a busy bar, and falling in love with a handsome Frenchman.
There is an outdoor market in Antibes is every morning of the week (except Mondays) between 6:00 – 13:00h. It is worth a visit to the Marché Provençal on the Cours Massena.  This covered marketplace is bustling with vendors of fruit, vegetables, cheese, charcuterie, fish, meat and flowers. There are also some souvenir items for sale. However, be aware of pricing as this market is not known for its bargains.
Where to Stay in Antibes
Private Villa: Set in a quiet residential neighbourhood, five (5) bedroom La Calado is a quick walk to Antibes' Old Town. This beautifully refurbished holiday rental has all you need for a stay on the Côte d'Azur. Initially constructed in 1926, the meticulously restored villa maintains its classic elegance. Spread out over four floors; the spacious home has plenty of private corners. Click here for more details on La Calado.
Central 2-bedroom in Antibes: Clos des Vignes, in Old Town Antibes, is a charming two-bedroom rental on the French Riviera. Only steps from tempting boutiques and a selection of restaurants the house is a peaceful escape. Shop for supplies at the Provencal farmer's market, or spend the day at one of the nearby beaches before heading back to your private terrace with seaside views for cocktails and dinner al fresco. Click here for additional details on Clos des Vignes.