Aioli On Fridays in Provence
Despite what we might be led to believe by master chefs and Michelin-starred restaurants, traditional Provencal food was simple fare. It should be no surprise why the "Mediterranean diet" is so healthy; for practical reasons such as climate, and the fact that most inhabitants were destitute they ate food in season, sourced locally, naturally low-fat (there was little dairy) and often foraged.
Le grand "Aïoli" Provençal is served with steamed vegetables, salted cod and potatoes. Making the garlic mayonnaise is the most complicated part of this recipe. That is unless you wish to re-hydrate the salt cod a process that removes the excess salt by soaking the fish in fresh water for up to 15 hours (changing the water 2-3 times). Or, you can just buy cod from your local fish store.

Follow this link to read the original post by Ginger and Nutmeg and find out why you might want to make this traditional Provencal dish next Friday (or any other day).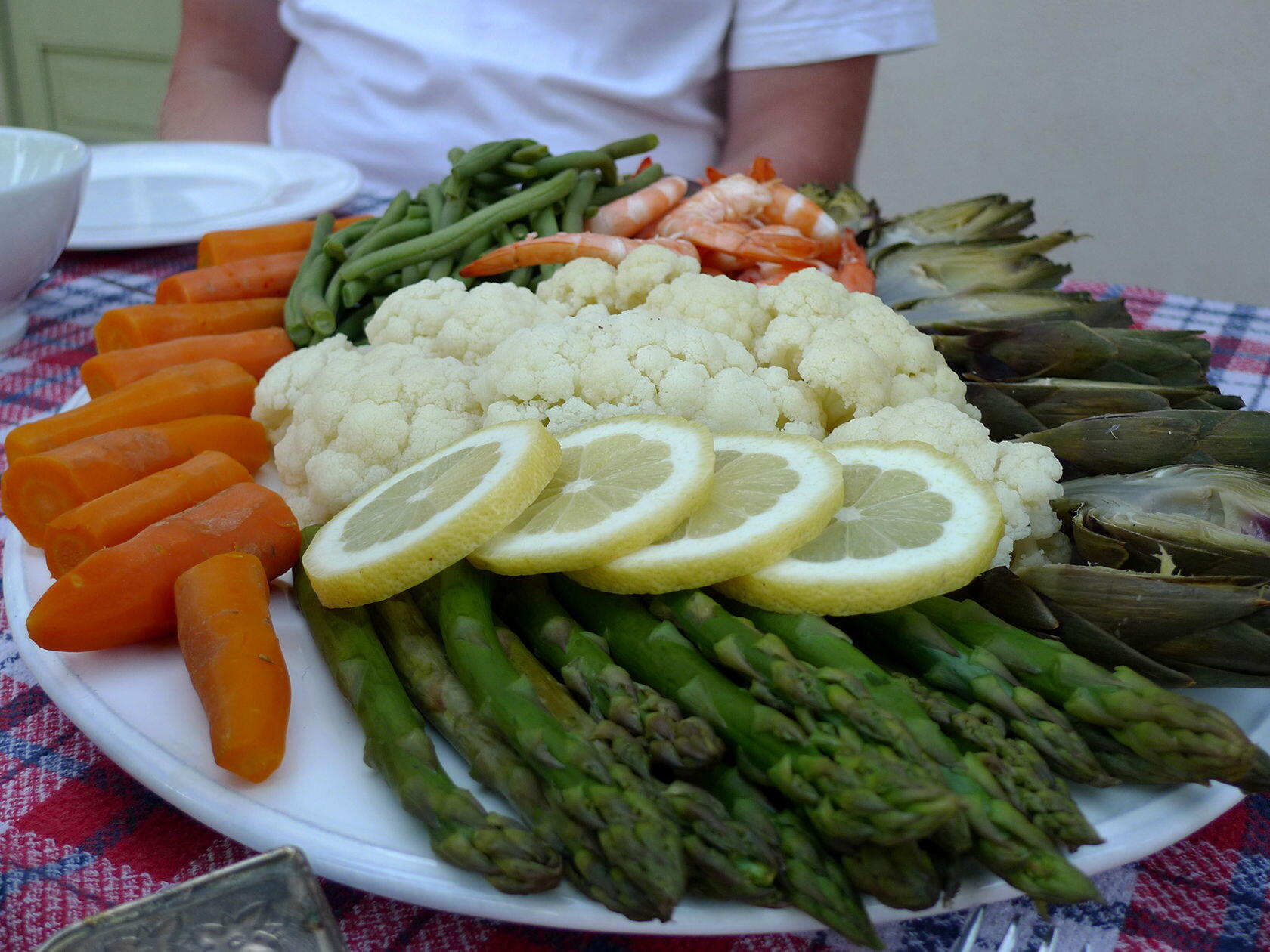 Aioli from Provence
Aïoli is the name of a garlic mayonnaise. Aïoli is also a traditional Provencal dish that was typically served on Fridays. The classic dish le grand "Aïoli" Provençal is served with salted cod and potatoes.
Ingredients
40

Large

Shrimp

peeled (tails on) and cleaned

12

Medium

Carrots

peeled and cut in half

1

Medium

Cauliflower

remove the leaves and cut in bite size pieces

6

Small

Artichokes

outer leaves removed

25-30

Green Beans

wash and remove the ends

3

Large

Egg Yolks

3 1/2

cups (1L)

Canola Oil

1

Lemon

slices for the platter and an optional squeeze for the sauce

2-3

tbsp

olive oil

3-4

Garlic Cloves

crushed

To Taste

Salt and Pepper
Instructions
Prepare the Garlic Mayonnaise:
Separate the eggs yolks and discard the whites

Add the crushed garlic

Beat the eggs with a hand mixer on medium heat while slowly adding the canola, it will take a few minutes for the blended ingredients to start to create some volume.

Be patient

Add the olive oil, salt and pepper at the end, mix well
Prepare the ingredients and the serving platter:
Start several pots of boiling water on the stove top

Poach the shrimp until they are pink (3-4 minutes), remove from heat, drain and put aside

Boil the carrots until tender, remove from heat, drain and put aside

Steam the green beans until tender (about 6-8 minutes), drain and put aside

Steam the cauliflower until tender, drain and put aside

Boil the artichokes for about 15 minutes, cut in half, remove the inner heart, put aside

When all the ingredients are ready you can arrange on a serving platter and serve

Enjoy!
Notes
This meal is not complicated, other than the timing. You can change the ingredients depending on what is in season. As the weather cools you can serve the vegetables and seafood warm. A classic Aïoli is much like a fondue, it should take time to savour.
Note: The recipe (above) uses shrimp instead of cod. You can use both or choose whichever you prefer, the traditional version would use cod.
Optional ingredients: boiled eggs, boiled new potatoes, red and yellow peppers.
Note: there is much debate over the best aioli sauce and how to make it. Each cook has their preference...by hand, by mixer, with a squeeze of lemon or not. Have some fun and enjoy.