A Baker's Secret for Making Pain aux Raisins
Reminiscence of my childhood in France, the pains aux raisins (called "escargot" sometimes) are the perfect treat to motivate you to get out of bed on cold mornings.
In France, there are two different recipes for pains aux raisins, one with puff pastry (pate feuilletée) and one with dough (pate briochée). You can easily find one or the other in bakeries. But my dad, who was a former baker, told me that the one with puff pastry is the one taught in French pastry schools. Today, French bakers even customize the traditional recipe with chocolate, pistachios or sesame paste. We'll see today the basic recipe, feel free to be creative!

Recipe for (Mini) Pains aux Raisins
This recipe makes approximately 30 mini pain aux raisins. There are several steps to prepare these sweet pastries. You need to allow enough time for the dough to rise (twice) and prepare the filling. It's worth the effort! (Please note the metric measurements are the original recipe.)
Ingredients
For the Dough:
18

oz

Flour

type 45

5

oz

Milk

.35

oz

Salt

1.4

oz

Sugar

5 1/2

oz

Butter

.70

oz

Baker's yeast

5

Eggs
For the Vanilla Pastry Cream (crème patissiere):
17

oz

milk

3

oz

Sugar

2

Eggs or 5 Egg Yolks

2

oz

Corn Flour

a splash

Vanilla Extract or Rum
For Brushing and Decoration:
Instructions
The day before - Prepare the Dough:
Whisk together the flour, sugar, yeast and salt in a stand mixer on medium speed for a few minutes. If the dough is too sticky, add a little bit of flour until the mixture holds a shape.

In a small bowl aside, melt the yeast with a little bit of milk for 4-5 minutes.

Add it to the preparation

Add the 4 eggs one by one and knead slowly.

When the dough is well kneaded, add the softened butter little by little.

Cover with a cloth. Let the dough rest in the fridge for the evening so that it has time to rise.
The Next Morning - Prepare the Vanilla Pastry Cream:
Heat 2/3 of the milk with the sugar.

Let it rest for a few minutes.

In a separate bowl, mix the corn flour with the eggs with a little bit of cold milk.

Heat the 25cl of milk in a saucepan and bring to a boil.

When it starts to boil, stir little by little in a bowl with the cold preparation.

Then return to the heat to boil for 3-5 minutes until thickened and smooth.

Add a splash of vanilla extract or rum to your liking.

Cover with transparent film and put the crème to rest then in the fridge.
Prepare the Raisins:
Soak the raisins with hot water, cognac or rum and leave to soak in the fridge
Final Steps (Baking Day):
Roll out the dough in a large rectangle on a well-floured surface.

Spread the vanilla cream with a spatula.

Sprinkle raisins evenly then roll up the dough into a log shape.

Place on a baking sheet and brush with an egg yolk.

Cut the chilled dough into even slices.

Arrange each slice on a lightly greased baking sheet with at least 5 cms between each one.

Let it rise for approximately 1-2 hours (until the size has doubled).

You can add pearl sugar for decoration, if you like, just before putting into the oven.

Preheat the oven to 210°C (410°F).

Bake for 15 to 20 minutes.

Remove from the oven and transfer to a cooling rack. Enjoy!
---
Author's Bio:

As an enthusiastic language professional, Agnes has been working in the West Indies, Ireland and Australia for over 10 years. Native French speaker, she teaches French as a Foreign Language in Paris, Nice and online at French with Agnes. Passionate about intercultural connections, Agnes organizes tailored French classes in a supportive and encouraging environment. During her free time, Agnes loves baking, travelling, cycling and hiking.
---
More French Pastry Recipes:
Croissants and Pain aux Chocolate
Ok it's not easy to make croissants and pain aux chocolate, but it's a fun and rewarding weekend project.
Check out this recipe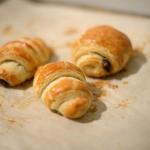 French Apple Tart
This dessert is lovely and "light"-ish with a crisp crust and sweet baked apples. Serve at room temperature, if you can wait that long.
Check out this recipe

Tarte Tropézienne Recipe
Because the brioche rises overnight, allow two (2) days to make your Tarte Tropéziennes. I make the pastry cream and whipped cream while the dough rises on day two (2), so the project takes a bit of time management!
Check out this recipe

Pine Nut Tart (Tarte aux Pignons)
This recipe includes the pie crust, which is easy to make. However, if you would rather skip that step you can buy a prepared pie crust. If you like shortbread cookies, you will like this crust, and the sweet filling speaks for itself.
Check out this recipe