Where to Stay in Avignon? Le Limas Bed & Breakfast
"It feels like a home, an art gallery and a boutique hotel all in one"
Avignon, the ancient walled city with the famous "pont," is situated along the Rhone River on the TGV train line from Paris.  It is the perfect stopover en route to the Côte d'Azur, or can be your base for exploring the vineyards and villages of Provence.
If you haven't yet visited Avignon, it's definitely time to go.
I never tire of spending a few days in this charming city, especially in late summer, walking along the river in the warm evening, getting lost on the winding stone streets, touring the massive Palais des Papes, and ending every day eating a delicious Provençal meal at a charming outdoor cafe.
Avignon Bed & Breakfast
I've stayed at a variety of hotels and B&Bs in and outside the city walls, but my favorite is a stylish B&B called Le Limas, owned and operated by artist Marion Wagner. If you're lucky and book early, you might be able to get one of her four gorgeous rooms for your stay in Avignon.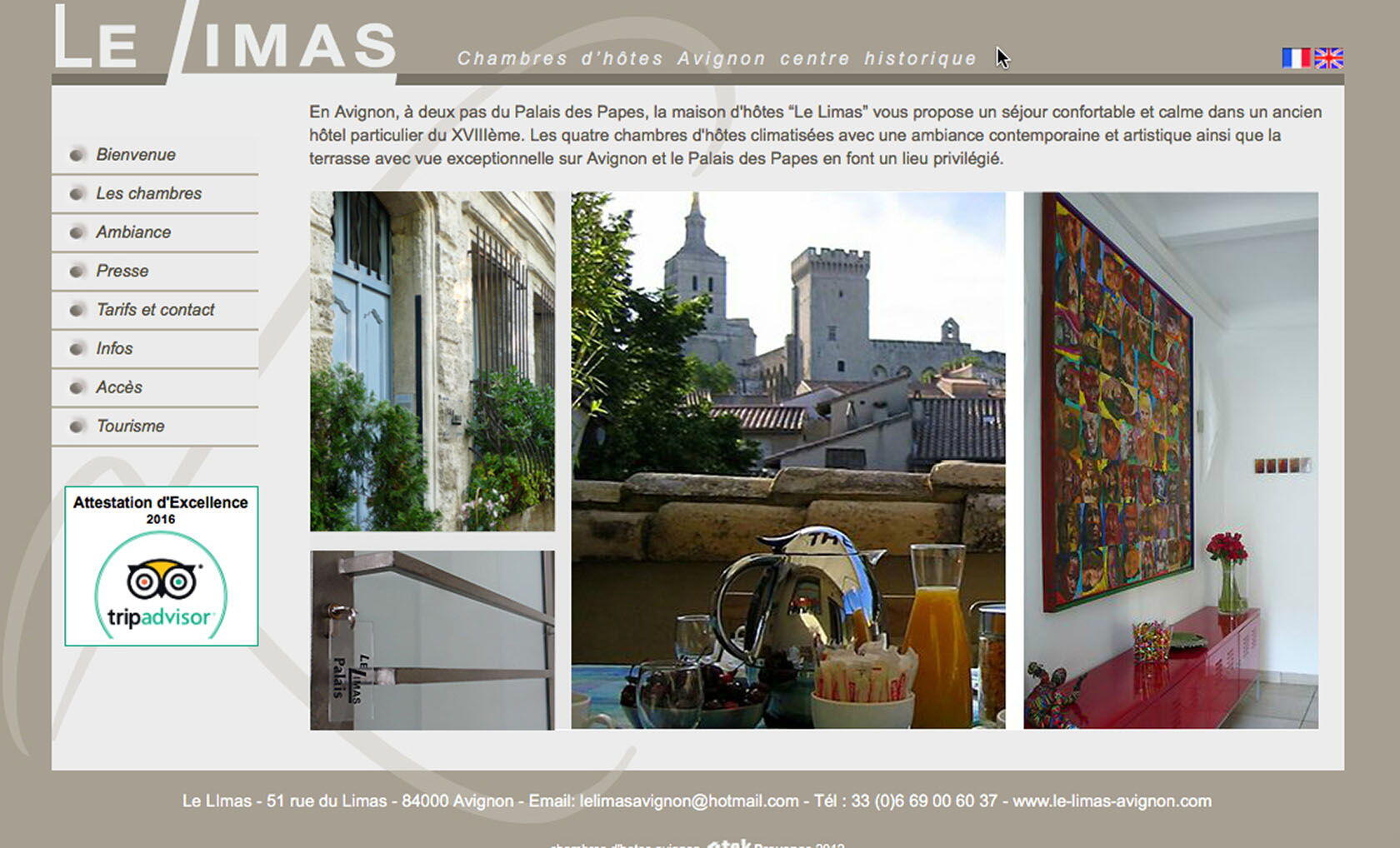 Each room feels like an oasis – calm, beautiful, and tastefully decorated. White linens on the bed and in the bath, shining bath fixtures and countertops, natural light. Each space feels like a luxurious retreat after your day of exploring. The location within the city walls is perfect because you are still close to all the restaurants and the main square, no taxis needed unless you want to venture outside the walls. Marion can make recommendations for restaurants or day trips, or you can simply stroll and discover the city on your own.
Breakfast is served on the upper patio looking out to the towering Palais des Papes – the Palace of the Popes – in the distance. There's usually a freshly-baked pastry of some kind, along with fresh fruit, juice, coffee, tea, an assortment of breads and cheeses, and that delicious yogurt only the happy cows of France can produce.  Breakfast is in an intimate setting, and with so few guests, you can easily meet and chat with other visitors before heading out for a day in the city or beyond.
Rates at Le Limas are very reasonable for such a quiet and lovely place. The room shown below for two, La Cour, is a bargain in Winter at 140 Euros. Even in the height of the tourist season, the rooms are a steal, especially if you're sharing the cost, as my sisters and I have done on occasion.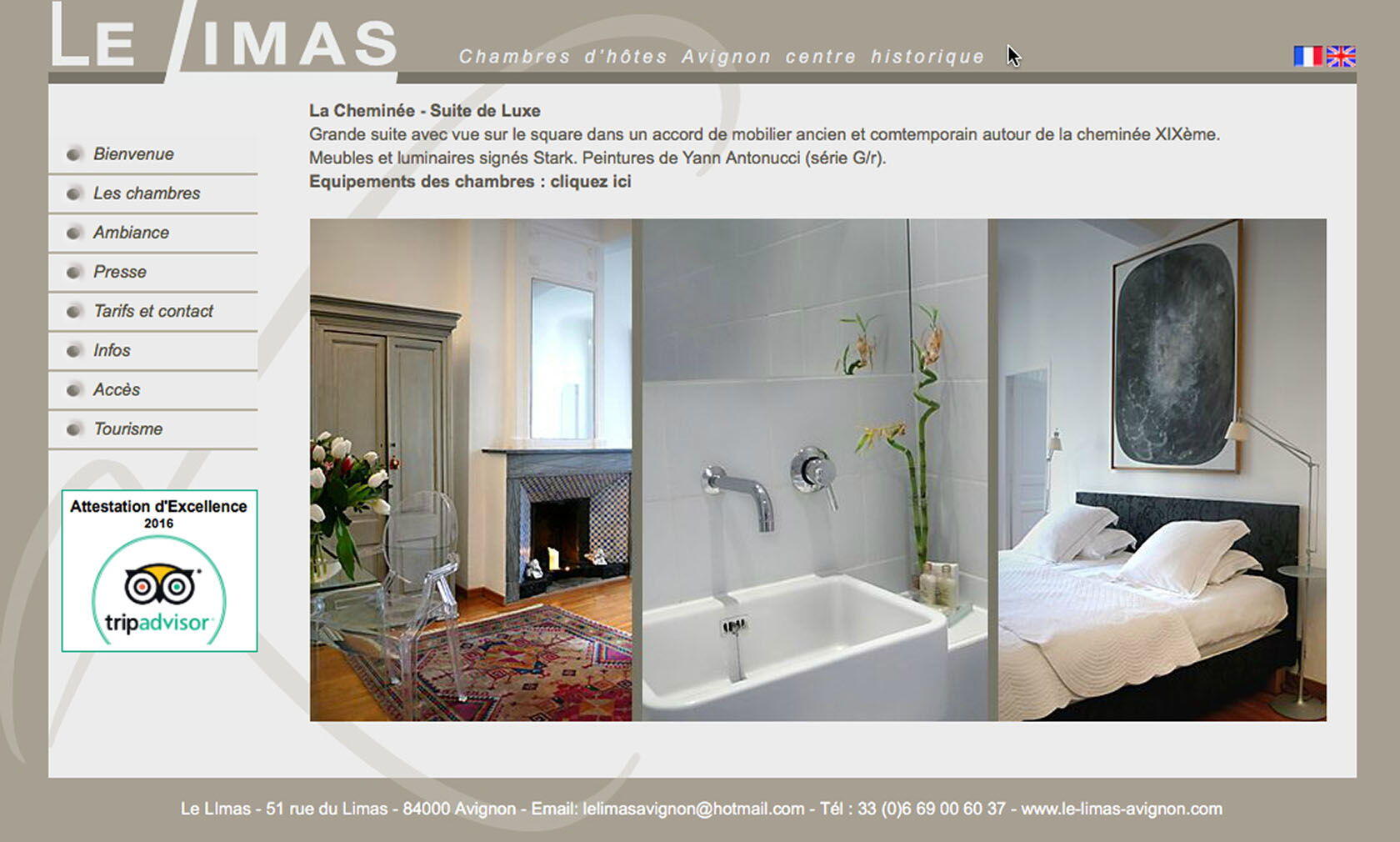 Marion is wonderfully welcoming. Her artwork is everywhere – sculptures in the entryway, and paintings lining the curved stairway up to the rooms. It's an ancient building with modern aesthetics. It feels like a home, an art gallery and a boutique hotel all at the same time.
If you're coming by train from Paris, you may want to get a taxi from the station. I've walked to Le Limas from the train, but with heavy luggage, it's a bit far. And in summer, it can be quite hot. You're on vacation, so why work?
Just remember, you need to book early. Marion has her regulars and you may become one of them after your stay.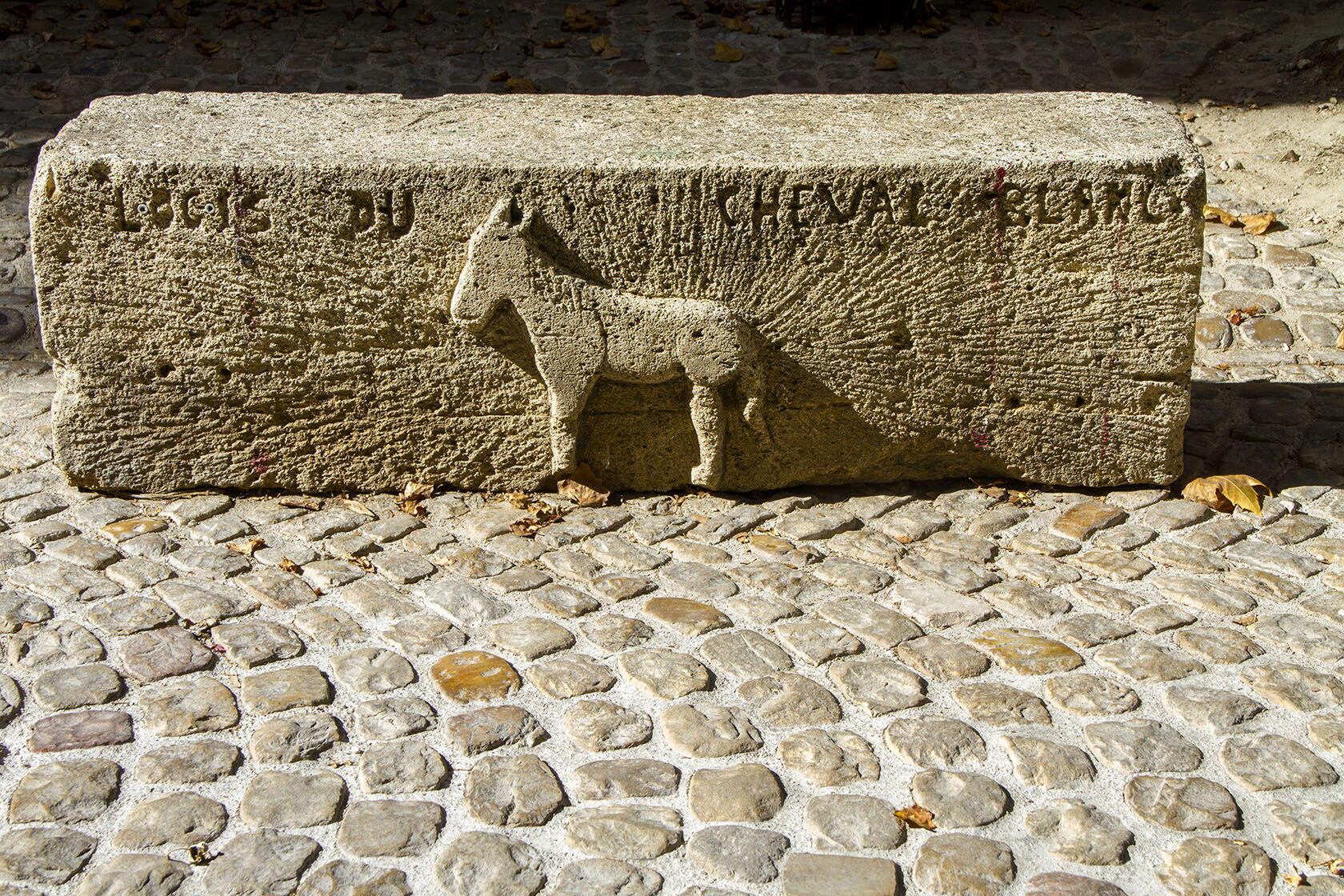 Helpful Resources for Avignon:
Le Limas (Website)
51 rue du Limas
84000 Avignon
Email: lelimasavignon@hotmail.com
Tel: +33 (0)6 69 00 60 37
River Cruises