Some of the Plus Beaux Villages de France
France is full of enchanting villages, and among the approximately 30,000 communes, there are undoubtedly thousands of beautiful ones. However, officially there are exactly 159 Plus Beaux Villages de France – 159 most beautiful villages of all. But how can there be such a precise figure? Easy! This is not a subjective opinion; it's the number of villages that belong to an actual association. Les Plus Beaux Villages de France is a formal "club" of 159 villages spread out across the country, including Corsica and the overseas territories.
The criteria to join the association of Les Plus Beaux Villages de France is strict. It includes having a population of under 2000 and at least two (2) historic monuments worthy of interest. There are many more financial and practical obligations, as well. The association was set up in 1982 to help promote tourism and safeguard heritage in small rural locations.
Keep reading here for Phoebe's original article, a blogger collaboration, about 30+ of the Plus Beaux Villages de France.
Villages in the Alpes Martitimes
Sainte-Agnès

Sainte-Agnès is a perched medieval village, 10 kilometres inland from Menton, in the southeastern corner of the Cote d'Azur.  This rocky outcrop gracefully dangles at an altitude of 800 meters above the sea. Since 1997, this medieval village has been classified as one of Les Plus Beaux Villages de France.  What's more, this quaint village also boasts the title of "highest coastal village in Europe."
Gourdon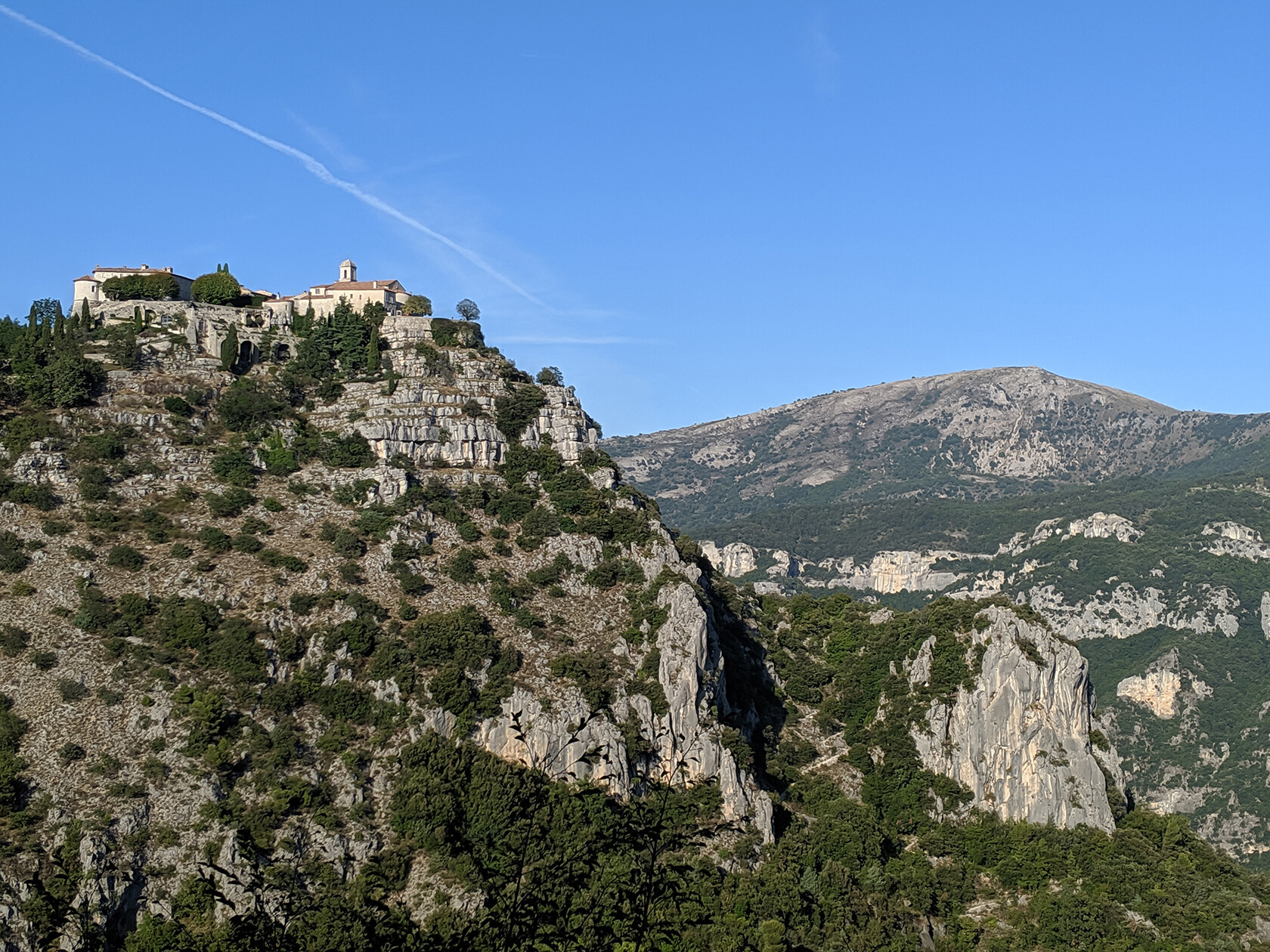 According to Pheobe, Gourdon village in the Alpes-Maritimes department is located in an impossibly dramatic position. It literally clings perilously to a cliff over-looking the Loup river gorge. Driving up to it from Châteauneuf de Grasse, you catch your first view of this terrifically scenic village from a convenient pull-off on the vertiginous road.
Pretty Var Towns
Known as one of the most beautiful villages in France, Gassin in the Var department gets more notoriety for being a neighbour to Saint-Tropez. However, if you're in the area, don't miss visiting Gassin.
Gassin was once a Moorish stronghold that was built as a lookout point during the time of Saracen invasions, so its hilltop location gives excellent views of the surrounding vineyards and Gulf of Saint-Tropez.
The medieval village itself is small, which makes it easy to explore in a few hours. Gassin has a few pretty churches, outdoor wells (that were vital for the town water supply) and one of the world's narrowest streets, l'Androun, that measures just 29 cm wide.  There's a cute shop in the village, Maison des Confitures, that sells over 500 varieties of jam in glass jars topped with Provençal fabric – a great souvenir to buy a flavour or two!
Alpes-de-Haute-Provence
Moustiers-Sainte-Marie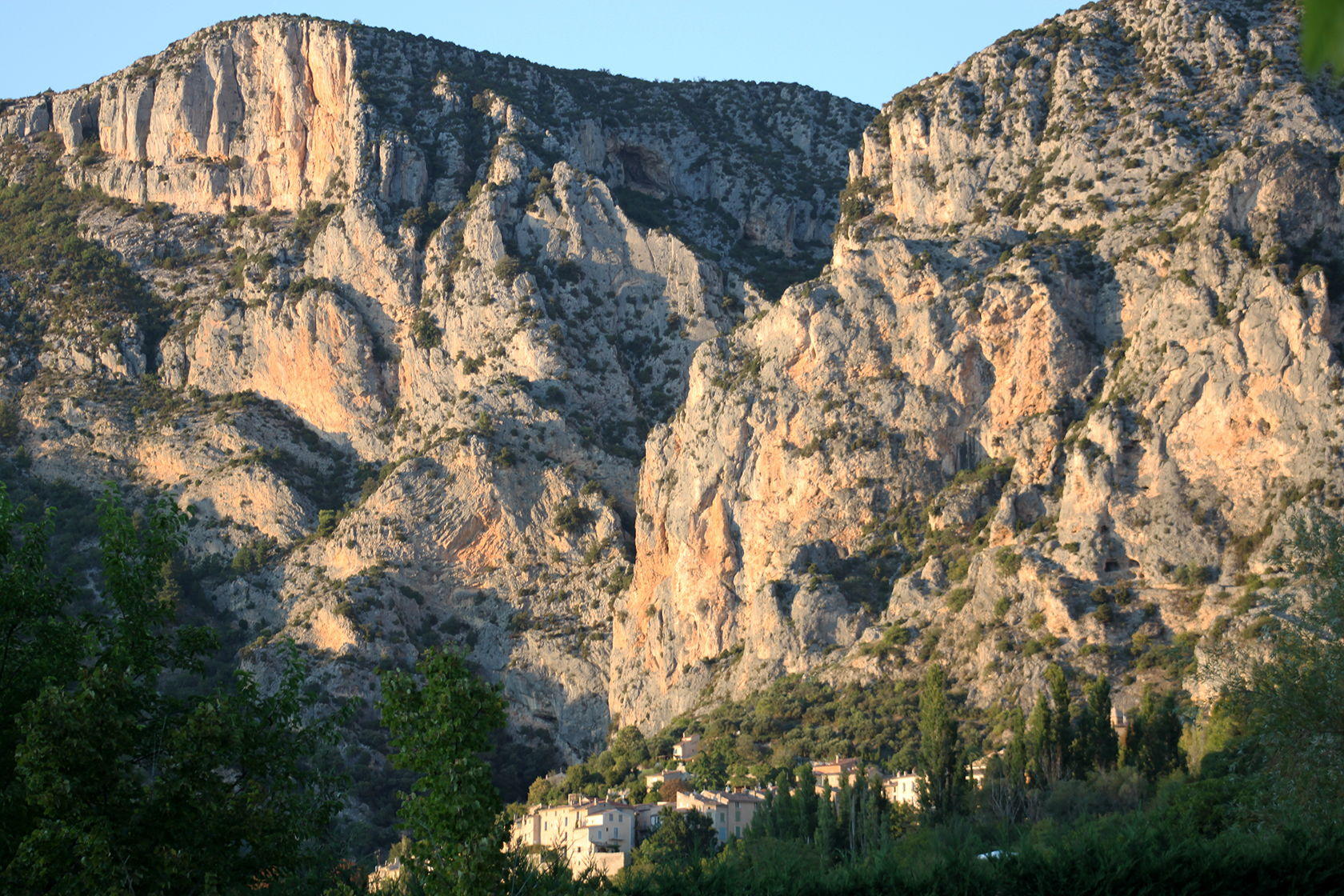 France is a country blessed with many picturesque vistas, but there is only one place with a dedicated star hanging overhead – Moustiers-Sainte-Marie. The perched village flanked by towering cliffs resembles a Provencal nativity scene protected by a 150kg gold star suspended between the bluffs. In 1981, Moustiers-Sainte-Marie joined the ranks of the Plus Beaux Villages de France, attracting visitors year-round.
Moustiers-Sainte-Marie is a hamlet with roughly 700 residents, but the visitors swell that number on a summer weekend. Part of the Alpes-de-Haute-Provence department, Moustiers is considered the gateway to the Parc Naturel Régional du Verdon. The park encompasses the stunning Gorges du Verdon, which is a paradise for outdoor enthusiasts.
Many visit the town for its reputation of exceptional ceramic artisans. Walk around the village centre visiting the workshops where artists create traditional earthenware – faïence – high-quality porcelain with opaque glaze.
Do make a point of walking up the stairs (there are lots of them) to the hillside chapel Notre-Dame de Beauvoir, classified a historic monument in 1921. Depending on your physical ability, the walk to the church will take 15- 20 minutes. Along the ascent, you find the 14 stations of the cross featuring local earthenware tiles. You can descend the same way or follow the trail towards the Sainte-Madeleine cave and enjoy the village's overhead views and Lac Sainte-Croix in the distance.
The Lovely Luberon
Ansouis

Perched on a craggy outcrop with its back to the Mistral wind, Ansouis is a gem of a village in Provence's Vaucluse that deserves its status as one of les Plus Beaux Villages de France. Ansouis sits in the heart of intertwined vineyards and endless olive trees. Walk the narrow laneways to the top of the village, by the church, for expansive views of the Grand Luberon range and the Durance River Valley. Physically elevated above the main route between Aix-en-Provence and Apt, the fortified hamlet's residents were provided visibility to movement in the area during the Middle Ages.
Today, the town remains a hamlet with barely more than 1,000 permanent residents. As a result of the compact footprint, Ansouis delivers photo-ops at every turn. There are tiny alleys, houses built into ancient ramparts, stone facades with brightly painted shutters, and a medieval castle. The privately-owned Château d'Ansouis is not open to the public for guided visits at this time.
Plan to arrive in Ansouis hungry and with a reservation at Michelin 1-star restaurant La Closerie with only 16 tables. Alternatively, ice cream fans do not miss L'Art Glacier with 50 flavours produced by the Perrière family, who have held the titles of Maîtres Glacier and Maîtres Artisans Glacier for two generations.
Gordes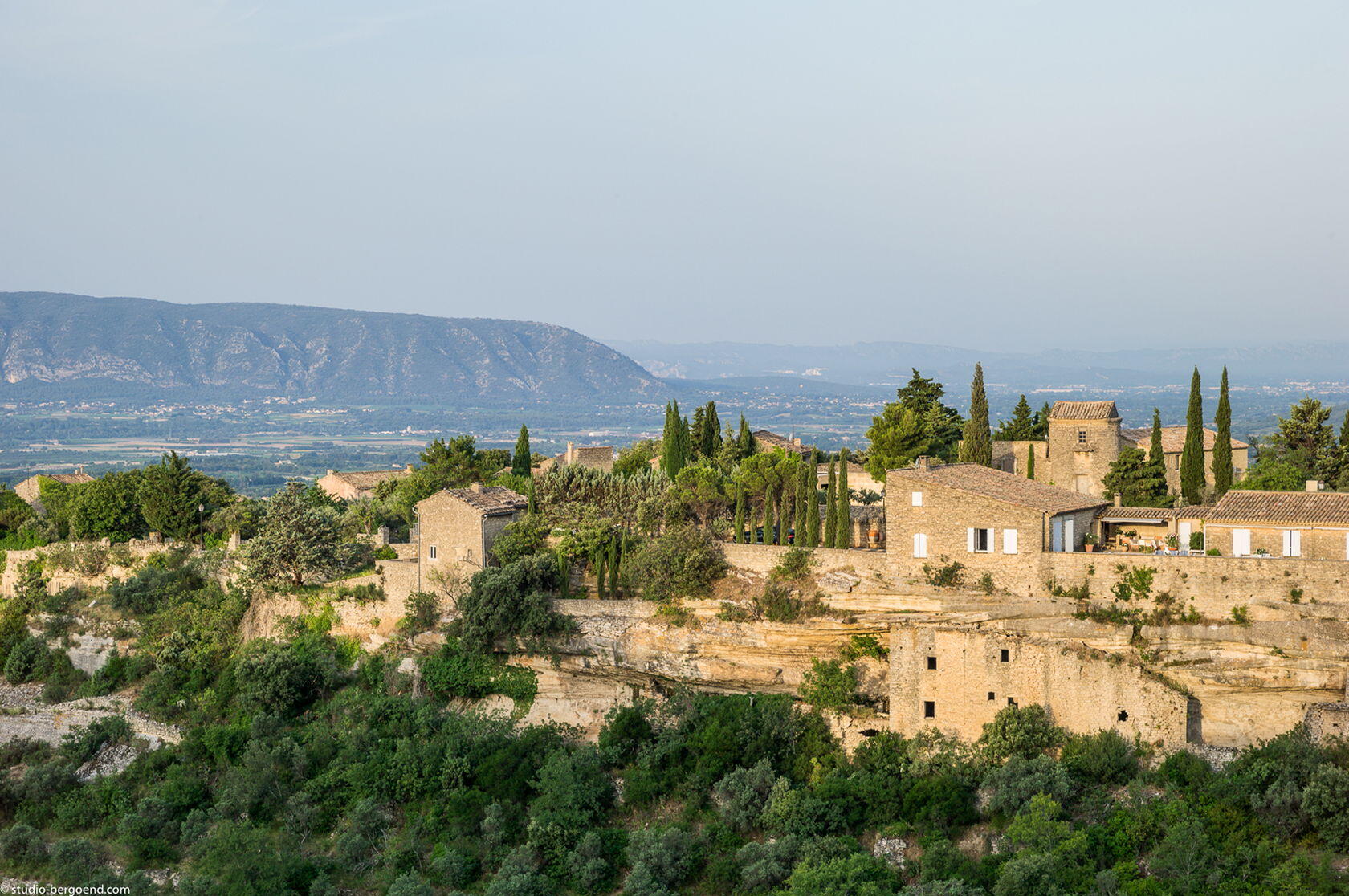 Lourmarin

Ménerbes
Roussillon