Sainte-Agnès: A Hidden Treasure in the Alpes-Maritimes, France
Sainte-Agnès, France is a perched medieval village, 10 kilometers inland from Menton, in the southeastern corner of the Cote d'Azur.  This rocky outcrop gracefully dangles at an altitude of 800 meters above the sea. Since 1997, this medieval village has been classified as one of Les Plus Beaux Villages de France.  What's more, this quaint village also boasts the title of "highest coastal village in Europe".

Reaching Sainte-Agnès is an exhilarating feat, driving up the steeply winding, precarious mountain road, where at every turn, you are welcomed with incredible views of this Provençal hilltop village. Once you've mastered this twisty road, reaching this jagged peak you'll find this enchanting village offers tourists several atelier shops, arched pathways, and cobblestone streets beckoning to be explored. The village has a few terraced restaurants and vantage points, to enjoy the incredible view that spans east and west along the French Riviera coastline below and across the azure sea.  
In this off-the-beaten path medieval village, there is an unexpected cosmopolitan surprise; we discovered de l'Espace Culture à Ste. Agnes – a cultural center building. The center exhibits significant historical works of archaeology, history, heritage, and artistic expression by local artisans. Here we are welcomed with a sneak preview, a gallery of images, by well-known local street photographers: Jilly Bennett and Philippe Chiodi.  Even in this small French commune, you will find incredible artistic talent flowing, all the while being recognized, honored, and celebrated.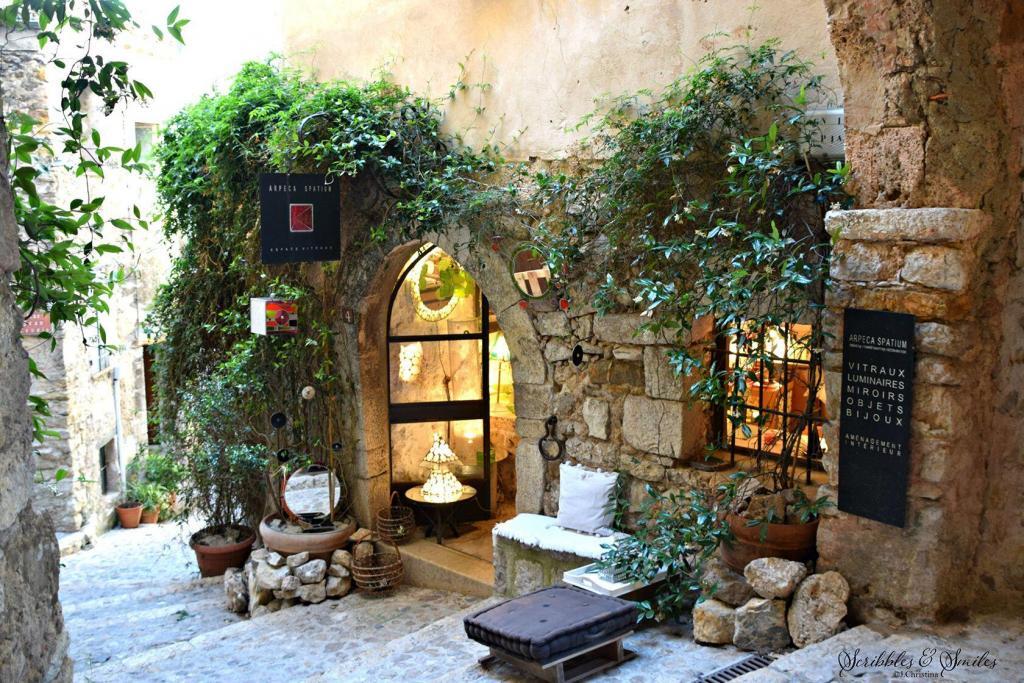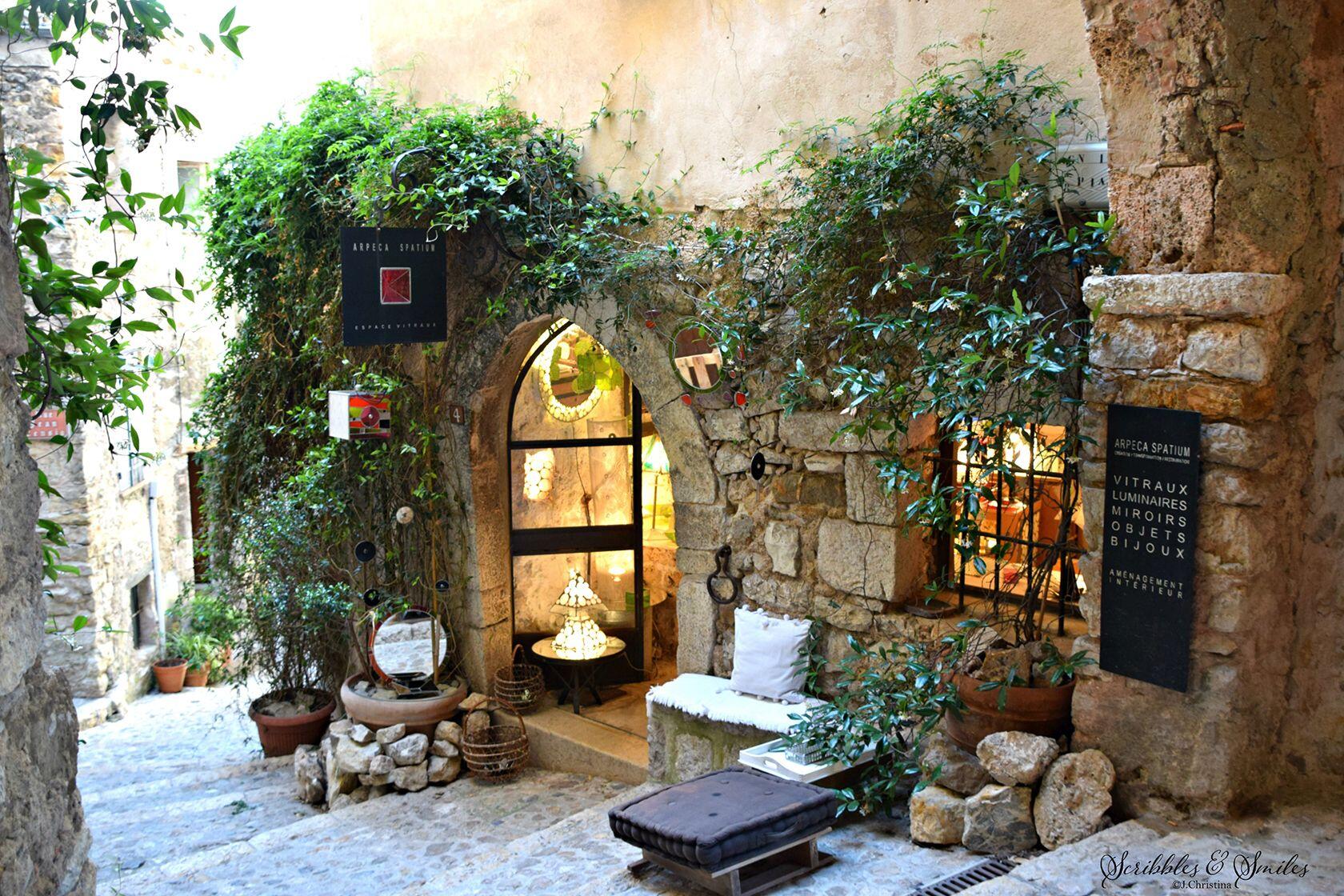 Many scenic hilltop villages are centered around ancient churches, castle ruins, religious pilgrimages, and legends. Here we discovered a unique site, the Baroque Church of Notre Dame des Neiges (Our Lady of the Snow), dating from 1535, with its amazing bell tower and rooftops covered in glazed-enamel tiles. According to legend, this church was built in commemoration to Virgin Mary's miracle of snowfall in August, 352 AD, in Rome.  For those making the rugged pilgrimage to Santiago de Compostela, in northwestern Spain, the trail leads through Sainte-Agnès, and is easily recognizable with the metaphorical scalloped shell pointing the way.
As you weave your way along the rough, stone streets, and through the primitive passageways, heading south, you will find Fort Sainte-Agnès Museum. An original and fully equipped military bunker fortification, built in the 1930's, it was part of the Maginot defense system, intended to deter an invasion by the Germans.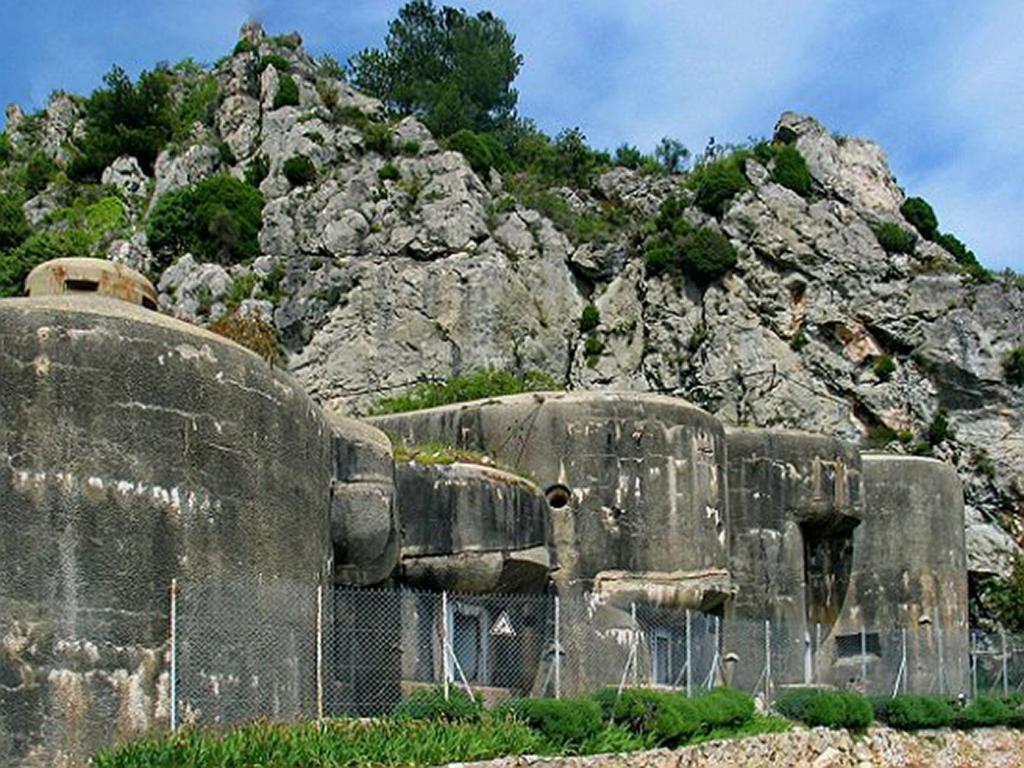 Climbing even higher above the village, you will discover 9th century castle ruins and gardens, perfect for a day of exploring (and photo ops!). At this vantage point, you can also enjoy a panorama view of the Cote d'Azur, and see the defensive position that Sainte-Agnès occupied during World War II.
The Provence-Alpes-Côte d'Azur region, is one of the most diverse and beautiful areas in France. Like Sainte-Agnès, there are several ancient perched villages, seemingly forgotten, lost in time, just waiting for an intrepid traveler to discover its history.
Tourism: Côte d'Azur
Transportation: Zest Bus #10 from Menton– 22-25 passengers shuttle bus
List of Most Beautiful Villages of France