Restaurant Le Girocèdre in Puyméras for Provencal Meals
By Michel
The village of Puyméras is located just a seven (7) km northeast of Vaison-la-Romaine, so it is convenient for lunch after the Tuesday morning market and from our house in Sablet. Puyméras is a pretty, small village, at the northern tip of the Vaucluse near the border of the Department of the Drôme.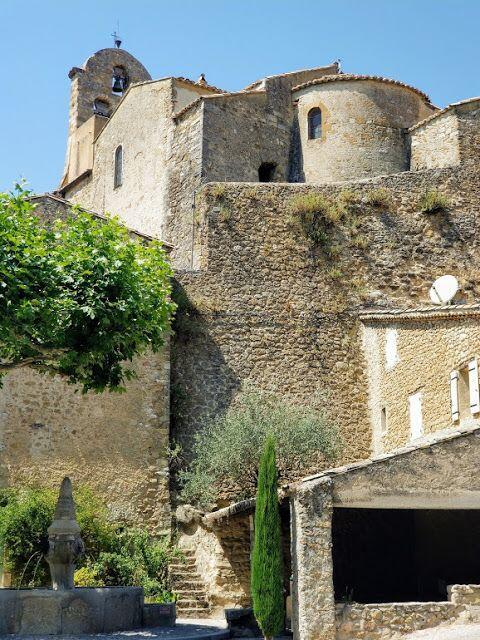 Puyméras Village
When you approach Puyméras coming from Vaison-la-Romaine, the village is visible on a rocky outcrop surrounded by beautiful countryside dotted with homes, vineyards and lavender fields. The appearance of a few olive trees and fruit trees among the vineyards is what remains of what used to be a diversified farming area which suffered a devastating frost in 1956 so mostly vineyards remain.
As I said, the village is small, the last census in 2017 showed there are 624 residents who live in the village. They are called Puymérassiennes (ladies of Puyméras) and Puymérassiens (men of Puyméras). The area has been settled since the end of the Upper Palaeolithic Era (Old Stone Age), more than 10,000 years ago.
This tiny village is exactly where you might expect to find a restaurant that caters to locals and curious food lovers (like us). Recently we discovered Le Girocèdre a family-run restaurant that serves traditional Provencal meals.
The Trappo family own and operate Le Girocèdre, the name is a combination of Gisèle, Roger and Cedric. Roger (father) originally from the Marseille area still buys fish from his friend a fisherman on the Côte Bleu. Cedric (son) is in charge of wine having grown-up in the middle of Côte du Rhône vineyards he is well versed in the local blends. Gisèle (the lady of the house) adds the touches that make dining in Provence unique. Local herbs flavour the dishes and trees shade alfresco tables on the restaurant's terrace.
Book a Table
Le Girocedre (website)
4 Rue du Portalet
84110 Puymeras
Telephone: +33 (0)4.90.46.50.67
Closed Mondays and Tuesdays (check for seasonal hours)
…Continue reading here a contributor blog post by Our House in Provence