English Origins for a French Style Potted Salmon Recipe
A dish of potted salmon might sound a little more British than French, but David's idea was to create a pink-on-pink meal. The potted salmon appetizer led off the evening paired with a rosé from Mirabeau Wine. He describes this dish as, "It is a perfect combination of creamy and tart and savory." If there are any leftovers, make wraps for lunch the next day.
This first course was followed by a savoury ragoût of langoustine and fennel. Read David's full post here.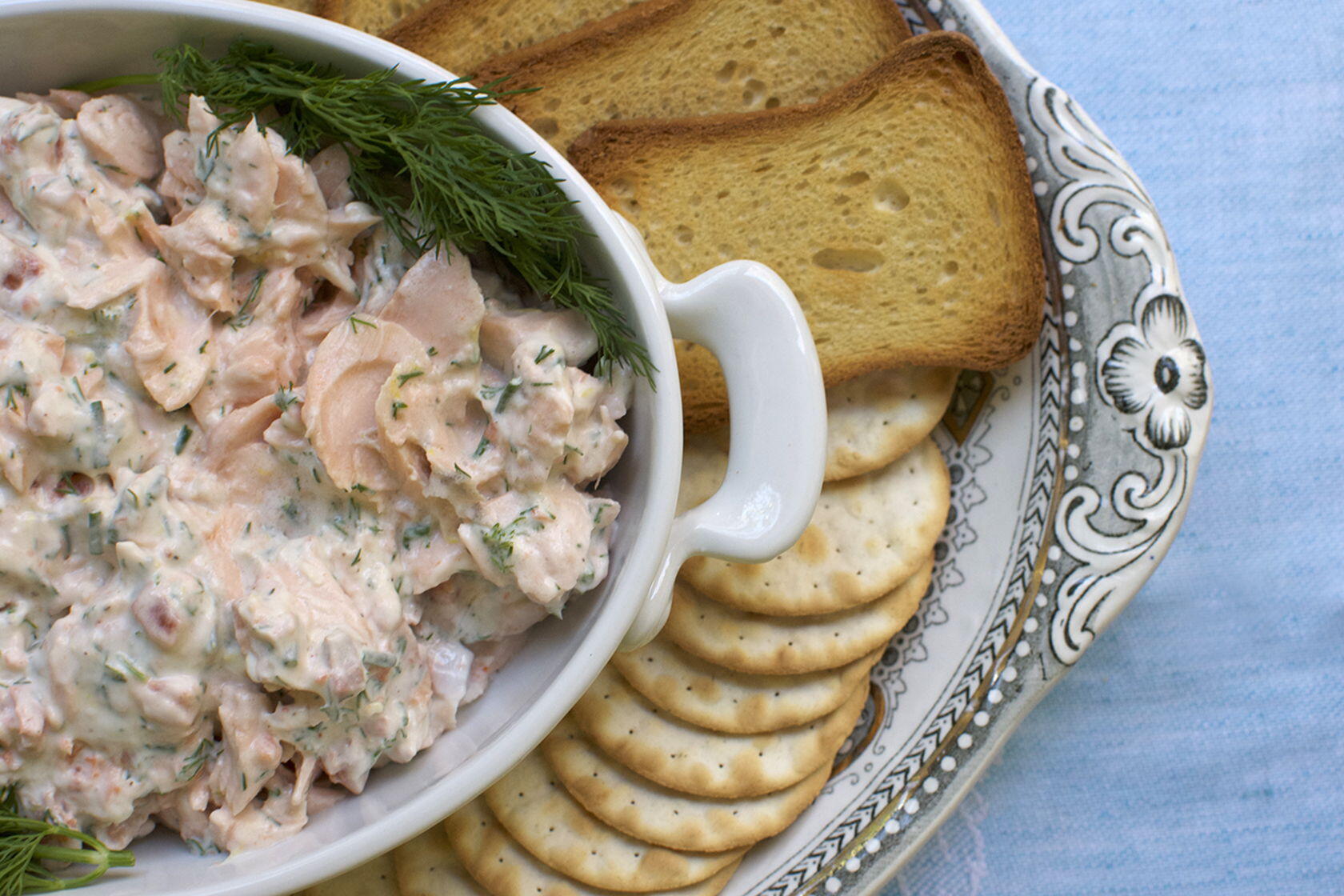 Potted Salmon
Ingredients
3

cups

Water

1

cup

White Wine

6

fresh bay leaves

1

lb (.450 kg)

Salmon Fillet

boneless and skinless

4

oz

Cured Salmon

diced, lox

1

cup

Crème fraiche

3

tbsp (+ garnish)

Fresh Dill

chopped

3

tbsp

Fresh Chives

chopped

1/4

tsp

Piment d'esplette

1

Lemon

for zest & juice (from 1/2)

juice of 1/2 lemon

salt and freshly ground black pepper

to serve

Bread, small toasts, or crackers
Instructions
Bring water, wine, and bay leaves to a boil. Remove from heat, add fillets and cover.

Set aside to for 15 minutes, or until fish flakes easily but retains some firmness.

Remove from poaching liquid and let cool fully in a colander.

Discard poaching liquid.

Mix remaining ingredients in a bowl until well combined.

Gently flake the cooled fillets over the cream mixture and season with salt and freshly-ground black pepper.

Fold the salmon flakes gently into the cream, taking care not to break up the salmon.

If not using immediately, store refrigerated in a covered glass container for up to 4 days.

If using the same day, place in a serving dish and garnish with dill.

Cover and chill for at least 2 hours.

Serve with sliced bread, toasts, or crackers.
Notes
Serves 6-8 as a heavy appetizer or first course.