Pairing Rhône Valley Caladoc Wine with Food
It's not often that I consider bottles from a "big box" wine store for this column. With the exception of a few quality rosés I have gotten (and written about) from such stores, their selection of rosé wines is generally geared towards the Carries and Mirandas. Pretty bottles/labels, intense pink colours, low price points, high sugar content, and a devil-may-care attitude about where the grapes are grown or how the wine is made. Today's wine — a 2019 Caladoc from Franck & Olivier Mousset — just happened to be available at one such store and was a nice surprise when perusing the pink.
Food Pairing
My pairing — for Melanzane a' Sacarpone, a Southern Italian stuffed eggplant — may not have been the perfect pairing… but it was good. However, a better food match would have been something more typical of Provence, like ratatouille. So here are a few variations.
Remy's Ratatouille
This Cocoa & Lavender recipe was adapted from Thomas Keller's French Laundry cookbook.
Check out this recipe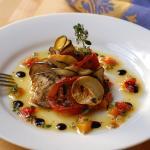 Ratatouille Tian Estival
This tian is easy to prepare. It can be served hot from the oven or at room temperature. This baked ratatouille casserole is a variation on the traditional Provencal recipe.
Check out this recipe

Mama Régine's Ratatouille from Cassis Bistro
Ratatouille is a delightful aromatic casserole. This bright and chunky summer vegetable blend will compliment any roasted or barbecued meat dish.
Check out this recipe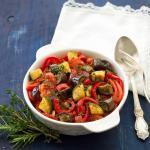 Gérald Passedat's Ratatouille My Way
"Ratatouille My Way" is from Gérald Passedat's new cookbook Flavors From The French Mediterranean. Ratatouille is a classic Provencal recipe that uses ingredients readily found in the region (tomatoes, zucchini, onions, eggplant).
Check out this recipe

What about the Wine?
Le Clos Saint-Michel is located in Sorgues in the Châteauneuf-du-Pape AOP. Olivier and Franck Mousset are the fourth genartaion of wine makers (vignerons) working the vines on this land in the Southern Rhône Valley.
At the domain, they produce several categories of wines. Under the Clos Saint-Michel label the Châteauneuf du Pape red and white wines follow Appelation Controlée requirements. There are three wines Caladoc, Viognier, and Syrah with the Tendance label and each one is a mono-cépage. Domaine Guy Mousset wines and Enfants de Vignerons (children of the winemakers) are Côte du Rhône vintages.
The wine that I paired with my stuffed eggplant dish was a 2019 rosé, Tendance Caladoc, IGP Méditerranée.
Le Clos Saint Michel
Vignobles Guy Mousset et fils
2505 Rte de Châteauneuf du Pape
84370 Châteauneuf-du-Pape