Natural French Skincare and Cosmetics from Remember Provence
Selling exclusive Provencal-themed housewares, gift items, and culinary ingredients, Remember Provence reaches customers around the world. The founders launched a home-based business selling artisanal products from the South of France that was in 1997. In 2013, the French company relaunched the website and moved product sales to an entirely Internet-based store. Marie Helene and her husband Emmanuel run all aspects of this dynamic business, including sourcing products and a new line of French skincare and cosmetics.
French Skincare and Cosmetics
After much research, Marie-Helene from Remember Provence selected what she feels are the best Provencal skincare and cosmetics. These hand-picked products include highly effective face creams, floral waters, vegetal soaps, body and hand care lotions enriched with essential oils or organic butter shea.

She selected beauty products that contain 100% ingredients of natural origin, handcrafted in Provence by artisans who care about the environment.
Most of the ingredients in the products are organic, rich in active agents targeted to obtain perfect hygiene, benefits and repairs. They are certified organic by various independent labs (Ecocert Cosmos Organic, Cosmebio).

Gentle on the skin, these cosmetics are pleasant to use, thanks to the natural scents of the elements, plants and fruits native to the region: lavender, olive oil, immortelle, calendula, citrus fruits, spring water from Mont Sainte Victoire near Aix-en-Provence.
Enriched with fresh goat's milk or donkey's milk from animals raised in Provence, the soaps are gentle, eco-friendly and hypoallergenic.
Give a beautiful, environmentally conscious gift of health and beauty from Remember Provence. As a bonus, the packaging is recyclable and attractive presentation. Combine pleasure and everyday life and discover the excellence of skincare and cosmetics made in Provence!

Authentic Provencal Products
Marie Helene is the president of Remember Provence. Involved in all aspects of the operations, she manages everything from product selection to sales and customer relations. As Marie Helene sources quality goods from market vendors and artisan producers, the merchandise range grows. Having grown up in Provence, Marie Helene has an ability to separate genuine, authentic French creations from those mass-produced elsewhere. Read more about this entrepreneurial company focused on artisanal made in Provence products.
Traditional Recipes from Provence
Provencal Ratatouille Recipe
The traditional ratatouille recipe wants the vegetables to be brown in olive oil in a frying pan, each one separately. Do not peel them at all. All the vegetables are cooked with their skin to preserve a maximum of taste. Then, they will be mixed and will confit together in an earthenware casserole.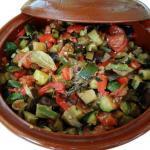 Lamb Daube with White Wine
A daube refers to a slow-cooked meat stew. The ingredients always include wine, in this case, a white, herbs found in Provence, and usually lamb. Although, daube can easily be prepared with beef or even pork..
Check out this recipe

Daube à la Provençal
A slow cooked beef stew, the Provencal version of the more commonly known Boeuf Bourguignon is called Daube à la Provençal.
Check out this recipe