Order Now! My Stylish French Box Spring in Blue & White
Spring and Stylish
Author and home décor guru Sharon Santoni is the founder of My Stylish French Box concept. This curated gift box concept was born from Santoni's desire to share fabulous French brands and artisan creators with a large audience. For those who know Santoni, this lady has built a broad audience interested in her tips for a comfortable, livable design style as evidenced by the number of followers for her website – My French Country Home. Please read more about her books and background here.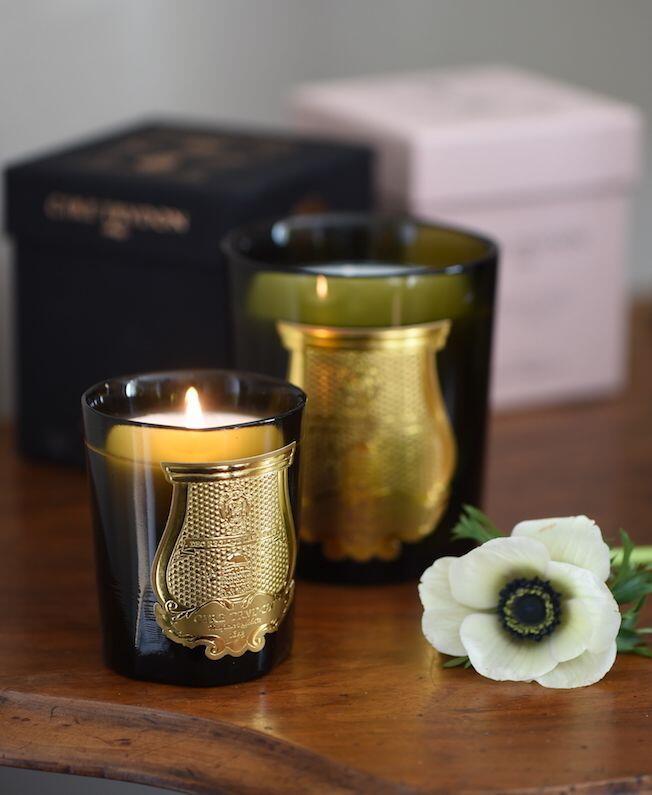 A limited number of these beautiful subscription boxes ship around the globe quarterly. The theme for the contents changes each time, but always includes a selection of beautiful keepsakes from French manufacturers. In early May, the "Blue and White Box" will head out to mailboxes far and wide. Box #10 is no exception, Santoni and her team keep the product details a secret and ask those who receive these boxes to wait until all boxes arrive before revealing the contents.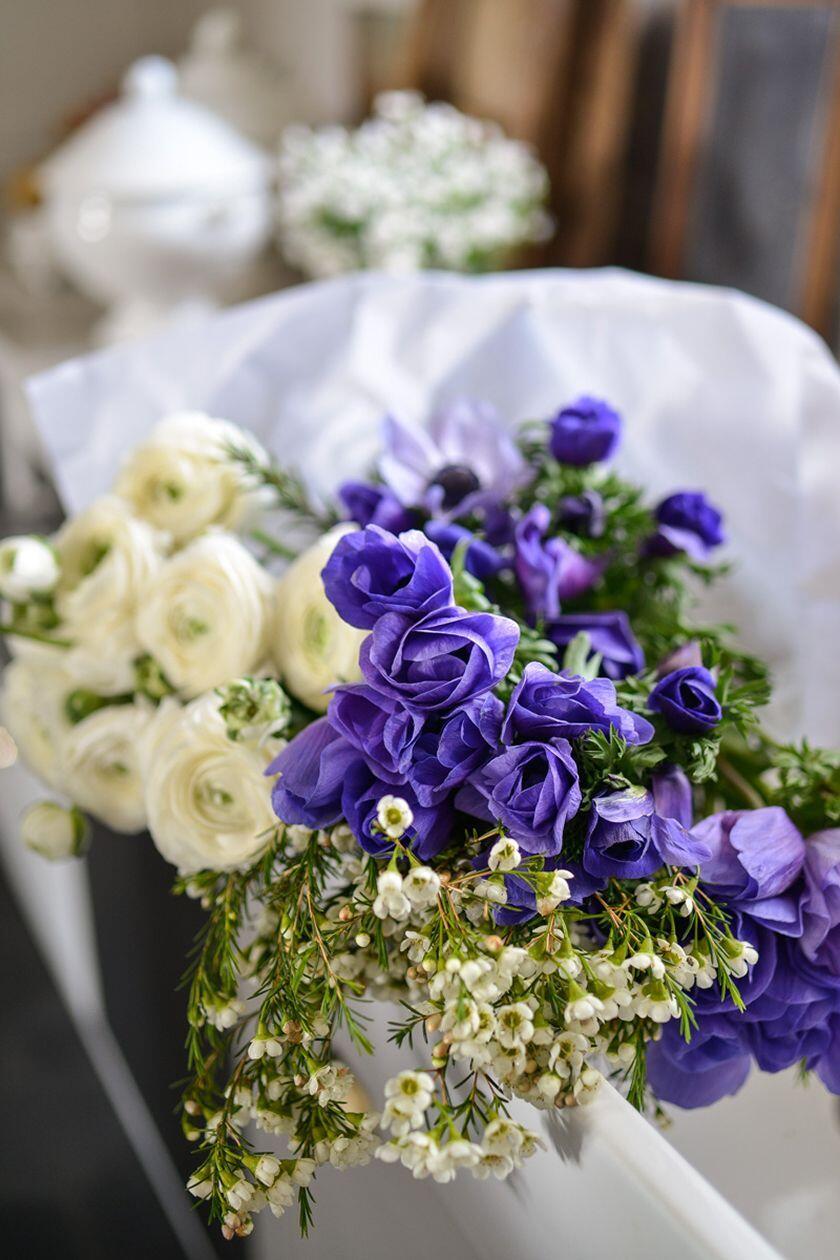 Mother's Day in Blue and White
With Mother's Day in North America (May 12th) and France (May 26th) on the horizon how about ordering a Blue and White Box, or better yet an annual subscription for your mother?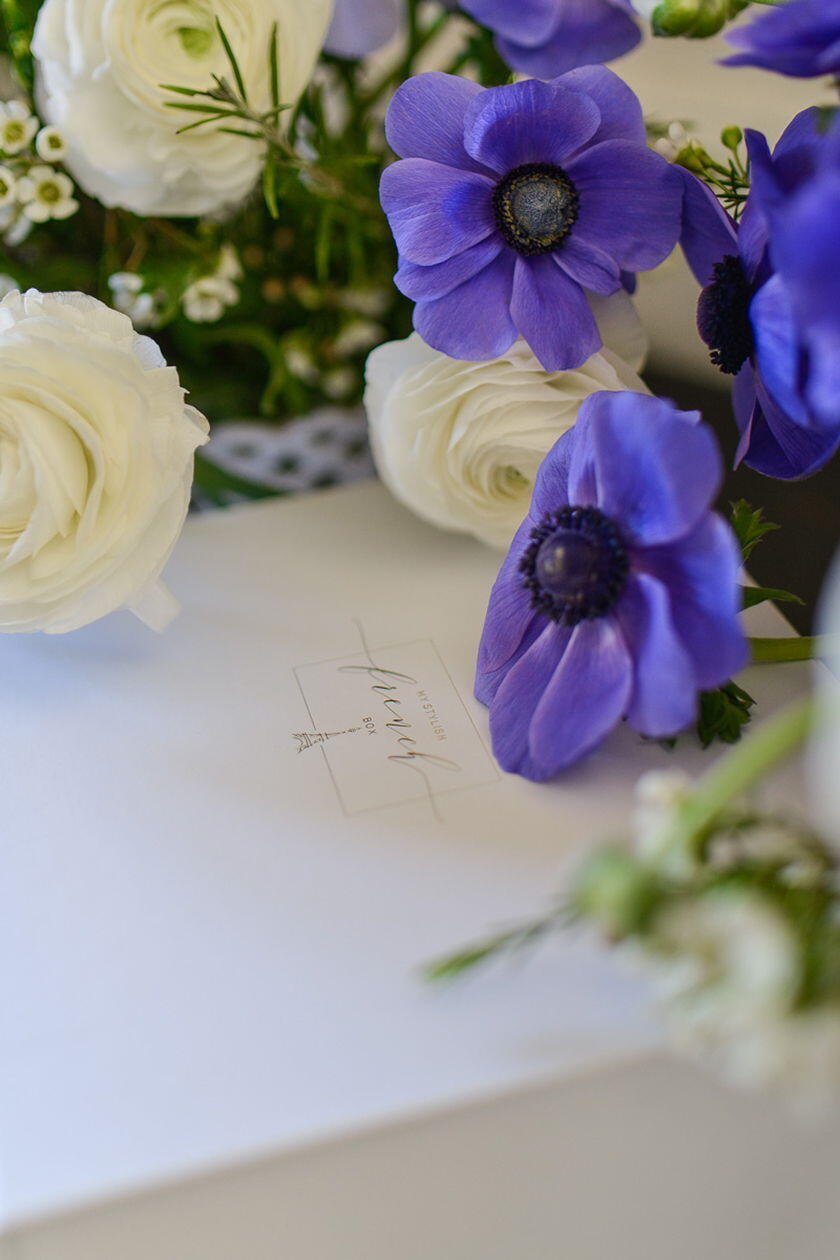 What's with the colour theme?
Sharon Santoni describes the combination as both entirely French and seasonal.
"I remember when I first arrived in France as a young student, many many moons ago.  And getting the distinct impression that there was a lot of blue in my daily living.
To begin with, I was in Paris where I noticed the blue zinc rooftops that are so distinctive; the blue and white china that I bought at antique fairs, and the huge bunches of blue and white hydrangeas at the flower market."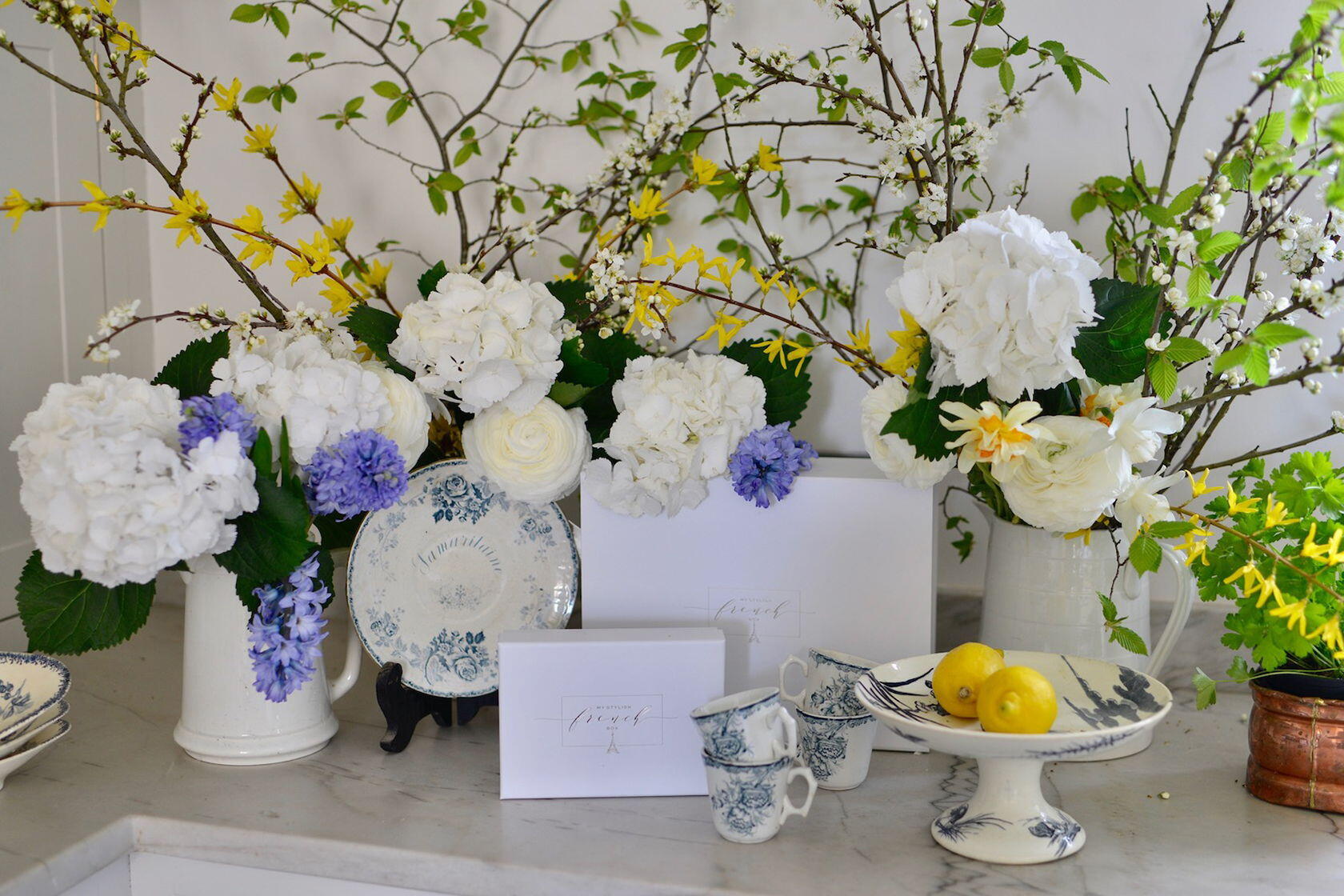 On the subject of fine china, the only thing that we know about version No.10 of  My Stylish French Box is that it will include something from Faïencerie de Gien. For almost 200 years, since 1821, this Loire Valley manufacturer continues to produce beautiful china. This box will also include a printed copy of the May/June edition of the My French Country Home Magazine!
What's Inside the Boxes
A curated collection of beautiful – Made in France – products.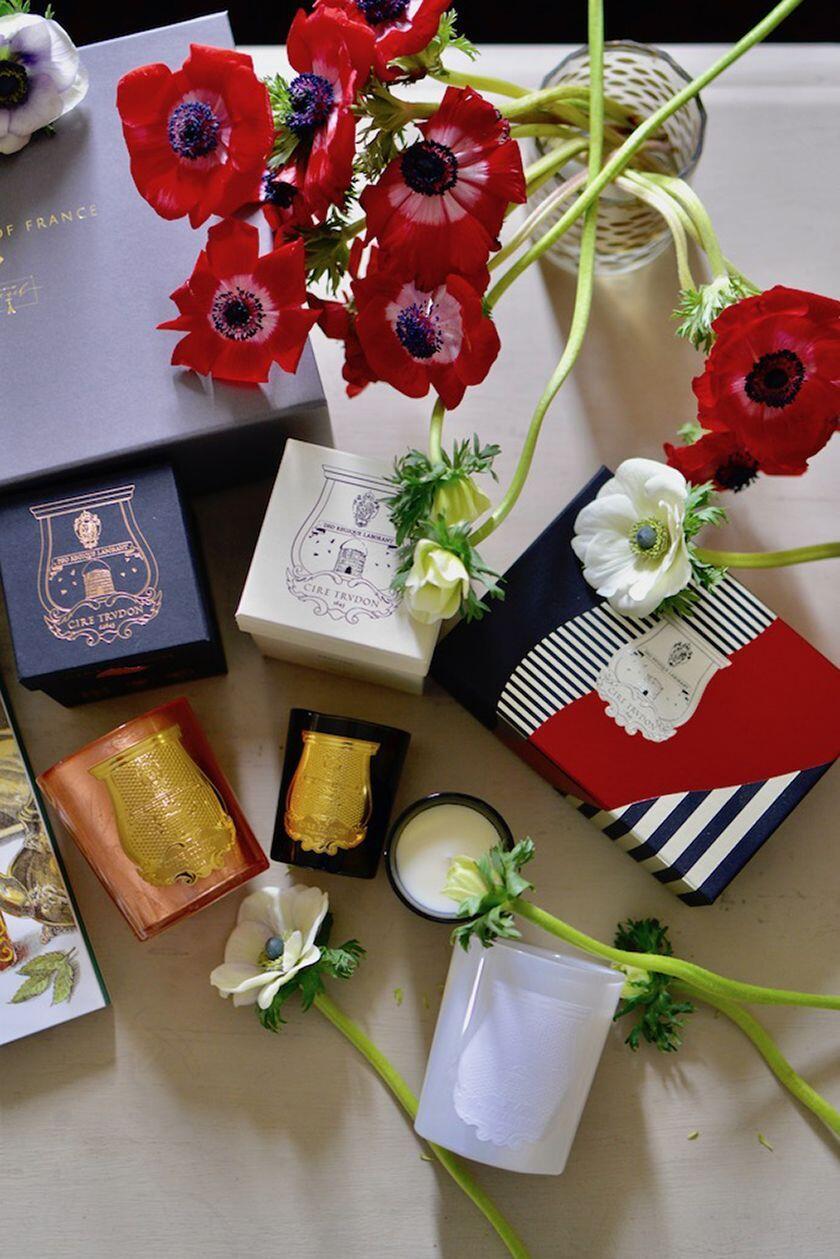 The first box of 2019 shipped in February, filled with artisanal products from Paris, including a sample from Annick Goutal, the name behind iconic French iconic perfumes.
In August (2018) the motif was – La Cuisine. The end-of-summer package contained small-batch French artisanal products including a copper candle from Maison Hypsoé and a delicious chocolate fondant cake from Marlette in Paris to mix up in a pretty ceramic mixing bowl.
The November box included a creation by Petrusse, a maker of women's stoles and scarves in Bordeaux.
Of course, receiving a beautiful package in the mail is lovely, but the team at My Stylish French Box asks recipients to keep the contents a secret until all the boxes have reached their destinations around the world. Then, it's time for the big reveal, and the @mystylishfrenchbox Instagram feed fills with images of the gorgeous French home décor and beauty products.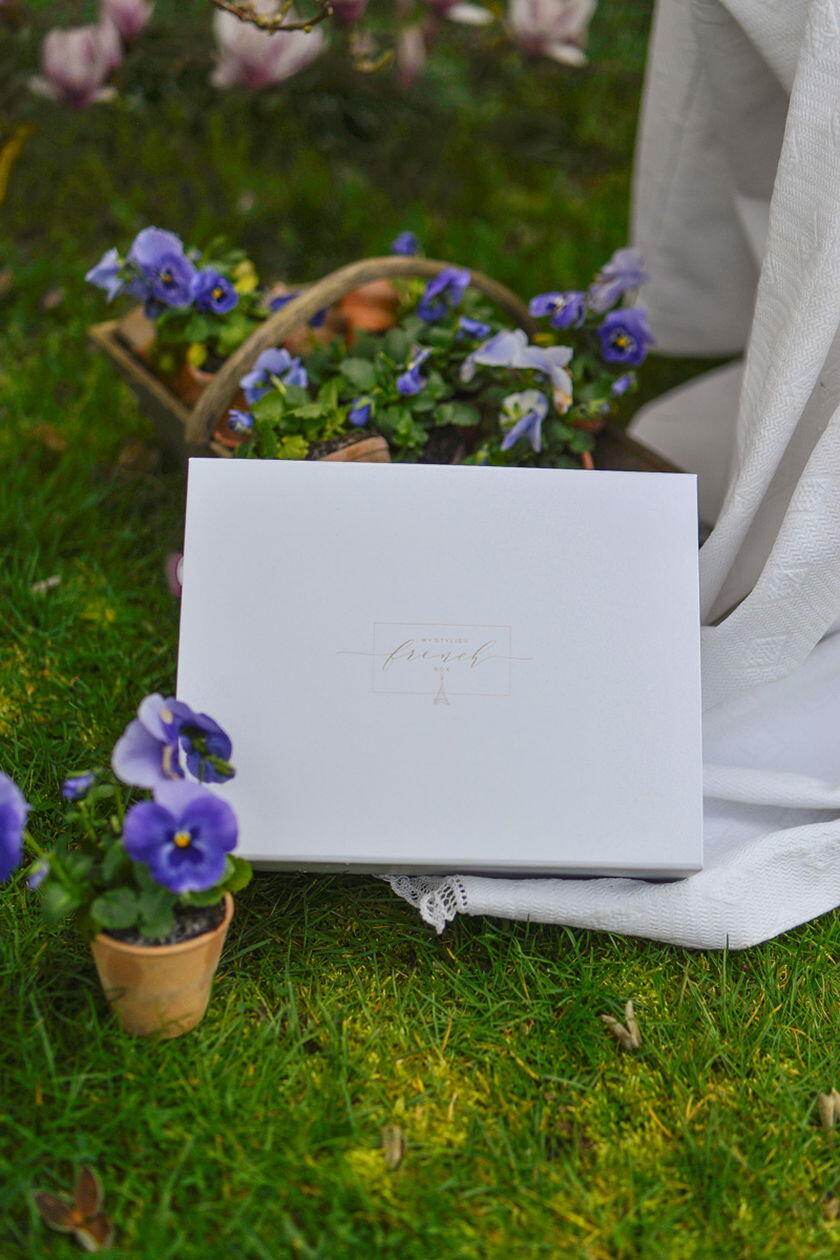 Order My Stylish French Box
The subscription options for My Stylish French Box are flexible. Sign-up for a full year and receive four boxes filled with beautiful goodies. Or order a single month to try it out. These make lovely gifts for Mother's Day, birthdays, a thank you, or for a special lady. Click here for full details.
Order today as the number of boxes is limited and has consistently sold out every time since the brand launched. Place your order here, a gift for any Francophile on your shopping list.
Use perfectlyprovence at checkout for account credit.
Be a Winner! Box Giveaway
Sharon and her team will be giving away TWO boxes to two lucky winners! To enter the giveaway, read the details here.