Marinated Mushroom and Roast Pumpkin Salad for Autumn Weather
Often, as the weather turns cooler the tendency is towards warm, slow-cooked meals, and roasted meats. These menus beg for a table of good friends and great wine. However, you don't want the meal to be too "heavy" this tasty combination of autumn vegetables – marinated mushroom and roast pumpkin salad – is a perfect starter course with plenty of colour. Market stands in Provence at this time of year are graced with bright pumpkins and wild mushrooms. You can prepare the mushrooms a day in advance if you can, to give them time to soak up the herb and garlic marinade and be extra delicious. …Continue reading here for the original post.  The recipe and wine pairing suggestion is below.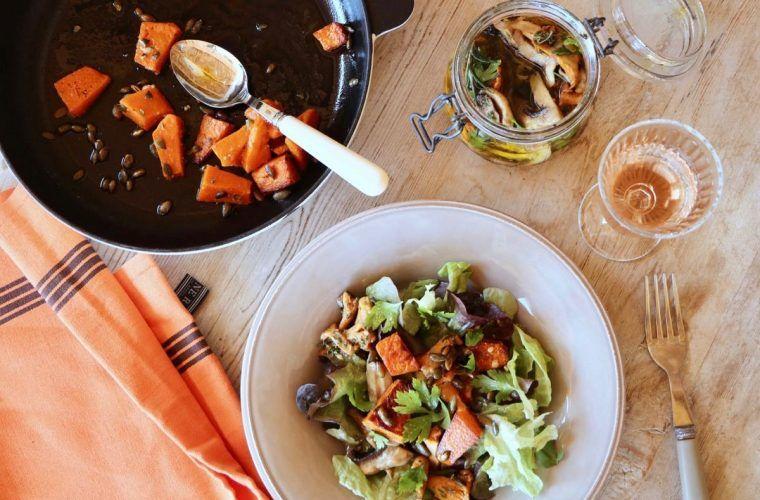 Marinated Mushroom and Roast Pumpkin Salad
This salad is delicious, refreshing and a colourful starter course.
Ingredients
150

grams

Woodland Mushrooms

best to choose a mixture (see note)

2

Garlic Cloves

Bunch of Thyme

1

small

Pumpkin

like a Red Kuri squash (see note)

handfull

pumpkin seeds

Colourful Mixed Salad

like oak leaf, spinach and radicchio
Instructions
To prepare the marinated mushrooms use a jar with a lid, or a bowl you can close with a plate or clingfilm.

Clean your mushrooms and let them dry completely.

Fry them for a couple of minutes in a pan with a bit of olive oil.

Add them to the bowl and cover them completely with good quality olive oil, some sprigs of thyme, two garlic cloves and a splash of vinegar.

Swirl the marinade round gently, close the jar and put them in the fridge over night.

You can make more as they will keep a couple of weeks if refrigerated and are delicious on a roast slice of bread as well.

Peel the pumpkin, discard the insides and prepare small-ish cubes, season with some sea salt and pepper.

Roast them in olive oil (be careful not to turn the heat up too much as olive oil burns easily), until they are nice and golden brown on the outside and sufficiently cooked on the inside (just try one to make sure..).

Take out the pieces of pumpkin and add the seeds to the pan.

The seeds should pop open a little and be extra delicious.

Use some of the flavoured oil from the mushroom jar and decant into a bowl.

Add a small spoon of grainy mustard, salt and pepper and stir to make a vinaigrette.

Arrange the washed salad leaves on each plate.

Add some of the marinated mushrooms and warm roast pumpkin, sprinkle the pumpkin seeds over and using a spoon drizzle over some extra vinaigrette.
Notes
To feed 4 (just multiply for a larger party)
Pumpkin: Red Kuri squash is called Potimarron France, alternatively a nice slice of a Muscat squash works well too.
Mushrooms: I used Chestnut mushrooms and Chanterelles
We've served this dish with our Mirabeau Classic, which beautifully complements the dishes rustic sweet and umami flavours, but any Rosé from the Mirabeau range would be well suited.
Wishing you bon appétit!