Église Saint-Jean-de-Malte: A Church of Firsts
It's a pretty big honor to be the first Roman Catholic church in a region where around half of the population is Catholic. Back in the 12th century, Église Saint-Jean-de-Malte served as a hospice and chapel for the Hospitallers of St. John of Jerusalem of the Order of Malta.  This group was formed in Jerusalem in the 11th century during the Crusades, and served out its mission to provide medical care and offer protection to Christian pilgrims visiting the Holy Land. The Knights became one of the greatest military powers in the region, and the cross of the Order of Malta that sits perched on the church's steeple is testament to its lasting influence.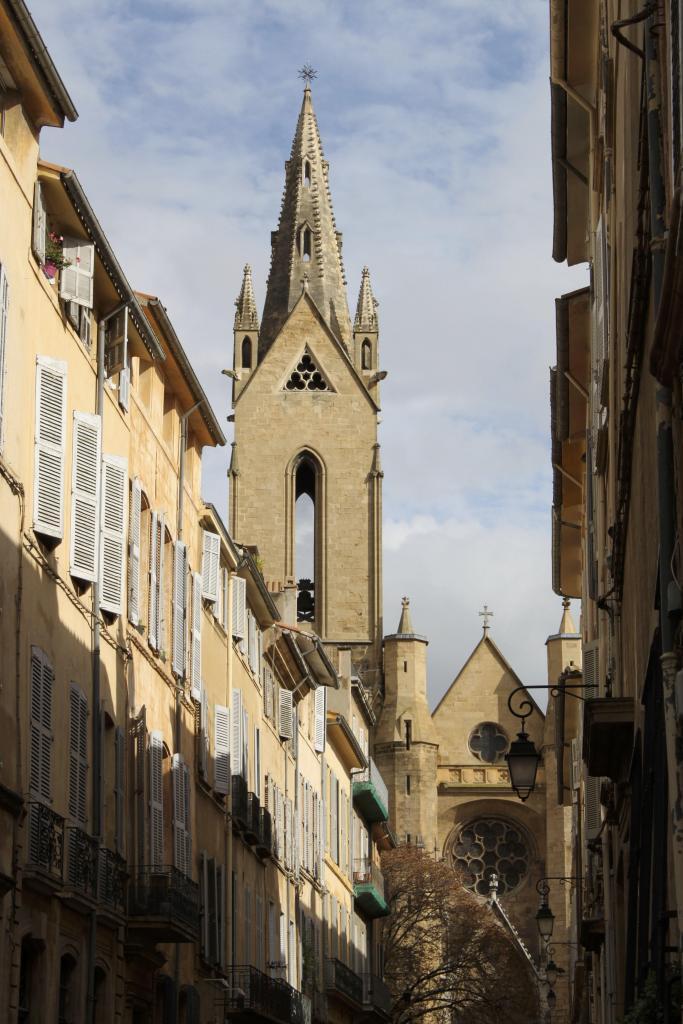 A Notable and Distinguished History
A few decades later, the church was the burial place for the Counts of Provence. We don't know much about what went on there until the 17th century, when it was incorporated within the city of Aix as part of the quartier Mazarin. Interestingly, the church was initially built outside of the city walls in open fields. But as urban development took over, it integrated with the buildings that began to crowd around it.
Sadly, like so many other churches in France, the churce lost many of its statues, furnishings, and other valuables during the French Revolution due to looting. The church became a military storehouse during this time.
It wasn't until the 19th century that it became once again a parish church.
Unique Features
One of the first things you'll notice about l'Église Saint-Jean-de-Malte is its interesting arrow-shaped bell tower, built in 1376. At 67 meters (220 feet) high, it's the highest point in Aix. Another first!
The church you see today replaced an older chapel. If you know your architecture, you will notice that its style is Gothic. It was — yet another first — the first Gothic designed church in all of Provence, which leaned more toward Roman designs, due to the heavy influence of the Roman Age. The original church had no windows on the ground floor. Maybe that was to keep parishioners from gazing out the windows when they should be listening to the homily!
The church houses several interesting painting, including a Crucifixion by Delacroix, as well as a baroque-style organ built by Daniel Kern in 2006.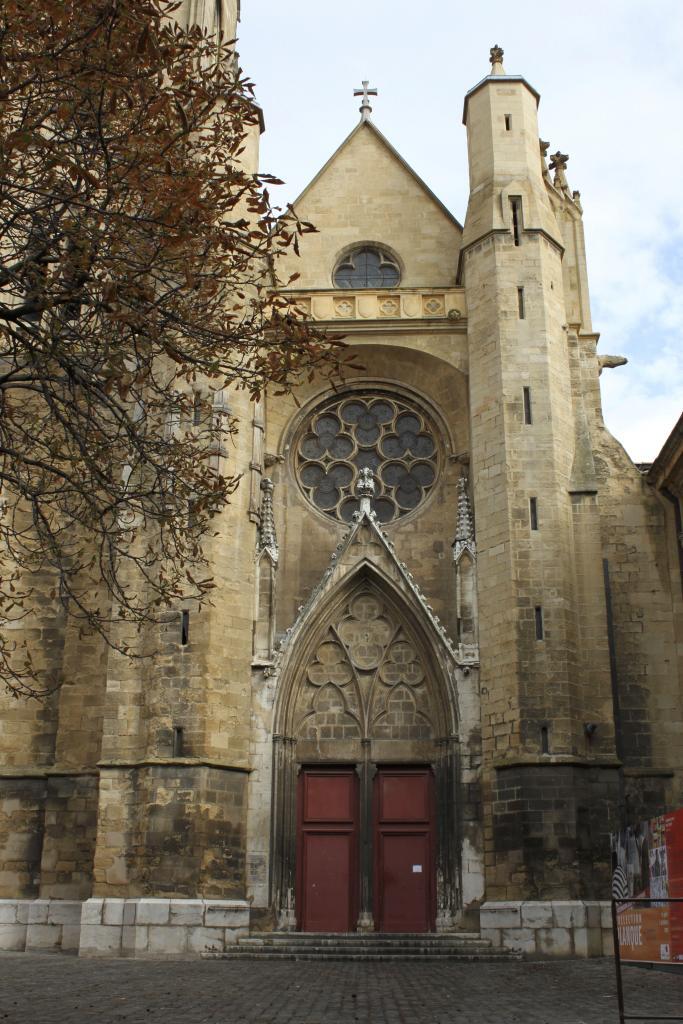 Église Saint-Jean-de-Malte Today
In 1977, this parish was entrusted by the Archbishop of Aix, Monsignor Charles Provenchères. A brotherhood of apostolic monks now run the church.
What once served as the Priory is now the Granet Museum, which is worth a visit for the fantastic art.
Mass is every Sunday at 10:30 am and 6 pm, as well as Mondays –  Saturdays at 12:05 pm.